NHL All-Star Fantasy Draft: Kicked off the 2012 Festivities in Ottawa
January 27, 2012

Last night's second All-Star fantasy draft was another hit.  
It had a fun and electric game-show feeling, complete with flashing lights and energetic music.  The fans were placed up front this year, which only added to the hilarity of the evening. They were shouting witty one-liners throughout the draft to the amusement of all.
Each team needed to be comprised of three goalies, six defensemen and 12 forwards.  
This year, each team was allowed one trade. Both captains were happy with their picks, however, so neither utilized this new feature.  
Team Chara won the puck toss, giving it first pick.  
Zdeno Chara from the Boston Bruins, alongside alternate captain Joffrey Lupul from the Toronto Maple Leafs (who was booed at every opportunity by the Ottawa crowd), picked the Detroit Red Wings' Pavel Datsyuk as their first choice.  
Daniel Alfredsson of the Senators and his alternate captain, Henrik Lundqvist of the New York Rangers, picked fellow Swede and Alfredsson's teammate, Erik Karlsson.
For the most part, the teams were split pretty much how one would have expected.
Team Chara picked Bruins teammate (and recent political controvert) goalie Tim Thomas and Tyler Seguin. Chara did make Seguin sweat a little, because he was a late pick for his team.  
In a funny moment as they posed for pics, Chara asked Seguin, "Wanna hug it out?"—and they did just that.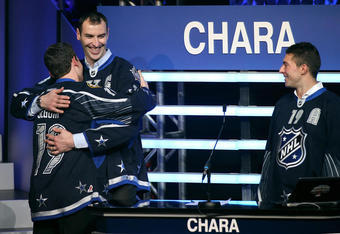 Team Alfredsson picked the rest of his Ottawa teammates, Jason Spezza and Milan Michalek, as well as Lundqvist's teammate and "assitant goalie" (as I like to refer to him) Dan Girardi.  
Marian Gaborik, (who had reportedly told Lundqvist that he wanted to play against him in the All-Star game) got his wish and was snatched up by fellow Slovak, Chara.  
Another entertaining moment of the night was when Gaborik headed towards the wrong team after he was picked.  He instinctively headed towards Lundqvist and Girardi, and once he realized this, turned around to go to his correct team as laughs burst out around the room.
The Sedin twins were not split up this year, as was the case last year, and Phil Kessel was a good sport as he was the butt of a running joke all night for being picked last in the draft the year prior.
Erik Karlsson owes Evgeni Malkin $20, because he bet he would get picked before Malkin, and Scott Hartnell was actually not the last to be picked.  
Personally, I was disappointed for him to be a part of the All-Star weekend at all, because such a dirty player has no place participating in an event that honors the sport of hockey; he doesn't represent well for the NHL.
The San Jose Sharks' Logan Couture was in fact picked last, but don't feel badly, because he won a new set of wheels.
It was a great kickoff to the 2012 All-Star weekend.  For complete schedule and rosters visit nhl.com.