Sacramento Kings: Ridiculous Arena Situation Overshadowing Lackluster Start
January 27, 2012

On the court, it's very difficult to stay optimistic about a team that is 6-13 and ranked dead last in the league in assists and points allowed.  
On the other hand, Jimmer Fredette is shooting much better, DeMarcus Cousins is keeping his mouth shut, and aside from crippling injuries to Marcus Thornton and Chuck Hayes, they're healthy. (Knock on wood.)
Off the court, the latest intrigue in the Sacramento Kings arena situation is very difficult to read, as just about every new development has been.  
One thing seems for certain: every time the Kings are one step closer to getting support (financial, governmental, environmental, chiropractic), someone comes in and breaks their back.  
When things don't go my way as a writer, it's easy to vent my frustrations by writing words exactly how I'd say them myself.  
At this point in Sacramento's ridiculous tango to "try" (I put that in quotes because I'm still not sure the Maloofs even care) to get a new stadium, I'm channeling Dr. Seuss and going with a short poem about the Kings' precarious situation.
To tell the story of the Sacramento Kings,
We must say "boo-hoo" and not "check out all these rings."
As you can see by this graphic starting out in oh-one, (note: green is attendance and purple is win percentage)
They had a winning percentage that screamed "Arco Arena is fun!"
But as time went along and the Kings started losing,
We saw more and more fans resort to hard boozing.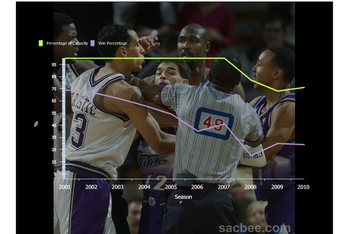 Arco Arena sold out every single home game 
From oh-one to oh-seven but the team was so lame. 
The rebellion began in the year of oh-eight
At this point fans seriously couldn't see straight. 
From oh-eight to today there's a direct correlation 
Between winning percentage and Kings' fans exhilaration.
As we know every story has its breaking point
Where the hero falls down and tends to disappoint.
On Kings blogs and Facebook all over the net
Even right now on Twitter...you can see they're upset.
So what can we do to make it all right?
To end community suffering and end the long fight? 
At first I thought to myself, "Smart can't be the answer"
Although not Phil Jackson, he's certainly no cancer.
DeMarcus is a baby while Bobby Jackson is back, 
But the worst of their problems is with the city of Sac. 
I can't really tell if the Kings are getting rejected, 
But it's obvious the players can't help but be effected. 
A new stadium would help to ease the pain, 
Anywhere with hardwood floors so we can be loud once again. 
I don't want it to be in La-la land or even the Midwest,
Let's keep them right here in the pocket on our chest. 
Wouldn't we all be a little happier if they stayed right here?  I can't help but think that cosmically, the Kings won't have another winning season until they figure this out.  
Even if they're in LA or the middle of the country, they'll still be my team.  It's understandably irritating rooting for a team that can't win consistently year after year.  
On the other hand, it's even worse to know that your team is going to be sold.  One way or the other, I won't let that hold me back.  Anaheim, Kansas City, Dubai, WHATEVER.  I'll be a Kings fan. 
That's the sad thing about being a sports fan though, isn't it?  Right when you're at a breaking point and you can't take it anymore, you remember why you started liking them in the first place.  
Hopefully, this arena situation is just a "chicken or the egg" problem and the Kings can start winning some games in order to gain solid public support.