Fantasy Baseball 2012: 25 Sneakiest Basestealers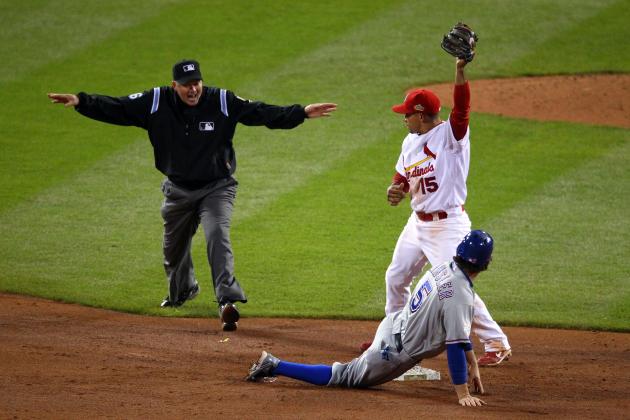 Dilip Vishwanat/Getty Images

From Rotisserie fantasy baseball to the head-to-head version, most prospective team owners consider acquisitions based on the one-two-three, or top priority criteria—batting average, home runs and RBI.
Several leagues, such as some six-by-six structures, consider OPS and/or OBP or SLG as well.
Lost in the shuffle is usually the last offensive stat in most four-by-four leagues: total or individual stolen bases. And when the SB variable is finally considered, the first players drafted are those who have proven themselves as the No. 1, 2 or 3 guys in the league when it comes to stealing bases.
This list is a guide that flies further under the radar, considering ballplayers that might not have a history of bulk steals but may be a surprise source of steals during the 2012 season.
Over the following 25 slides, you won't find players like Atlanta's Michael Bourn (MLB's SB leader with 61 swipes) or Dodgers MVP candidate Matt Kemp (40 SB).
In fact, you won't find any player who stole more than 30 bases in 2012, with one exception.
What you will find are the 25 sneakiest basestealers in Major League Baseball. No team is represented more than once, though not all teams appear on this list.
For each of the following players, a risk assessment has been included, which is an approximation of the precariousness involved in drafting each player solely for SB output in 2012.
The scale ranges from Minimal (the pick involves very low risk) to Extreme (the pick involves very high risk).
The complete scale is as follows: Minimal—Low—Moderate—Considerable—Extreme
Begin Slideshow

»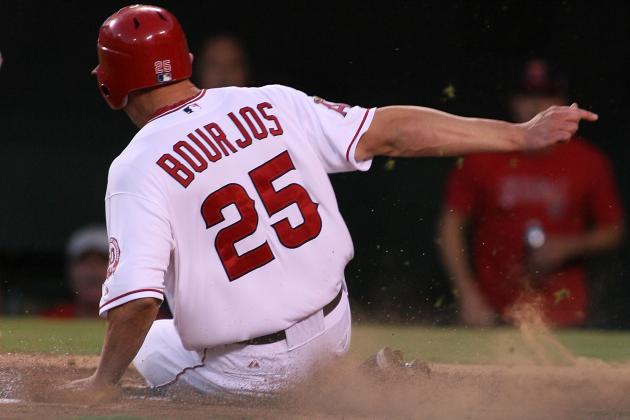 Jeff Golden/Getty Images

Los Angeles Angels center fielder Peter Bourjos is 24 years old and found his running game in 2011, stealing 22 bases for the Halos after 10 steals during his rookie season in 2010.
Bourjos and teammate Mike Trout are the future Angels in the outfield, so expect Bourjos, who has found his bat as well as his legs, to continue impressing with his speed and aggressiveness.
Even with Albert Pujols at Angel Stadium of Anaheim, don't expect any different tactics on the bases.
Manager Mike Scioscia is known for his aggressive running game, and Bourjos is projected to hit far below Albert Pujols in the lineup.
Risk: Low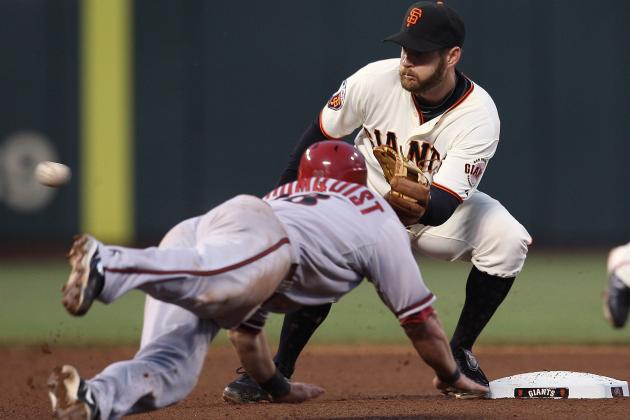 Tony Medina/Getty Images

When most people think "Arizona Diamondbacks basestealer," they think of center fielder Justin Upton, who stole 21 bases in 159 games in 2011.
They rarely think of shortstop Willie Bloomquist, a veteran who stole 20 bases for Arizona in only 97 games last year.
Bloomquist is generally a singles hitter and also a team player who loves small ball.
From his game-tying squeeze in Game 5 of the 2011 NLDS to his net gain of 18 steals from 2010 to 2011, Bloomquist just might be one of the most underrated, sneakiest stolen-base threats in the league.
Risk: Moderate
Daniel Shirey/Getty Images

Atlanta Braves speedster Michael Bourn might have led the major leagues with 61 stolen bases in 2011, but teammate Jason Heyward was No. 2—with nine.
Heyward is young, at 22 years of age, but his loss of two SB between 2010 and 2011 is bothersome.
On a team where one base-running specialist seems to do all the stealing, it is a wonder why anyone else from Atlanta might even be considered a sneaky basestealer.
Winner of the Braves Heart and Hustle Award in 2010, Heyward's chances may be buoyed by the false confidence teams might fall prey to when Bourn is not on the basepaths.
Risk: Considerable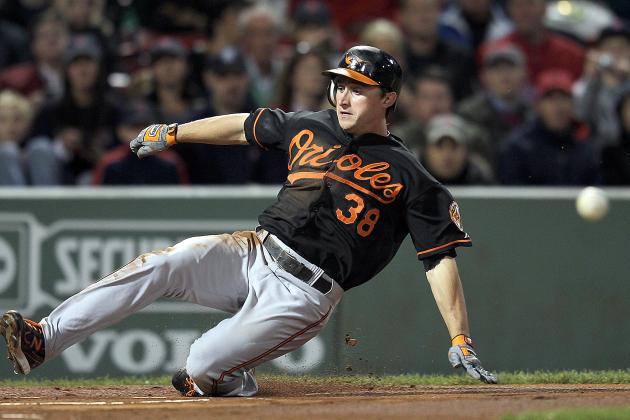 Jim Rogash/Getty Images

If you're in the mood for a gamble, allow me to sell you on Orioles CF Matt Angle.
Angle didn't see much playing time in his first experience at the MLB level in 2011, other than during the traditional September call-up period.
Angle appeared in 31 games, stealing a total of 11 bases while being caught just once.
Stretching out his 31 games to a fairly full 155-game season, and at his present rate, Angle would be on pace to have stolen 55 bases in 60 attempts.
Again, Angle is a gamble because he is a minor leaguer who shuttled back and forth between Triple-A and MLB throughout the second half of 2011, but if he can somehow get consistent playing time in 2012, he shows promise to produce quite remarkably in the stolen base category.
Risk: Considerable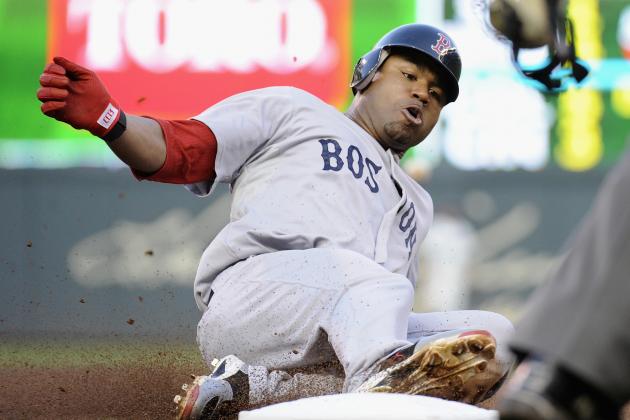 Hannah Foslien/Getty Images

For the Red Sox, base stealing is generally confined to the likes of Dustin Pedroia and Jacoby Ellsbury.
However, Red Sox left fielder Carl Crawford used to be known for his speed and propensity to steal. With the Tampa Bay Rays, Crawford led the AL in stolen bases in 2003, 2004, 2006 and 2007.
So what happened to Crawford's speed in 2011, a season in which he stole only 18 bases, far from his career high of 60 in 2009?
If Crawford and new Boston manager Bobby Valentine are able to figure that riddle out next year, Crawford may very well sneak his way back onto the league's SB leaderboard.
Risk: Considerable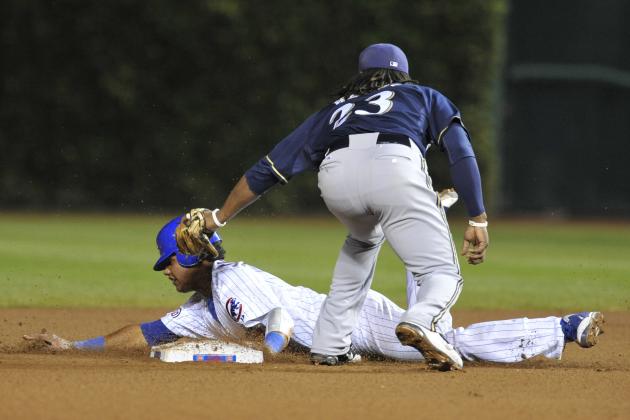 David Banks/Getty Images

Chicago Cubs shortstop Starlin Castro is just 21 years old and has played two seasons at the major league level.
In 2010, Castro stole 10 bases, followed by a 22-SB performance in 2011.
His skill set continues to develop in Chicago, as he was named to his very first All-Star team in 2011, complemented by two Player of the Week selections, one in April and one in August.
Castro is ready for a breakout season on the bases, something very attainable considering his youth and talent.
Risk: Low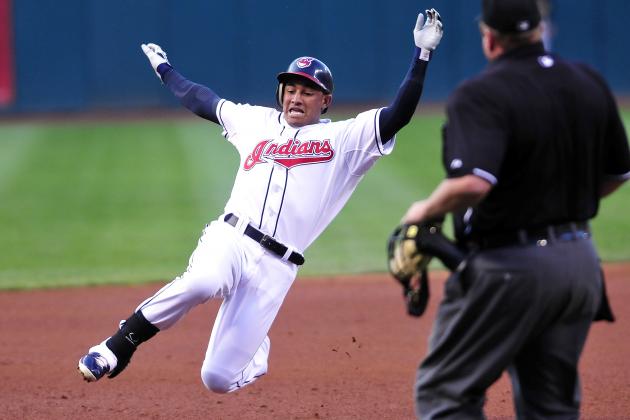 Jason Miller/Getty Images

Indians center fielder Ezequiel Carrera will enter his second season of MLB service, having stolen 10 bases in 2011 over 68 games.
Carrera is at the very beginning of his career, and if the Cleveland staff is able to coach him on base running, combined with his speed, he will find himself adept at stealing bases in 2012.
Carrera is decidedly not No. 1 on Cleveland's depth chart—Grady Sizemore holds the top spot—but as a backup and potential pinch runner, Carrera should see ample opportunity to prove himself next year.
Risk: Moderate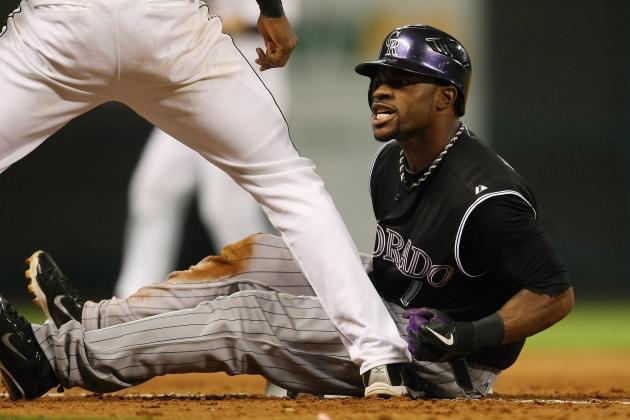 Eric Christian Smith/Getty Images

Rockies second baseman Eric Young enters his fourth MLB season in 2012 looking to breakout on the bases.
Young stole four bases in 2009, 17 in 2010 and 27 in 2011. Even better, Young has yet to have appeared in more than 77 games in a single season.
With 27 steals (four CS) in 77 games in 2011, Young could easily eclipse 50 SB if he were to play a full slate of games.
All in all, Young has played 158 games over his three-year MLB career, with 48 steals to his name.
Risk: Low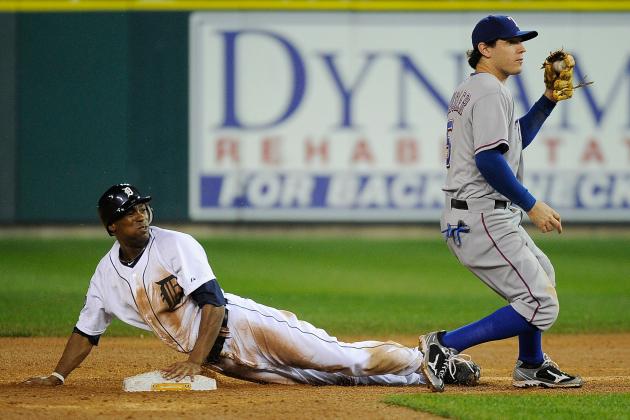 Kevork Djansezian/Getty Images

Tigers center fielder Austin Jackson stole 22 bases in 2011 after stealing 27 in 2010—and that was considered a down year.
If Jackson gets back on track in 2012, his on-base percentage will skyrocket, which means many more opportunities to steal bases.
He has the ability and the talent to become a big basestealer, a feat that will occur if he bounces back next year.
Risk: Moderate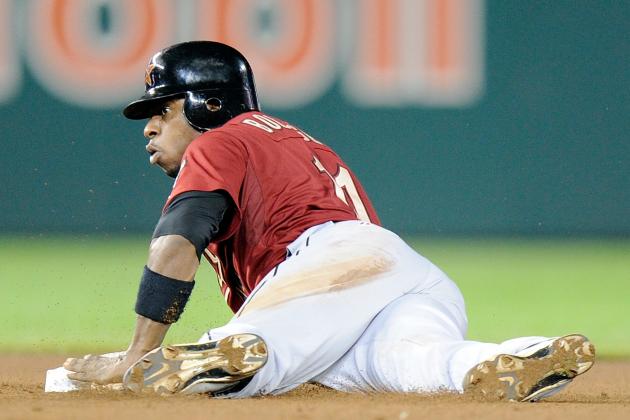 Greg Fiume/Getty Images

At the onset of this piece, I wrote that no player listed stole more than 30 bases in 2011, with one exception.
Astros center fielder Jason Bourgeois is that exception.
Perhaps because of the team he plays for, or perhaps because he has played four MLB seasons virtually undetected, Bourgeois is one speedster worth taking in 2012.
He stole 31 bases in just 93 games last season. Need I say more?
Risk: Minimal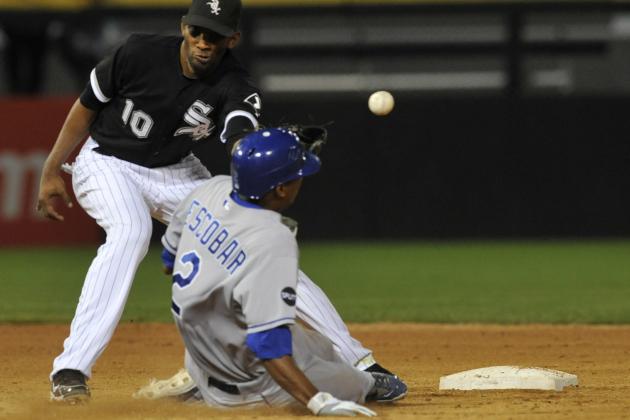 Drew Hallowell/Getty Images

With a career-high 26 stolen bases in 2011, Royals shortstop Alcides Escobar joins teammate Jeff Francoeur as players who suddenly found speed in their first seasons with Kansas City.
Escobar must work on his on-base percentage, which was just .290 in 2011. If the Royals are able to turn that number around, Escobar stands to steal many more bases next season.
Risk: Moderate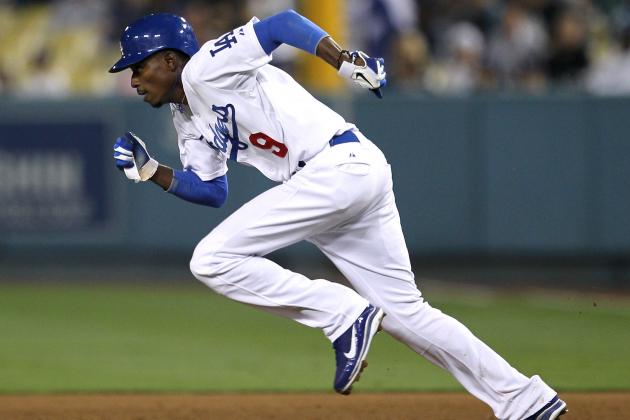 Stephen Dunn/Getty Images

Los Angeles Dodgers shortstop Dee Gordon's 24 stolen bases in 2011 seem fairly average—until one considers that Gordon only played in 56 games for L.A. last season.
The 23-year-old rookie stands to share his position with newcomer Jerry Hairston in 2012, but that doesn't mean he won't be used as a pinch runner or otherwise find his way on base next season.
He was baseball's Rookie of the Month for September 2011 and was named MiLB.com's Dodgers Organization All-Star last year as well.
Expect Gordon to keep on running in 2012.
Risk: Minimal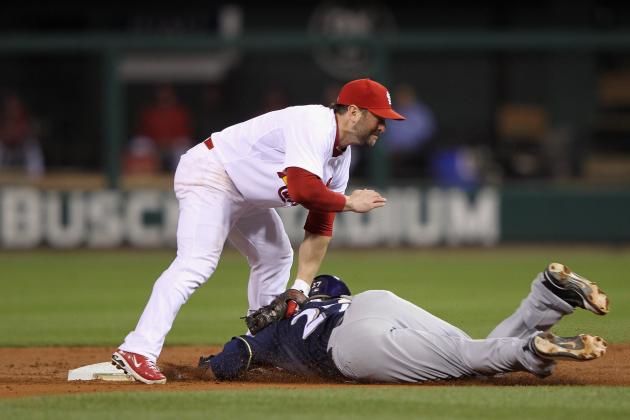 Jamie Squire/Getty Images

Other than teammate Ryan Braun—who uncharacteristically stole 33 bases in 2011 (he stole just 14 in 2010)—Milwaukee Brewers part-time center fielder Carlos Gomez provides his team with most of its steals.
Gomez stole 16 bases in 2011, though he played in just 94 games.
Still, his SB to CS ratio (eight-to-one) is quite impressive, suggesting Gomez is still lurking and itching for a chance to get back to 2008 form, when he stole a career-high 33 bases in 44 attempts.
Risk: Moderate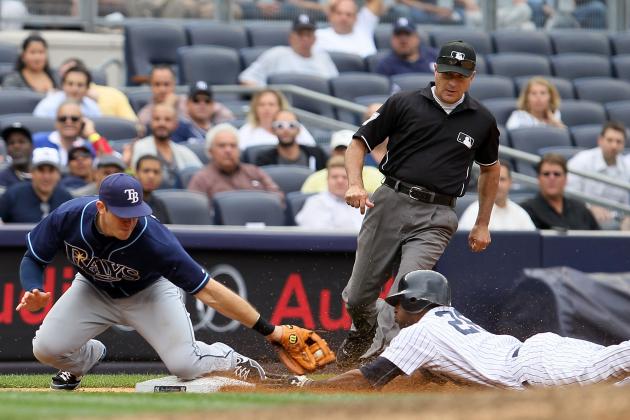 Jim McIsaac/Getty Images

If you think of the New York Yankees and stolen bases, chances are, the names Brett Gardner and Curtis Granderson come up.
But third baseman Eduardo Nunez does not.
Nunez has played 142 games between 2010 and 2011, stealing a total of 27 bases while being caught six times.
Nunez is surely a part-timer behind Alex Rodriguez, but his speed figures suggest a bright future and a plethora of opportunities to pinch run when the Bronx Bombers need a stolen base.
Expect a big season from Nunez in 2012.
Risk: Low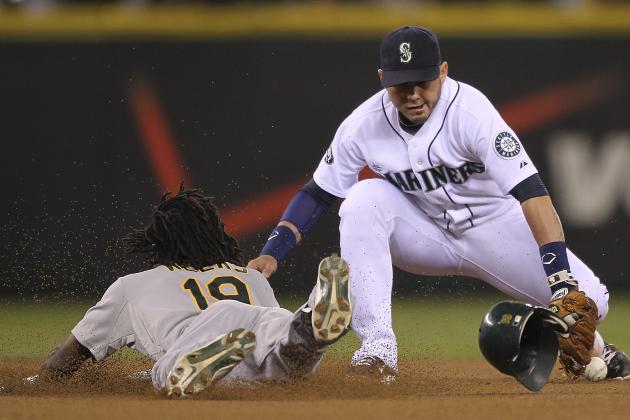 Otto Greule Jr/Getty Images

Though Oakland Athletics center fielder Coco Crisp led the American League in 2011 with 49 stolen bases, teammate Jemile Weeks put on a show of his own with 22 SB in 97 games.
Weeks sparkled in his debut season, putting up a .340 on-base percentage while keeping his power numbers low enough with just two home runs—well within the range that speedster fans love to see.
Expect Weeks to continue his impressive speed clinics in 2012.
Risk: Low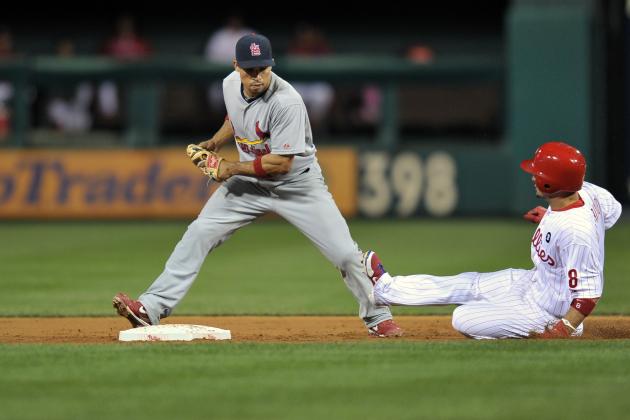 Drew Hallowell/Getty Images

Philadelphia Phillies shortstop Jimmy Rollins may be the unofficial team speedster, but center fielder Shane Victorino has some speed of his own.
The Flyin' Hawaiian might have stolen just 19 bases in 2011, but he stole 34 bags in 2010.
Victorino also played in his fewest number of games last year since his 131-game season in 2007.
Overall, Victorino ran less last year while increasing his triples from 10 to 16 and doubles from 26 to 27.
By all accounts, Victorino still has speed, but the big question in 2012 is whether he will get the green light a little more often.
Risk: Considerable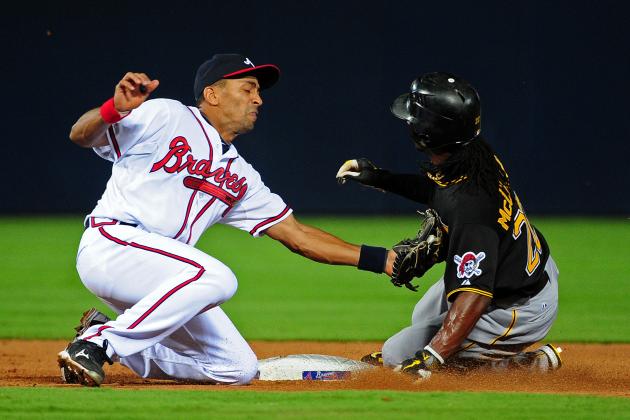 Scott Cunningham/Getty Images

Pirates center fielder Andrew McCutchen is one of those players whose performance on the field tends to look better than his batting statistics indicate, though McCutchen did experience his first 20-20 season in 2011.
With 23 stolen bases, McCutchen's numbers were down from his 33-SB season in 2010 and on par with his 22-SB performance in his rookie season of 2009.
McCutchen clearly has great speed. The only thing holding him back seems to be his team. Without a real need for him to be running, McCutchen stays put at first, meaning no great SB numbers.
Maybe 2012 will be the year Pittsburgh finally turns it around.
Risk: Moderate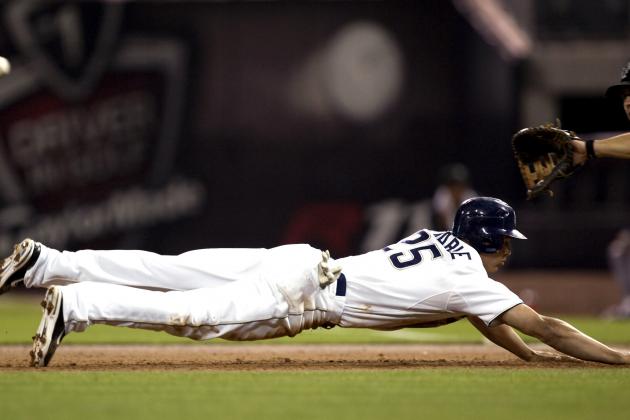 Kent Horner/Getty Images

For all that is wrong in San Diego, RF Will Venable seems to be one bright spot for the struggling Padres.
After playing his first fairly full-time seasons in 2010 (131 games) and 2011 (121 games), Venable responded by stealing 29 and 26 bases, respectively.
Venable has the speed to get it done, but like McCutchen, he just plays for a team that is not inspired to run all that often.
Still, as an alum of the Mike Scioscia academy of coaching, manager Bud Black likes small ball, which could ultimately mean Venable will have more chances to improve on his speed game in 2012.
Risk: Moderate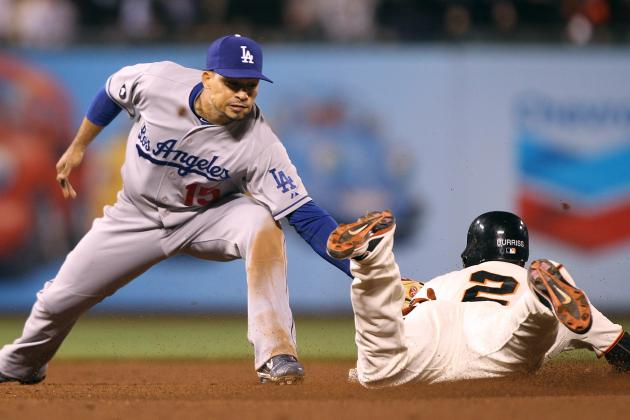 Jed Jacobsohn/Getty Images

The San Francisco Giants will debut CF Angel Pagan come Opening Day, meaning all eyes will be on the NL's eighth-highest basestealer in 2011.
Conversely, that means many eyes will be looking away from Pagan's teammate, 2B Emmanuel Burriss.
Burriss only stole 11 bases over 59 games in 2011.
Playing behind Freddy Sanchez and Mike Fontenot, Burriss doesn't stand to see all that much playing time, meaning he must make the most of his limited opportunities to play the game.
Burriss may not climb straight to the top of the SB leaderboard in 2012, but he may be a surprise source of steals off the bench.
Risk: Considerable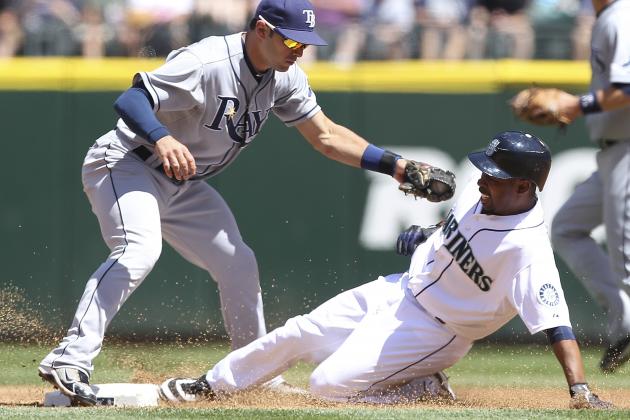 Otto Greule Jr/Getty Images

Ichiro aside, the Seattle Mariners have several fast players on their team. Third baseman Chone Figgins is one of them.
Figgins came up with the Los Angeles Angels of Anaheim in 2002, stealing over 30 bases every season from 2004 to 2010.
In 2011, Figgins suffered from a hip flexor injury, ultimately leading to an 81-game performance in which he only managed 11 steals.
With manager Eric Wedge giving Figgins breaks in mid-2011, the speed demon has hopefully had ample time to heal and begin rehab. Though it surely will be a risk, if Figgins comes back from injury, he stands to get right back up there in the SB department.
Risk: Considerable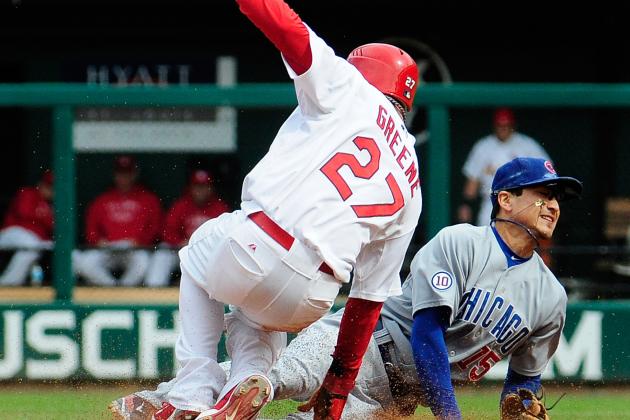 Jeff Curry/Getty Images

In his three years of MLB experience, St. Louis Cardinals second baseman Tyler Greene has never appeared in more than 58 games during any given season.
In 2012, that may very well change, as Cardinals GM John Mozeliak recently hinted that Greene has a strong chance of becoming the Cards' everyday second baseman.
Greene stole 11 bases in 2011, giving him a career total of 16 stolen bases in 150 games. He has never been caught.
With Albert Pujols out of the picture, the Cardinals may take up the running game more often, meaning Greene might have more opportunity to swipe bags to make up for St. Louis' depleted power numbers.
Risk: Moderate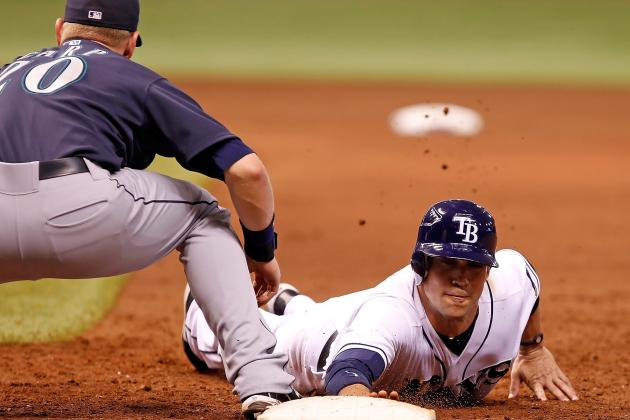 J. Meric/Getty Images

Tampa Bay Rays left fielder Sam Fuld had a breakout 2011 season in the stolen bases department, stealing 20 bases in 105 games after coming over from Chicago in 2010.
Fuld stole just two bases in three seasons with the Cubs, but he has begun to expand on his running game under the tutelage of Rays manager Joe Maddon, another graduate of the Mike Scioscia school of coaching (he worked for Scioscia in Anaheim).
Fuld stands to continue running at the Trop next year, meaning a distinct possibility of a 30-plus-SB performance.
Risk: Low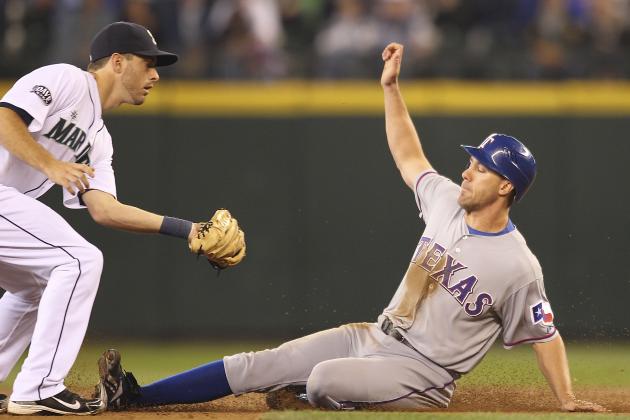 Otto Greule Jr/Getty Images

With the Texas Rangers' Elvis Andrus and Ian Kinsler ineligible (they both stole 30-plus bases in 2011), that leaves right fielder David Murphy, an unlikely candidate who stole just 11 bases while getting caught six times last year.
However, Murphy does have the speed necessary to impress on the basepaths, suggesting he could be a surprise source of up to 20 steals in 2012.
Risk: Moderate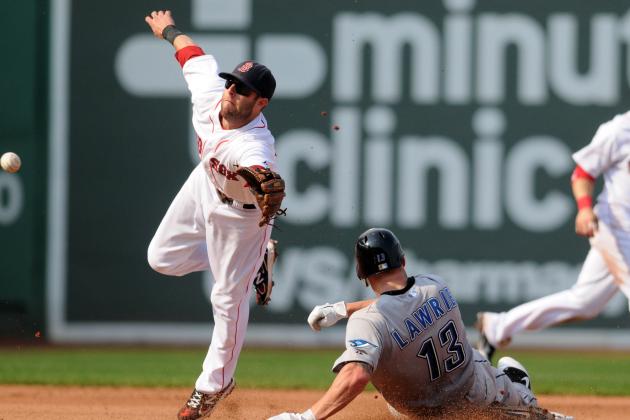 Darren McCollester/Getty Images

Blue Jays third baseman Brett Lawrie finished his first 43 games of big-league experience with seven stolen bases in eight chances.
His speed on the Toronto turf is impressive, suggesting the Canadian native may very well enter 2012 on a mission to run even more.
Though Lawrie is the newest Blue Jays third baseman, he is currently first on the depth chart, ahead of Edwin Encarnacion and occasional hot corner specialist Jose Bautista.
This should give him ample time to hone his running skills in 2012.
Risk: Moderate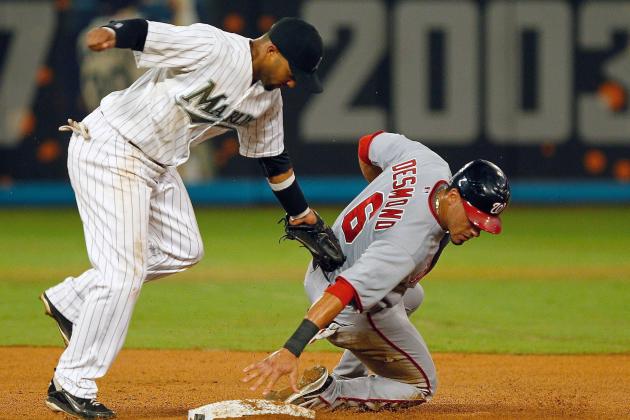 Mike Ehrmann/Getty Images

Washington Nationals shortstop Ian Desmond tied his career-high for games played in 2011 with 154, while increasing his stolen base count from 17 in 2010 to 25.
Desmond will enter his fourth year of full- or part-time MLB service in 2012, and his increasing stolen-base figures are encouraging signs as to his 2012 chances.
Winner of the 2011 Nationals Heart and Hustle Award, Desmond once again appears as the Nationals' No. 1 shortstop, giving him all the chances he needs to work on his running game.
Expect big things from Desmond in 2012.
Risk: Low