Big 12 Basketball: Why this Three-Way Race is one of Basketball's Most Exciting
January 27, 2012

The Big 12 may have seen its fair share of instability earlier this season, but it now has reason to celebrate. With the Big 12 as the home of Missouri (at least for now), Kansas and Baylor, this conference has become the epicenter of conference title competitive basketball.
Posting respective rankings of No. 2, No. 5 and No. 6 in the nation, these three teams make up some of the NCAA's finest, and we are only a little over halfway through the season.
As a result of such fierce competition, the race for the Big 12 title is arguably the most exciting conference race in college basketball at the moment.
Take a look at the stats beyond the top 10 ranking each squad has earned.
These three teams lead the Big 12 in scoring offense, scoring margin, field-goal percentage, assists and steals. In addition, at least one of these teams is in the top three in almost every other category not listed previously.
That fact is simply astounding and proves that these three squads deservedly sit atop the Big 12.
Yet, what is it about each of these teams specifically that makes them so fun and exciting to watch?
For Kansas, it all starts with a tradition of excellence. Head coach Bill Self has brought home a stunning seven conference titles in the last eight years.
The Allen Fieldhouse experience is not like any other and it requires a miracle (or just a rare off night for Kansas) for an opponent to win in Lawrence.
The passion of Kansas' fans is unparalleled in the Big 12 and this quality is exemplified in the players.
Speaking of, a Kansas game is unlike any other because of two players specifically: Tyshawn Taylor and Thomas Robinson.
Taylor, ranking fifth in both Big 12 scoring (16.6 ppg) and assists (5), has grown into a statistical powerhouse for the Jayhawks over his career and one who knows how to play as a team member.
"The only thing that really matters is the wins. That's it," Taylor said in light of his recent 1,000-career points mark and 112-17 career record.
To pair with this stellar guard comes Thomas Robinson, Player of the Year candidate. He is averaging a whopping 17.8 points per game to add to his average of 12 rebounds. Needless to say, without Robinson, Kansas would not be the team that they are. 
A little under 170 miles away in Columbia, Mo., basketball is played an entirely different way.
Coined "the fastest 40 minutes in basketball," the Mizzou Tigers like to play the game as though it were a track meet.
Even though things have slowed down the past couple of years, anyone who watched the Tigers take on the Baylor Bears had to have noticed just how much speed this team had.
After going through the rhythms with sports analysts about the legitimacy of this group, Missouri has proven that they can play among the greats. Even though they were dealt a setback against Oklahoma State, these players have shown that they know how to win.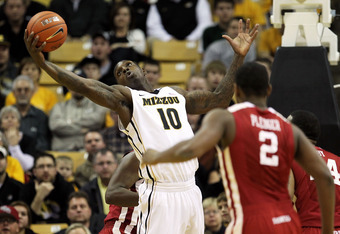 Jamie Squire/Getty Images
Then again, winning is easy when first-year head coach Frank Haith can boast the fourth highest-scoring offense in the game (82.9 ppg), led by Ricardo Ratliffe.
No, Ratliffe is not the only great player on this squad and he is not the leading scorer (he misses that mark by 2.5 points), but stating that he is reliable with the ball in his hands is a glaring understatement.
He averages a 75.4 percent success rate of every field goal he puts up. Just to put that into perspective, the next highest, Perry Jones III of Baylor, sits 20 percentage points lower at 55.2 percent.
Essentially, Ratliffe and the basket have been joined at the hip this season and this is just one of the reasons Mizzou is a title contender.
Now, let's not forget about those Bears all the way down in Waco, Texas. After going undefeated through 17 games, reaching a No. 3 national ranking and posting the best start in school history, Baylor finally fell at the hands Kansas at Allen Fieldhouse.
Returning home for the following game, the Bears could not pull one out against an equally difficult Missouri team.
Sitting at third in the Big 12 after these two conference losses, no one should be counting these Bears out.
Baylor boasts arguably the deepest and most talented roster in the Big 12, if not in all of college basketball.
Just to take one player from the bench as an example, junior college transfer Pierre Jackson recently won himself the starting point guard position, after exemplifying the "great work ethic" and "unbelievable athleticism" head coach Scott Drew described when Jackson signed with Baylor.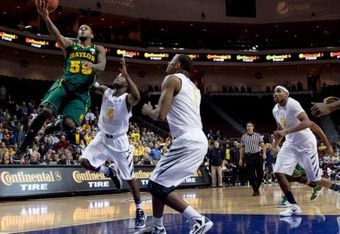 To add to his incredible play, Baylor claims three of the Big 12's other top 20 scorers. All powerful post players, including Big 12 Preseason Player of the Year winner Perry Jones III, these three men illustrate the size and talent of this Baylor squad.
When Jones is not on his game, Quincy Acy can pick up the slack and break the backboard at the same time with his deafening dunks. Even star freshman recruit Quincy Miller brings home big games for Baylor, including a 29-point effort in the loss to Missouri.
Do not forget about Brady Heslip either, a Boston College transfer who is a deadly sniper with his deep court shots.
The atmosphere that coach Drew has created in Waco and the continued growth of Baylor Nation has finally given Baylor something to play for and a history to be proud of.
What statistics fail to recognize with these three potential Final Four teams is each one's resiliency.
The Baylor Bears, Kansas Jayhawks and Missouri Tigers have all shown that they are capable of difficult road wins and when they have suffered a loss, they have bounced right back.
Only Baylor has been handed more than one loss in a row (against both Kansas and Missouri) and Missouri is the only team to have lost on the road against an opponent other than the other two Big 12 leaders.
What this shows is yet another reason why every game counts. The Big 12 standings will, most likely, come down to which team will be able to protect its homecourt from the other two powerhouses.
It is pretty safe to bet that the first team to lose both home games, were it to happen, would be the first team eliminated from No. 1 contention.
Clearly, the second half of Big 12 conference play is shaping up to be one of the most exciting in the conference's history. Unlike other championships, the Big 12 tournament will almost certainly not be decided before it plays out.
This year, college basketball fans should consider themselves lucky to be fortunate enough to have another dynamic competition for a conference title.
Baylor, Kansas and Missouri all want the championship. All three can taste it and have made the case for its ownership. All three know that it is going to take fantastic basketball to earn it.
The only question that remains is, why is March still so far away?