Baylor Lady Bears Flaunt Their Depth, Trounce Lady Sooners in Norman
January 27, 2012

"Give me Brittney Griner and Odyssey Sims, and I'll go undefeated, too—especially against a bunch of girls!"
No, no one has said that, but be honest, the thought must have popped into your mind, if you're inclined to be reading this at all.
Ms. Inside and Ms. Outside.  Add a cheerleader, a mascot, a walk-on and a couple of sprinters, and voila, instant top-10 team.
In truth, even this playful clowning by Abacus does a disservice to both Kim Mulkey's undefeated, top-ranked and enviably deep Baylor Lady Bears and women's college basketball as a whole.
Brittney Griner and her teammates packed up a good old-fashioned Waco whoopin' with their high-tops as they traveled to Norman, OK for their Thursday night game with OU's Lady Sooners. 
Uncharacteristically, the 89-58 Baylor victory took place with relatively minimal contributions from the junior Griner and stud sophomore Odyssey Sims.
Despite the unwieldy final margin, Sherri Coale's young Oklahoma squad had their moments on this night, even assuming a brief 16-15 lead 10 minutes into the game. 
Another flurry led by Sooner guard Whitney Hand closed a 15-point lead at the intermission to six with 17:19 to go, by which stage Griner had contributed a whole five of her 18 points to the Baylor cause. 
For the game, OU shot 37 percent on its field goals, none too shabby against a team holding its prior conference foes to 30.
By the time Brittney scratched the scoring column in the second half about eight minutes in, Mulkey's crew had a more comfortable 62-43 advantage.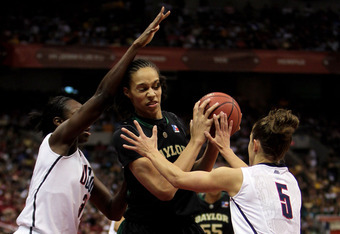 Jeff Gross/Getty Images
You'd suppose that the slack had been picked up by Sims, but on this night the talented point guard had more missed shots and turnovers than assists and steals, though she did pilfer four of the latter.
Bench contributions from Terran Condrey and Brooklyn Pope, who combined for 24 points (on 10-of-13 shooting) and 10 rebounds, complemented strong play from Destiny Williams (14 points, seven rebounds) and Kimetria Hayden (10 points, eight rebounds).  Power forwards Williams and Pope snared half of the team's dozen offensive rebounds.
From the outset, it appeared as if Coach Mulkey wanted to establish the inside presence of Williams, as within five possessions she had six of Baylor's first eight points, all in the paint.
With Williams posting and Griner pulling the Sooner centers from the lane, Mulkey's athletic wing players Condrey, Hayden and Jordan Madden were cutting, driving and kicking out for treys with regularity and success—the Lady Bears' first-half lead topping out at 17.
A half a century or so ago, the combination of a revolutionary pivot player and an extremely heady guard led the University of San Francisco to back-to-back national collegiate championships while fashioning a 55-game winning streak.  Their names, for those who don't know their hoops history, are Bill Russell and K.C. Jones.
Coach Mulkey has assembled a team that could match the Dons in championships and maybe surpass their stretch of wins. 
Only one rotation player, Condrey, concludes her eligibility this season; talented redshirt sophomore Shanay Washington is slowly gaining confidence in her surgically repaired knee; and Mulkey has an impressive recruiting class lined up for the fall.
With this bunch, UConn's 90-game standard might not be out of their reach.
None of this, starting with maintaining an unblemished record through the remainder of a tough conference grind, will be easy, but what true accomplishment ever is?
Still think this is a two-girl show?
Then you haven't been watching—and you're really missing a treat.