Milwaukee Brewers: 10 Keys to Brewers Contending for Title Again in 2012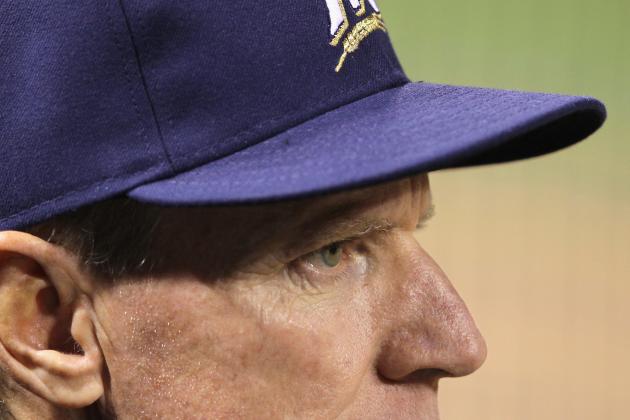 Jamie Squire/Getty Images
Second-year skipper Ron Roenicke faces many challenges to keep the Brewers in contention for 2012.
Just as Ryan Braun's MVP acceptance speech pointed out, the Brewers themselves need to view a challenging circumstance as an opportunity to get better.
Doug Melvin was fairly active in free agency without shooting for the most marquee players. Long removed from the bidding for Prince Fielder, the Brewers are moving into a new, post-Prince era.
This slideshow takes a look at 10 keys to the team's own performance that will determine whether they are hoisting consecutive division crowns or going into next year's offseason with a bunch of "coulda, shoulda, woulda" regrets.
Begin Slideshow

»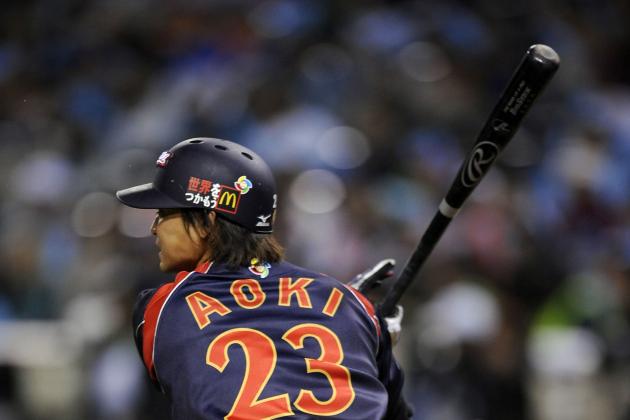 Kevork Djansezian/Getty Images
Aoki's performance represents a key piece of the puzzle if the Brewers are Braun-less for 50 games.
The 2011 Group of Key Utility Players
Craig Counsell, IF: Local Wisconsin player and fan favorite. Nearly set record for most at-bats without a hit, retired as a player, moved to Brewers front-office role.
Mark Kotsay, OF/PH: Came through with key hits on occasion but also was mired in a slump at one point in the season and had a few key errors in day games.
Jerry Hairston, IF: Midseason pickup, filled in admirably, not heavily pursued by Brewers for re-signing.
Josh Wilson, IF: Desperation waiver-wire move. Wilson didn't exceed or fail expectations, but then again, expectations were pretty low with starting SS Yuniesky Betancourt failing to provide any offensive production along with extremely limited defensive capabilities while Counsell's struggles seemed to be endless at the plate.
Taylor Green, 3B: As a rookie, Green came in due to Casey McGehee's immense struggles. Jury is still out on whether Green can be an everyday player in the majors. Seems to have more plate discipline and range than McGehee.
Backup catchers: Of a group that included Wil Nieves, Mike Rivera and George Kottaras, only Kottaras managed to latch on the club for significant time and contributions. Kottaras has some pop in his bat but isn't a plus defensive backstop expected of the backup catcher role.
Likely 2012 Utility Group (as it stands 1/29/12)
Norichika Aoki, OF: The Brewers' first-ever dip into the Japanese prospect market, Aoki is said to have a plus-glove and hits for on-base percentage with little power. Time will tell if Aoki can adapt to life in the states and whether his batting titles in Japan translate to production in Major League Baseball. Smart move by the Brewers, considering Braun's 50-game suspension is likely, allowing for more options in the outfield.
Cesar Itzuris, SS/2B: Versatile vet, light-hitting yet a switch-hitter. This is likely the Counsell replacement.
Jeff Bianchi, SS/2B: I think this is more of a training-camp body brought in for competition, would provide AAA depth if he stayed and could move up if injuries incur. Has a shot at the opening day roster if Itzuris underwhelms and Bianchi impresses.
Martin Maldonado, C: This is a big spring training for Maldonado to prove he's ready to be an MLB catcher after putting up a respectable offensive showing in the minors to prove his great defensive skills can be utilized in the big leagues. That said, with the re-signing of Kottaras, it's unlikely this is Maldonado's year to open the season as the Brewers' backup catcher.
Others to compete for a spot: 2B Eric Farris, OF Caleb Gindl, OF Logan Schafer.
Holdovers: Kottaras, Green.
Note: I'm considering the center-field platoon of Nyjer Morgan and Carlos Gomez to be more of a shared starting duty, rather than the more random aspect of being a true utility man in the MLB.
Prediction
In terms of veteran leadership, it will be hard to replace the trio of Counsell, Kotsay and Hairston. That said, this once-young, wet-behind-the-ears club now has key starters who are veterans expected to take on bigger leadership roles.
Aoki should be an all-around improvement over Kotsay performance-wise.
The same could be said for the far-better defensive skills of Maldonado compared to Kottaras. Of the other unproven rookies, it will be interesting to see who comes to the foreground, but Schafer's skill set is most likely to have the best results in the big leagues.
I predict this group will be more productive than last year's, though I think one proven versatile veteran is still needed to back up the infield. A good utility group can become huge in key games and may play into whether the Brewers are in the pennant race or flailing their arms in frustration.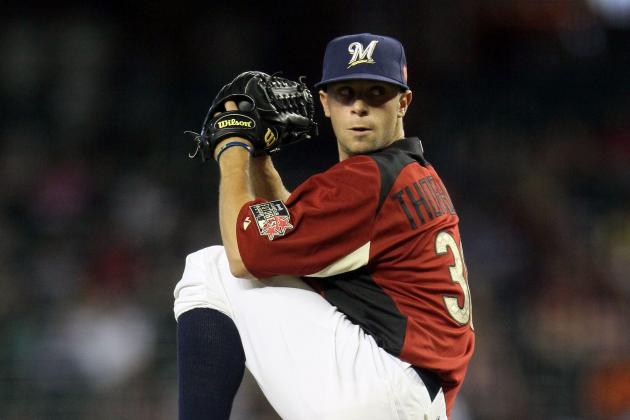 Jeff Gross/Getty Images
Brewers SP prospect Tyler Thornburg, pitching in 2011's All-Star Futures Game
From big-time midseason trades like C.C. Sabathia's borrowed time in Milwaukee and Francisco Rodriguez's fairly un-hittable 8th inning last year to less glamorous pickups like Hairston, the midseason pipeline of trades can be a key way to pick up a second wind when sailing into the playoffs.
The Brewers farm system has been somewhat replenished in last year's draft with two top-prospect college starting pitchers added to the fray in Taylor Jungmann and Jed Bradley.
They also have a few decent position-player prospects as well. The Brewers' top 10 prospect list is still nowhere near the tops in the league, but with Tyler Thornburg impressing at multiple levels since being drafted in recent years, there are a few legit pieces for trade-bait.
Time will tell which teams become irrelevant and want to unload valuable veterans to contenders in exchange for prospects, but the Brewers could factor in as a major player this year as they have done in recent seasons.
Melvin's choices, even in waiver-wire pickups, could make a difference in winning the pennant or barely missing the playoffs.
Carlos Gomez was beyond a gold glove center fielder last year for the Brewers, despite the voting results.
His injury came doing what he does best, giving 110 percent in center field.
The platoon of lefty Nyjer Morgan and the right-handed Gomez last year was a key aspect to the Brewers' division title, which also allowed the Brewers to close out games with two top-notch fielders in both CF and RF.
I know the question about Gomez's offensive potential is revisited every year with the same inconsistent (at best) results, but the question remains valid in 2012. Anyone who's watched Gomez bat knows that when he's not going for big home runs, he displays a lot of potential.
Even after all these years in the majors, Gomez is only 26.
As a Brewers fan for many years, I can't help but compare the ultra-talented Gary Sheffield's late blooming after his frustrations on hapless Brewers teams to Gomez's glimpses of potential at the plate.
Though Sheffield and Gomez are totally different players at different positions, the development part of the equation could be similar with Gomez if the Brewers' new hitting coach and Gomez himself are willing to stay dedicated to plate discipline and going for solid line-drive contact over whopping, soaring home runs and mega-cuts for strikes.
For the Brewers, they don't even need all five tools in Gomez's skill set to be running at Willie Mays-like levels. They just need slightly higher on-base percentage (above his lifetime .291 rate) through an increase in walks and line-drive percentage.
This slight improvement will round out Gomez a bit more, creating value for both highlight-reel catches and offense. It will also show in the most important stat: wins and losses.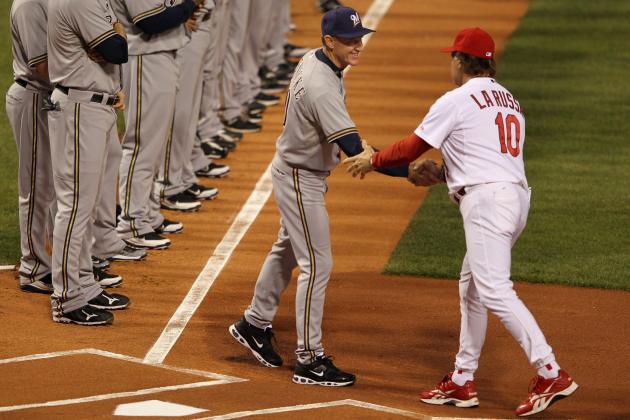 Jamie Squire/Getty Images
Roenicke's Playoff Experience Will Aid Him in Leading the Brewers in 2012
All great managers were once rookie managers at some point.
In Roenicke's case, he seems more intelligent, capable of understandable communication with the press and well respected by players compared to recent Brewers managers.
When the team under-performs, Roenicke will express disappointment and explain what has to be improved, unlike Ned Yost, who might defend a player like Jeff Suppan beyond belief (the infamous "Soup pitched great" still causes many Brewers fans' nightmares).
With all these great attributes, many believe Roenicke's first year with 96 wins to his credit was mainly the result of inheriting a stacked team.
This year, with Braun likely suspended for the first 50 games and Fielder fulfilling his dream in Detroit, Roenicke will have to make key decisions to decide ballgames even more than in his first year.
Many felt the great, controversial manager Tony LaRussa out-managed Roenicke in that fateful playoff battle with the world champion Cardinals.
Can Roenicke learn from his first year to improve in managing the starting rotation and bullpen's innings, rest days for everyday starters and key in-game strategies?
His M.O. and background with the Angels suggests he'd like to be able to do a lot of hit-and-run, steal bases and win with small ball where appropriate. Is this the year he starts to fully showcase these goals in action?
My prediction: Roenicke did a fine job in 2011 and deserves some patience from fans in his second year. I expect he will improve and also play a role in many young players' development who may spend significant time on the 40-man roster this year.
He won't be the top manager in the league nor the worst, but I expect he will go toe-to-toe with the best.
In recent years, the Brewers have been loved by many and hated by rivals for their great team chemistry exhibited in staged celebrations—Braun and Fielder's boxing routine following trots to the plate and Nyjer Morgan's affable alter-egos.
The team expressed a family and friendship vibe among all the guys, which is hard to achieve in professional sports.
Equally hard is to combine the light-hearted bonds with on-field results like the 96-win Brewers did.
Many a manager has been fired for purportedly "losing the team," meaning the players stopped believing in the manager's mantra or had issues with the leadership's persona.
One of Ron Roenicke's major challenges will be not only replacing the bat of Fielder, but ensuring the club can maintain team chemistry amid the major leadership losses of Fielder, Kotsay, Hairston and Counsell.
Major question marks heading into 2012: Morgan's antics are considered fun and positive when winning—is he a distraction or problem if they're not winning?
Francisco Rodriguez, or "K-Rod," remained dominant in an 8th-inning role last year. That said, he's openly demanded time to get saves and has Boras as his agent—will that hurt the club's chemistry if K-Rod doesn't allow Axford to shine as the closer?
Prediction: Corey Hart and Rickie Weeks have exhibited leadership value at times and will have to be even bigger leaders while maintaining their natural personalities.
Roenicke will point to Weeks' high-motor style of play as an inspiration for young and first-year players to aspire to his level of dedication, competitiveness and passion. K-Rod will embrace the 8th-innning role while making a ton of money doing so and still be appealing to other teams when he's a free agent after this season.
Morgan is crazy but brings energy to the team that the other players benefit from. If Roenicke can continue to harness Morgan's energy for good and not the negative antics, the team should be fine chemistry-wise.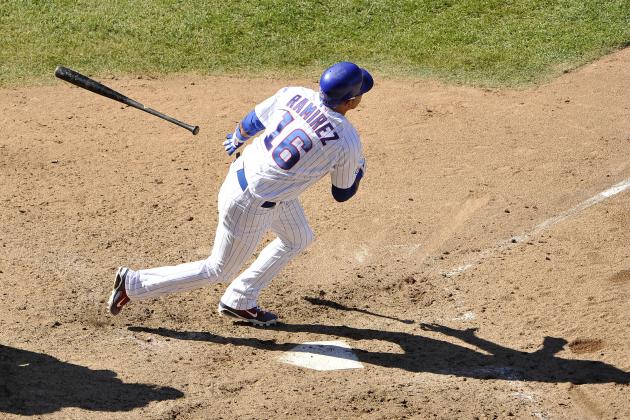 Brian Kersey/Getty Images
A portion of the Brewers' attempt to replace Fielder's production hinges on the bat of former rival, Aramis Ramirez.
While many asked, "How do the Brewers replace Fielder?" long before his eventual signing with the Tigers, many astute fans and observers realized there's no replacing the incredible offensive output of one of the greatest sluggers in history.
No one has accomplished the production in home runs that Fielder has done at his age—nobody.
Then the question that becomes more realistic and important to think through for the smallest market in baseball is much like the theme of this year's blockbuster movie and recent best-selling book, Moneyball.
When the A's couldn't afford to re-sign their star players and Billy Beane was forced to reassess the very nature of scouting, he did it through on-base percentage and other advanced statistical measures, essentially hoping the sum of his odd-fitting parts would result in more wins.
When he was right, the traditional baseball world was thrown on its head.
Today, Doug Melvin doesn't have to play such a pioneering role, but the scenario is similar.
With poor results in 2011 from starters Casey McGehee and Yuniesky Betancourt, the Brewers have added Aramis Ramirez at third and Alex Gonzalez at shortstop. There's some debate whether it will be Gamel as everyday first baseman, Hart at 1B more often or a type of platoon.
Since we have little full-time MLB data on Gamel, I've used Hart in figuring out if the Brewers can replace Fielder/McGehee/Betancourt effectively.
This means, in Moneyball terms, it's Fielder/McGehee/Betancourt versus Hart/Ramirez/Gonzalez.
To simplify, I'm going to average the on-base plus slugging percentage for each trio based on last year's stats to try to find a fair offensive comparison.
2011's trio: .753 OPS
2012's projected: .778 OPS
I was surprised to find this result, considering Gonzalez is almost a clone offensively to Betancourt (while being a huge defensive upgrade over Betancourt). The results could be even more impressive if Gamel and Hart have a great year while Ramirez and Gonzalez have average years based on their career data.
Prediction: As impossible as it may seem, I think this current overall squad can keep pace offensively with last year's.
It's no secret that Hart can go on league-leading home-run streaks, and even having Braun for 100 games is better than many team's starters for 150 games.
Ramirez brings a proven bat and Gonzalez a proven glove with occasional pop in his bat too.
Will they win 96 games again? Unlikely, but they should be able to compete to be the best in the central, and that's all one can hope for heading into spring training.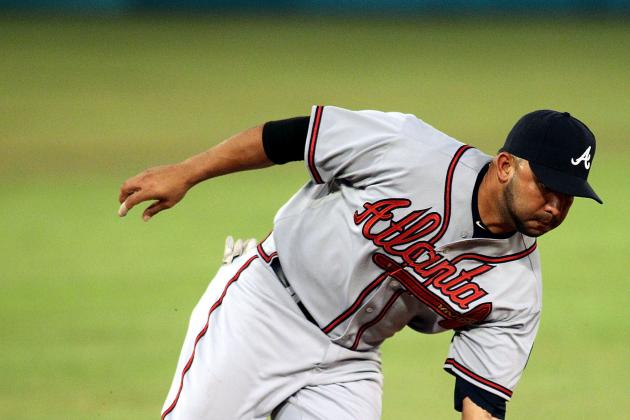 Marc Serota/Getty Images
Alex Gonzalez has maintained a steady glove into his 30s, will his prescence help the Brewers pitching staff in 2012?
Going out to Miller Park early in the season a few times, I was shocked to study the sheer lack of mobility and range exhibited by McGehee and Betancourt.
Many routine grounders were counted as hits against the talented starting pitching staff in the Brewers' 2011 season that may have been outs against most clubs' left-side infield.
Furthermore, key defensive blunders turned what seemed like a preeminent World Series team into a pretender—the Brewers were sent back to the drawing board in an offseason of uncertainties, with the loss of a franchise player and other dilemmas.
Did the Brewers turn their Achilles' heel into a reliable defense?
I think the key defensive additions will be Gonzalez starting at shortstop and Aoki, who can play some center field but will most likely replace Braun during the suspension as a 50-game starter.
Braun has made strides at learning how to play left field after failing to make it as a reliable third baseman. At times, Braun can use his elite athleticism to make incredible catches in front of him. At other times, he struggles to play proper angles on deep flies, relying on the Gomez/Morgan split to make up ground for him through their stellar center field play.
That said, it's not unusual for most of the MLB clubs to sacrifice defense at the corner outfield spots in exchange for power on offense.
I think Aoki will be a great defensive upgrade, creating the scenario that the Brewers could close out games with Aoki, Gomez and Morgan all in the outfield at once. Not many hits will fall with those three at the helm and Hart double-switched to 1B.
With this type of total coverage, nothing falls, outfield defense could give the starting pitchers and bullpen confidence to be aggressive when needed.
With Gonzalez, the Brewers nabbed the best defensive shortstop available. Though Gonzalez is not an elite defender at age 33, nor is he to be expected to create a gold standard at short, he will be an improvement over Betancourt, and that is very important.
At times last year, I felt like last year's crowning acquisition, SP Zack Greinke, was pressing knowing he had to strike out guys just to compete. With these two key improvements in the defense, I think the starting pitchers can pitch confidently, knowing there aren't as many defensive holes as last year.
I predict these two defenders alone might bring a few key wins in tight games, keeping the division-title and playoff-berth possibility alive and well overall.
Rumors persist on both sides of this issue.
As soon as it's 100-percent certain Braun will officially be suspended for 50 games for a failed substance test, new reports from respected sources surface saying it's likely Braun will be cleared by the MLB.
I am going to be up-front and say I have no idea what will ultimately happen to Braun.
But as far as the bottom line goes for the Brewers, a healthy Braun for 150-plus games is worth a lot more wins to the club than 100 or fewer games.
Could Aoki exceed expectations in left field and be the next Ichiro Suzuki? Sure.
But no matter what happens, the club needs the National League MVP back in the lineup sooner than later.
As soon as the MLB reveals the official result of their decisions with Braun, the Brewers will be in better position to know how to approach the beginning of 2012.
Connected to an earlier slide, manager Ron Roenicke will also have to motivate the troops to be ready to play at a high level with or without Braun. This scenario gives the team an opportunity to realize that any loss of a great player means everyone has to step up to win ballgames.
Ideally, the Brewers come out with their new pieces and existing power sources and produce wins early in the season to stay in the hunt until Braun is back (prepared for the worst-case scenario without Braun, in other words).
Corey Hart is one of my favorite Brewers in history.
How often in the world of sports do you see 6'5" giants with goofy, troll-like beards blasting home runs and making under-rated athletic catches in right field?
Gotta love Hart.
He's transparent about the need to improve in his public comments when he's struggling, and he has a win-first attitude when he's dominating.
It's no secret that with Fielder's departure comes a greater power surge responsibility in the order for Hart.
It's likely Hart will have to either protect Ramirez (if Braun is suspended) or the Braun/Ramirez duo in the order when Braun is back.
Hart has shown he can handle changes in the lineup like a professional. I believe he is best in the 2-hole in the order, giving his surprising speed a chance to play itself out on the basepaths while offering some power behind someone like Rickie Weeks (whose natural part in the order is also debatable).
I don't think Hart has to do a ton more than he's done in the past (26 homers last year and 31 the year before) for the Brewers to be successful, but there's no question there will be greater pressure on Hart.
If he thrives on the pressure, we could see an even better Hart than ever (and the Brewers dominating the division).
If he struggles, it could result in rough patches for the entire squad.
Equally complicated in this scenario is the possibility of a position switch for the two-time All-Star (filling in at first base for 30 or more games, according to the Journal-Sentinel).
Position switches can result in becoming the league's MVP (Braun), or they can be ugly, turning a once-dominant, team MVP into a guy who looked completely lost before being cut loose by the Brewers (Bill Hall's cruel plight).
How hard will the transition be for Hart? He has the ideal length to stretch for making the reach for snagging throws thrown to first, but it must be a pretty huge adjustment going from RF for multiple years back to 1B (where he hasn't played since limited time in the minors).
In a recent interview, Hart describes his willingness to help the team at 1B to ease the burden on Mat Gamel playing full-time as a lefty.
Greinke, Gallardo, Marcum, Wolf, Narveson.
It's probably the least talked-about starting staff to produce such terrific results in many years of professional baseball and arguably the best staff in Brewers franchise history.
Many viewed the Brewers last year as an offensive juggernaut, and rightly so when considering the likes of Braun, Fielder, Weeks and Hart.
But the truth is that the pitching staff is what carried the team during key runs and into the playoffs.
Zack Greinke pointed this out in a recent interview:
"Our pitching staff is what kind of carried us [last year]. It was the bigger part of our year. It's going to be tough missing Hawkins and Saito but with K-Rod and Ax we'll have the best eighth and ninth in baseball. We'll just have to get through seven instead of six this year."
Last year's starters ranked seventh in the NL in ERA, fifth in strikeouts and sixth in opponents batting average.
They did all that in spite of having the worst infield defense behind them, with Betancourt manning shortstop for more than 150 games and McGehee failing both offensively and defensively.
Prince Fielder, despite his supernatural offensive strengths, was never considered an average, let alone solid, defensive first baseman, and Rickie Weeks at second was very athletic in his offensive game but lacking that anticipation and quick first step of great infielders in the majors.
Last year's infield defense made the starters go through rough stretches where they may not have been able to trust the guys behind them to turn grounders into outs.
This year, as mentioned in the previous slides, the biggest hope rests on Alex Gonzalez's shoulders. If he can maintain a typical defensive year for him, then the Brewers starting pitchers can have faith in routine outs.
Related to pitching, starting catcher Johnathan Lucroy will be entering his third year with many of the same pitchers he's worked with. While I don't expect Lucroy's defensive game to suddenly improve leaps and bounds, he could be more secure and improved in his role managing the game for many of the starters this season.
If Maldonado wins the backup job despite Kottaras' re-signing, all the better for the starting staff defensively as well.
Furthermore, in the sheer pitching side of things, considering Greinke wasn't at the top of his game and missed key games at the beginning of 2011, the staff should be more stable barring unforeseen circumstances.
To think Gallardo and Greinke were shaky at times during the regular season last year and the club still won 96 games is a scary thought.
If either Greinke or Gallardo are lights-out for 2012, look out MLB. And if both have great seasons, this club could be far better than last year's division-winner.
Marcum, much maligned for a poor playoff performance, was easily the Brewers most steady regular season starter last year. To his credit, he is said to be working on his delivery, core and lower-body strength and pitch selection in order to improve in 2012.
"I've been almost all arm, it seems like, the last couple years. By doing that, having my legs a little bit stronger, that'll probably add a little bit more velocity. But at the same time I'll be able to get down the mound a little further, and by getting down the mound a little further you obviously release the ball closer to home plate."
The last thing I will say in my analysis of the Brewers starters is they also bring the added National League element of being able to go yard with big bats for their position.
Gallardo has nine career home runs and 14 doubles in his 238 at-bat career. Last year, Marcum even hit a grand slam, and Greinke is a very athletic pitcher who loves to swing a bat and may still be rusty from all that time in the American League.