Jim Leyland Straight Shooter: Miguel Cabrera at Third, Prince Fielder at First
January 27, 2012

Harry How/Getty Images
Jim Leyland doesn't pull punches. He shoots straight from the hip. "We're going back to old-fashion baseball. We got power at the corners," he said today following Tigers GM Dave Dombrowski and owner Mike Ilitch's first introduction of Prince Fielder as a Detroit Tiger.
Today, amongst the celebration of Fielder's arrival at Comerica Park, where he will take up residence for the foreseeable future, Leyland did not hesitate about the direction the Tigers were headed.
"Mr. Illitch and Dave have given me a lot of nice pieces to this puzzle. It's my job, along with coaches, to figure out how to put that puzzle all together. I don't think that's going to be an issue whatsoever. It's a pretty nice problem to have," Leyland confidently said during his portion of today's press conference.
From there he wasted no time getting to the business at hand of lineups and defensive schemes for the 2012 Tigers.
"Miguel Cabrera is going to play third base, let's make that perfectly clear today," Leyland said. Leyland gave no hesitation and he wanted it clear that there would be no waiting to see what happens in spring training with the decision at third base. The big boys will be anchoring the corners. He confessed he knows Cabrera won't have the agility that Brandon Inge had, but intends to have him in training camp a bit lighter and ready to go as the everyday third baseman.
Leyland's defense: "You give up a little something, but you get a whole lot in return," he said. He couldn't be more right. Cabrera won't make the flashy plays, and teams with speed will get down a few more bunts here and there, but the big fella is definitely athletic enough to get it done at third. He will make the routine plays and dazzle from time to time. He's too good not to.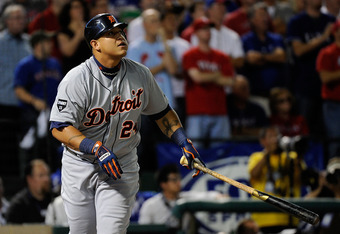 Kevork Djansezian/Getty Images
With experience already on his resume at that position, Cabrera may find himself comfortable much sooner than expected, putting anxious Tigers fans at ease as they worry about the juggling of Leyland's lineup—an annual ritual for Tigers fans and something that has often been a mystery, and will most likely remain one, regardless of Fielder's addition in the lineup.
Leyland also confirmed that he talked with Cabrera and that he is "100 percent on board." Leyland professed confidently that Cabrera felt good about the move.
It's probably a safe notion that Dombrowski and Illitch conferred with Cabrera before calling the bank to clear some funds for Fielder's arrival at first base. It's doubtful Tigers management would have put themselves in position to have clubhouse interference before the team even heads to Lakeland. Somewhere along the negotiation trail, a commitment was sought from Cabrera before shipping him across the field to third.
Leyland also made it clear that it is not in the plan to make late-inning defensive substitutions for Cabrera at third. Not surprising, the old skipper doesn't believe in making defensive changes for star players like Cabrera late in the game. Of course, he admitted that the coaching staff would monitor it, but that he intends Cabrera to be the same everyday player at third that he was at first.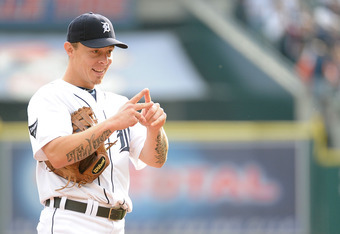 Harry How/Getty Images
Leyland even offered a sincere apology to the newest Tigers utility infielder, Inge. He knew Inge wasn't happy and he apologized, which really was all he could do considering the circumstances.
Everything happened so quickly, the Washington Nationals seemed to be meeting the demands of Fielder's agent, Scott Boras, and near terms. A few days ago the news wires lit up full-tilt when Dombrowski confirmed that the Tigers had in fact come to terms with Fielder on a deal that will pay him $23.7 million a year.
The skipper also acknowledged that Inge still has inherent value as a defensive replacement. Certain circumstances could provide an advantage with Inge inserted late at third base. Leyland may employ this strategy purposefully against teams looking to play small-ball against the less agile corner pieces of Cabrera and Fielder. This, however, would be a rare scratch and replacement on Leyland's scorecard. More likely, Inge will see playing time only when Cabrera needs a breather at third.
Based on Leyland's comments today, his lineup headed home to Detroit for the season-opener seems pretty well set, barring any spring training oddities. Austin Jackson will lead off, despite last season's ineffectiveness in that role. Third-year player Brennan Boesch, who is ready and healthy following a season-ending injuring in 2011, will follow Jackson. Cabrera will move up one spot in the order and hit third, leaving American League pitchers to face Fielder in the clean-up spot. 
Hard-hitting slugger Delmon Young will be slotted in the five spot, where Leyland will look for him to pick up where he left off last postseason, having smoked five homers in total during the ALDS and ALCS. Young also knocked in six RBI, with eight postseason hits. With Cabrera and Fielder hitting in front of Young, don't be surprised if he is in the chase for an RBI title right next to Cabrera and Fielder.
All-Star catcher Alex Avila will bat sixth, a productive place for his left-handed bat in the lineup. Last season's biggest surprise at the plate, Jhonny Peralta will bat seventh, and also provide extra-base range in a stacked Tigers lineup. 
The eight-spot in the lineup will provide Leyland flexibility, as he noted Andy Dirks, Clete Thomas and Don Kelly will take turns in the wheel. On a team with little speed, Dirks and Kelly provide more than most. Leyland may use their contact hitting abilities to hit and run, as well as to bunt when necessary deeper in the order. 
Ryan Rayburn will bat last, but may become the first to have a chance at batting leadoff should Jackson struggle early on. Of course, Rayburn has had his own early-season woes and often doesn't catch stride until mid-July, but his potential to be a classic prototype nine-spot hitter abounds. Yet, he has still failed to find the mark in April, May and June.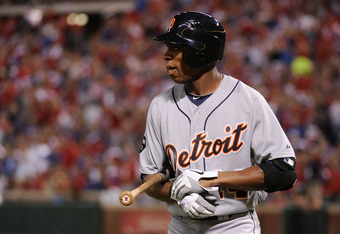 Harry How/Getty Images
Should Jackson and Rayburn struggle, Leyland will be looking to make a move that could put Jackson at the bottom of the order as opposed to the top. Leyland, however, will be hard-pressed to take Jackson out altogether. His defensive presence will be far too valuable with the slower Boesch and Young to his left and right. That scenario would also find Rayburn on the bench and the Tigers on the trade-deadline market for a leadoff man. However, it might land the ever-consistent Ramon Santiago a more consistent role should Rayburn falter.
With that kind of talent, and a few personalities to boot, Leyland knows all about the pressure that will be on his team to go the distance. It's not every day you sign the fourth guy ever to receive a $200 million-plus contract. As usual, Leyland provided some levity in spite of the pressure. "Everybody's already asked me all about the pressure. If you can handle it by the time you're 67 (years old), you don't belong in the business," he said, smirking.
Glaringly missing from the Tigers lineup, other than Jackson, is any sort of real base-stealing threat. For that matter, Leyland hasn't even given Jackson the green light on the base paths yet. Remember, Leyland has been the manager of the Tigers for the past six seasons, and at no time has he really ever had anythig that could be called a weapon as far as team speed was concerned.
Of course, Leyland had an answer for the Detroit media on this concern as well. "If they hit'em where they're supposed to hit'em, they can trot," he said, "so, I'm not as concerned about that as everyone else."
Leyland is as old-school as you'll find in all of MLB, confirming that by saying, "I'd rather have a slow guy that can hit, than a fast guy that can't." Of all the issues the Tigers could potentially face this season, that shouldn't be an issue. He was clear that his Tigers aren't a manufacturing type of ball club. They hit doubles in the gap and shots over the fence—a potentially lethal theory.
*All statistical data provided by baseball-reference.com **Quotes taken directly from Detroit Tigers Press Conference on January 26, 2012. Recording provided by mlb.com