100 Greatest Super Bowl Commercials Ever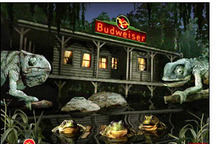 To me, Super Bowl Sunday is all about the game—nothing else matters.
All I care is that I'm relaxing on a couch with some friends and that I'm watching the game. That's all I ask for.
However, some of you out there really enjoy the Super Bowl commercials. I, on the other hand, have no interest in them whatsoever. I cannot stand them. I hate commercials.
The one thing that really seems to get me going the most is how some people simply look forward to Super Bowl Sunday only because of the commercials.
Either way, let's take a look at my ranking of the 100 greatest Super Bowl commercials of all time.
Begin Slideshow

»
If a commercial does a parody of The Godfather, I'll automatically love it!
This was an epic ad.
I so called Alec Baldwin being an alien.
I love MasterCard's "priceless" commercials—and this is one of the best ones.
MacGyver? Immediately badass.
Cash4Gold had enough money to do a Super Bowl commercial? Wow.
I will admit that this was a great commercial...but only because Ed McMahon and MC Hammer were in it.
Yo. Yao. Yo. Yao. Yo. YAO!
Yo...gi!
Only if this ad aired prior to the 1996 election, perhaps Bob Dole would have had a chance against President Bill Clinton.
I need a Pepsi truck. Right. Now.
I don't know if any of you remember that MTV show Pimp My Ride, but it was one of my all-time favorite shows back when I was in middle school—and this commercial made my night...
Well, that and the New England Patriots emerging as an NFL dynasty with their Super Bowl victory over the Philadelphia Eagles.
I want a Willie Nelson advice doll.
My whole life would revolve around this advice doll.
Here's my explanation for why we don't go to the moon anymore.
Jessica Simpson and pizza? My life is complete.
Before you go climbing mountains in Asia, make sure that you read the back of the bottle.
I love me some Fabio.
He defines the word "man."
I downloaded thousands of songs, and I actually did fight the law and totally won—I never got caught like the losers in the commercial.
If you're a fan of Lost, then you must love this commercial.
It's an automatic classic.
That's how I dress every day...forget "casual" Friday.
This ad could not have been any cheesier...but it did its job. It was funny and memorable.
Doritos has always done a great job of advertising—even all the way back in 1998.
It's a must for any guy to know those tricks in order to impress a girl.
Wasssssssssssssuuuuuuuuuuup?!?!?!
Pepsi and Britney Spears...oh my god, hell yes!
This is the greatest way to train. It's a true test.
If you beat the squirrel, then you are a champion.
I want to go to a wine and cheese party like this one.
This was cleverly done by the guys at Bud Light.
Cedric the Entertainer as a designated driver? Very nice.
I actually was dancing like this last night.
I wonder if gorillas actually think about escaping like this...
This is perfect.
"...No. I believe that's a zebra."
Tabasco sauce is that hot. I've seen it happen before.
This was an amazing ad done by Anheuser-Busch.
This is how every troop needs to be welcomed back home.
I'm always that guy. I always find a way to make a scene when I'm trying to do something sneaky.
Anything that involves a chimp is automatically funny.
I will argue that this not a waste of $2 million. I liked this ad.
I'm being serious. ANYTHING with chimps is hilarious.
I wish I had money coming out of the wazoo.
High life!
If only commercials were all like this.
Jackie Moon is my hero.
I have a poster of him in my room.
"A lot of sweat goes into every bottle. Not literally—that would be gross."
A music video with Kevin Federline rapping? Now that's funny.
Nearly every husband can be a referee. It's true.
A football game between horses? Now that would be badass.
I'm not a fan of Cedric the Entertainer, but he is pretty damn funny in this ad...
Is there a breeze in here?
This is a great commercial.
I've always wanted to hang out on my roof.
Pigeons are the answer to everything. I'm serious.
Yet another classic commercial done by Pepsi.
I remember seeing this as a kid, and it has stuck with me ever since.
What a great way to do a spin-off and give an explanation for Janet Jackson's wardrobe malfunction.
Do not mess with pugs! Especially when it comes to Doritos.
I love chimpanzees.
In fact, I want a chimp to be the ringbearer at my wedding.
2020 is only eight years away...it could happen.
Favre watch has now begun!
"Date both of us!"
If only this was a reality, not a fantasy...
Bugs Bunny and Michael Jordan together in something that's not Space Jam? I love it.
This is a great way to sell your product.
If you were to convince me that my stain would actually talk or even be that distracting, I would definitely need some Tide to remove it.
All I can think is of Wayne's World—so I absolutely love this commercial!
Easy come, easy go!
This is when the obsession with Betty White reached its peak—everyone loves Betty White!
This set of commercials done by Snickers is great.
Gotta love the 1990s.
I feel like this is one of my childhood TV shows that I used to watch.
And the music is incredible.
America's favorite cartoon, The Simpsons! So this commercial has to be great.
I'm not an avid Simpsons viewer, but I do love me some Homer Simpson.
I LOVED this commercial when I first saw it—but then it got old.
"Keep your hands off my mama, and keep your hands off my Doritos."
Rock, Paper, Scissors is really the only way to solve anything.
However, if you use an actual rock as a weapon, then you're a genius.
Just because of the reference to The Office, I have to love this ad, as that's my favorite show.
This is definitely a memorable Super Bowl commercial.
It's Nanerpus!
On a side note, take me to Denny's right now. I want a Grand Slam breakfast.
Brad Pitt is just too damn sly.
If Brad Pitt drinks Heineken, then I gotta drink it too.
Note to self: Do not run over a woodchuck. It could come back and help you out someday, and possibly even save your life.
Hey dummy. Hey dummy. Hey dummy...I hate my job.
I guess Bridgestone makes some good tires, as they saved that poor little squirrel's life.
Sprint cell phones don't just allow you to watch the Super Bowl, but apparently, can help you fight crime!
I always laugh when I see the guy whip his phone at the other guy's face.
This was a clever ad done by Coca-Cola.
Two Macy's Thanksgiving Day Parade balloons fight over a Coca-Cola, with Charlie Brown ultimately winning.
I would definitely use an ax as a bottle opener.
I will say this, though: I am not enough of a fan of Bud Light to give a man a ride. First off, how can you even drink the beer if you're driving?
I remember seeing this when I was eight years old, and I absolutely laughed my you-know-what off.
"What goes up, must come down!"
This is such a clever ad. I like awkward comedy.
For 1977? I am very impressed with this ad.
Thank god we have Xerox machines nowadays.
Yet another quality ad from Budweiser.
The only reason I like this ad so much is because of the Rocky music.
Yo Adrian, I did it!
Now this is a tough decision—paper or plastic for your Bud Light?
Now this is a charming story of two Dalmatians separated at birth.
Budweiser really knows how to produce some entertaining ads.
Stealing a Bud Light is definitely not worth having a giant bear chase after me.
Who would win? Michael Jordan or Michael Jordan?
I don't know about you, but I've always been a Pepsi kind of guy.
Am I in the minority here?
This so makes me want to go herd some cats.
I have seen this commercial over and over again.
...And how exactly does this relate to Ameriquest?
Hmm, I have never seen a beer bottle running up a mountain—how natural is it, really?
I wonder how many women left their men after watching this commercial.
Way to go, Old Spice! You ruined lives everywhere.
I can't believe that this commercial was over 10 years ago!
This is one of the funniest commercials ever.
You have no idea how many times I used to do this when I was a kid.
I was so determined to be a Jedi.
Here's an oldie for you.
I mean, I have to have a Master Lock on everything that I have. I can't have just any random lock, as the person that's trying to break in will obviously have a gun and will plan to destroy my lock with it.
Here's a disclaimer: Michelob Ultra does not make you want to go tackle random women.
If John Madden says so, you have to drink some Miller Lite!
Pepsi has always done a great job with Super Bowl ads.
This is one of my favorites because I'm always that guy that has to suck allllllllll the liquid out of the glass.
It's amazing how you can lose hours on Google by just surfing the web.
And surfing the web would not be as easy as it is without Google—search on.
When the Internet was one the rise, this was a brilliant commercial done by Monster.com.
When I grow up, I do not want to file all day.
E-Trade really got carried away with the baby.
How many commercials have the E-Trade baby now? Probably like 10.
The NFL did one hell of a job on this one.
This commercial was INTENSE.
I am so afraid of skydiving—I wouldn't jump out of a plane for Bud Light.
No thank you.
This is funny. I will admit that.
But the real question is, what's better? This commercial or the actual Tom Hanks movie Cast Away?
I really, really like this commercial—I can truthfully say that.
This commercial did its job, as I really wanted to purchase a Chrysler 200.
What's the reason for everyone watching TV on Super Bowl Sunday? To watch the Super Bowl.
So why not make your own miniature football game in a commercial? This was absolutely brilliant.
Sadly enough, I would react the same way.
Jesus, you do not want to mess with Terry Tate.
I would not want Terry Tate working in my office.
Wassssssssssuuuuuuuuuuuuuppppppppp?!?!?!
Most commercials I find very annoying, but I can watch this one over and over again.
"Where's the beef?"
Incredibly annoying, yet so genius.
I remember seeing this commercial as a kid, and it has stuck with me ever since.
Ohhhhh yeaaaaaaaaaaah.
Give me a Pepsi right now.
I love Diet Pepsi—but I also love Michael J. Fox and the 1980s.
This is one of the best tributes to 9/11, as it aired back in 2002, just months after September 11, 2001.
Keep in mind that this commercial was only aired once—and it was that effective.
This is pure genius.
Look at where Apple is today.
This commercial really kicked off its unbelievable success over the years.
"Nothing but net."
I have never played H.O.R.S.E. for a Big Mac, but I sure as hell know that I do not want to be playing against Larry Bird or Michael Jordan!
Should this even be debated?
Coca-Cola's Mean Joe Greene commercial of 1979 is by far the greatest Super Bowl commercial of all-time—it sure makes me want to drink some Coke out of a glass bottle!