Michael Schlact: The Battles of a Minor League Free Agent
February 1, 2012

My entire life, I've always been able to play baseball. Now, I'm not saying that my career is over, or that I'm not going to play anymore. But, when you're a minor league free agent who is half of a healthy season removed from shoulder surgery, you just never know.  I've been playing this wonderful game since I was 8 years old.
Each year, my parents would sign me up to play, I'd have a great season, and then I'd be excited for the next season. Soon after that, I played high school baseball. I never had to try out for the team. It was always just a given that I'd be one of the pitchers that next season. Then, the Texas Rangers drafted me out of high school.
The next 6 years flew by. I always knew where I'd be going, how long the season lasted, the coaches and players that I would be with, etc. It's safe to say that up until now, my entire life I've played baseball knowing what would happen next. Now, that's all changed.
I've always been a positive person; I've always been uplifting toward myself and others. I try to see the good in each person and in each situation. Sometimes though, when things aren't working out the way you anticipated or the way you'd hoped, it can be hard to have a positive outlook on things.
My last start of 2011 was a rough outing, but I struck out the last hitter I faced. I always like to end my outings on a high note, no matter how rough the day has been. To strike out the last hitter and get myself out of a jam was a great feeling. However, walking off that mound I had a sense of fear strike me. "Would that be the last professional hitter I ever face? I'm a free agent soon, what's going to happen? I'm not ready to be done playing yet!"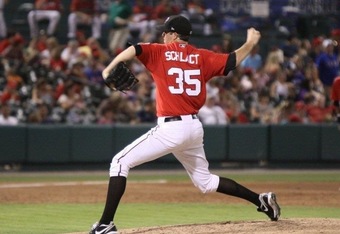 All of these thoughts were running around my head. After all, it had been a season of ups and downs. I was finishing the "comeback season." Last season I tested my shoulder, tested my heart, and tested my will as a ballplayer. A return from shoulder surgery can be the toughest thing a pitcher does.
Statistically speaking, it was an okay year. "What will the scouts think? Are teams going to know that I'm returning from shoulder surgery? Did I show them enough to get signed next year?" If you look beyond the numbers and focus on the physical aspect, I was very pleased. My shoulder felt great, I was in the best shape of my life, and I was still getting to do the thing I loved more than anything. But, ready or not, the offseason was coming.
Baseball players love routine. After all, it's what we're used to. Spring training starts the same time each year. It's held in the same city, and we usually live in the same place. The food is always the same, along with the routine. We work out the same way, do the same throwing program, condition the same way, and then go to bed and do it all over again. It's our job! My life has been partially scripted out since I've been playing baseball, and that has given me a sense of normalcy in an otherwise hectic job. That has all changed. 
Now that I'm a free agent, my future is uncertain. I do know, however, that I want to continue playing. I am in great shape, my shoulder feels healthy and strong, and I still have just as much passion for this game as I did the day I first picked up a ball. After my surgery, I vowed that I would play each day like it was my last. I vowed that I would soak up each minute that I was out there on that field, that I would take pride in each time I put that uniform on and laced the cleats up.
I told myself that whenever this was all over, I wanted to make sure that when I look at myself in the mirror, I can tell my reflection that I gave everything I had. I can say right now with all honesty that I did those things. I'm not saying that I've done the "look yourself in the mirror because your career is over" thing. The off-season is still in full swing, and free agents are still out there being signed. Spring training is about a month away, and I still have lots of time to figure out what's going to happen. As of now, I'm continuing to work out, throw, and run as if I have a job. I'm training like I always have so that when and if an opportunity presents itself, I'll be ready for it.
The battles of a minor league free agent can be tough ones. Working out, throwing, and conditioning your body for a job that may not come can be tough on a person mentally. That's why faith and believing in yourself are so important. I've been working out, running, and throwing with the intent to show everyone that my shoulder is 100 percent.
I've been working hard to prove that I can pitch in the big leagues. And, I've been working hard because baseball is the game that I've loved since I was 8 years old. I'm not ready to give up. I heard a wonderful quote a few years ago, and it's stuck with me ever since. I'm going to end this entry with that quote. I feel like it really sums up what I'm going through right now. Yes, the future might be uncertain. However, I'm going to fight as hard as I can for what I want. And, as always, I thank each and every one of you for your continued support.
"Never give up on something that you can't go a day without thinking about."
Programming note: Schlact re-signed with the Southern Maryland Blue Crabs of the Atlantic League just after penning this piece.