Michigan Football Recruiting: Battle with OSU Sizzles as 2012 Signing Day Nears
January 27, 2012

Jonathan Daniel/Getty Images
Producing a reality show about the Michigan-Ohio State recruiting struggle would be a snap.
First of all, you couldn't create a more compelling cast of characters.
Start with Michigan head coach Brady Hoke, the charismatic mentor who defeated Ohio State and won a BCS bowl game in his first season.
Add Wolverine assistant coach Greg Mattison, a former defensive coordinator with the Baltimore Ravens. Mattison previously held the same position with the Florida Gators—under new Buckeye coach Urban Meyer.
Toss in Meyer, who came aboard to resurrect Ohio State's troubled football program—which is under NCAA probation for the next three seasons.
It's nothing new that Michigan and Ohio State have always battled for the best high-school football players. But to make things more interesting, the two teams are now jousting with relatively new weapons
The rivalry itself goes back to 1897, with Michigan holding a 58-43-6 edge in the series. Ohio State has dominated recently, winning eight of the last 10, despite a 40-34 loss to Michigan last November.
Former coach Jim Tressel had no trouble beating Michigan, but he was no match for the NCAA. Tressel was fired prior to last season because of "tattoo-gate," where players traded Buckeye memorabilia for tattoos and other favors.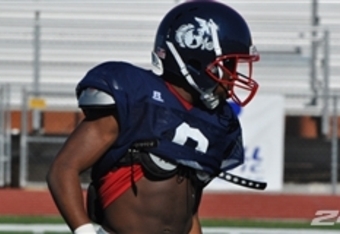 Meyer, an OSU native who won a pair of national titles with Florida, replaced interim coach Luke Fickell after the Buckeyes finished the 2011 regular season with a 6-6 record.
Hoke, on the other hand, took over Rich Rodriguez a year ago and immediately showed his recruiting savvy by completing the 2011 recruiting class on a high note.
Hoke's first job was to re-establish Michigan as a serious recruiter in the fertile state of Ohio. While he was the head coach at Ball State, Hoke was very successful, but now the challenge would be different; he'd be going head-to-head with the Buckeyes and several other major college programs.
With Ohio State struggling on the field and off, Michigan gained several recruiting victories while assembling the 2012 class. Offensive tackle Kyle Kalis upset many Buckeye supporters by actually de-committing from the Buckeyes to sign with Michigan. Hoke has snared a total of eight recruits from Ohio, several of whom were offered by the Buckeyes.
(Just to prove it was no fluke, Hoke has easily out-recruited Michigan State's Mark Dantonio in the state of Michigan.)
Michigan kept the advantage until Meyer replaced interim coach Luke Fickell last November. Since then, Ohio State pulled even with Michigan by attracting a pair of 5-star and four 4-star recruits.
To help, the Buckeyes received a waiver from the NCAA to use split coaching staffs—one to recruit, and one to coach the Capital One bowl game. 
"It allows more coaching resources to work on the two primary responsibilities of any staff—coaching and recruiting," Michigan AD Dave Brandon told the Associated Press. "I am struggling to understand how this relates to the 'level playing field' the NCAA claims it is always working to create."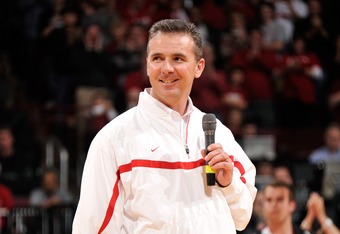 Jamie Sabau/Getty Images
With only a few days remaining until National Signing Day (Feb. 1), the plot has thickened.
Both Michigan and Ohio State are pursuing cornerback Armani Reeves, a 4-star recruit from West Roxbury, Mass.
Reeves, who de-committed from Penn State last fall, has the Wolverines and Buckeyes as his final two choices. Ohio State is using high-school teammate and Buckeye commit Camren Williams to reel in Reeves, while Michigan is using Mattison to bring the speedy Reeves to Ann Arbor.
Meyer may have had some early recruiting success, but in this case, he may have met his match.
Meyer, himself, has nothing but praise for Mattison. 
"He's not only one of the best defensive coordinators in America," Meyer said, "but also the best recruiter in college football."
Mattison served on Meyer's staff at Florida from 2005-2007 before joining the Baltimore Ravens. In 1995-1996, he was Michigan's defensive coordinator.
Regardless of who finally acquires Reeves, both schools will most likely finish with recruiting classes among the best in the nation. Michigan is currently tied for third with Ohio State, behind Alabama and Texas in scout.com's team rankings.