NHL All-Star Fantasy Draft: Predicting the First Six Picks for Each Team
January 26, 2012

Bruce Bennett/Getty Images
The NHL All-Star game is arguably the most anticipated event of the weekend.
Though hockey is a sport many people in America choose not to follow, it's really an amazing game.
Whether you're a casual fan, a diehard fan or not a fan of the sport at all, it's difficult to ignore a weekend-long event that features the biggest and brightest stars in the NHL (save some of Ottawa's players, but that is an argument for another day).
Recently, the NHL changed the format of the All-Star Game from a classic East vs. West format to a fantasy draft, where two captains are chosen and they are left to choose their team from 100 players.
As a pretty big hockey fan, I'm excited to see the fantasy draft take place. 
I figured it would be pretty fun to try and predict a few of the people who each captain would pick with a short reason why.
Here is the list I came up with (assuming that Alfredsson gets first pick).
Round One

Alfredsson: Evgeni Malkin, 71, Pittsburgh. Malkin is on an outstanding hot streak right now, leading the NHL in points. In the absence of Sidney Crosby, Malkin has really stepped up his game. It's a no-brainer that he would go in the first round with the way he's been playing hockey lately.
Chara: Claude Giroux, 28, Philadelphia. Giroux is in second place right behind Malkin in points earned this season. He's a great offensive player, and he's the type of person Chara would want to secure on his squad early on.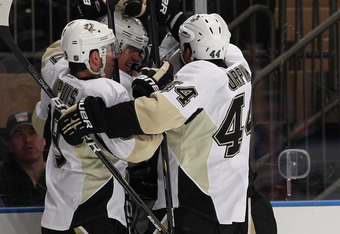 Al Bello/Getty Images
Round Two
Alfredsson: Jason Spezza, 19, Ottawa. Well, this one really doesn't need much of an explanation.  Alfredsson is a Senator, and he'll probably want some Senators on his team with him. 
Chara: Steven Stamkos, 91, Tampa Bay. If Chara wants to win the game and have a good chance in the skills competitions, he'll most likely pick Steven Stamkos. He may not be the leader in points in the league, but he does lead the NHL in goals, with a whopping 32 to date. 
Round Three
Alfredsson: Marian Gaborik, 10, New York. Gaborik is having one of his best years as a Ranger so far. With 25 goals scored at this point in the season, he's found his stride and he's proving to be a great forward. Also, it won't hurt that Henrik Lundqvist, Gaborik's teammate, is Alfredsson's alternate captain.
Chara: Tyler Seguin, 19, Boston. I won't pretend Alfredsson is the only captain who will have a bias in the draft. Chara will certainly be looking to pick up his teammate early in the draft. He's a talented player, and it also can't hurt to have a few friends on the team.
Round Four
Alfredsson: Erik Karlsson, 65, Ottawa. Karlsson certainly isn't a terrible defenseman, so it would be expected to see him at a decent spot in the draft. The fact that Alfredsson, his teammate, is captain will obviously have a lot to do with this decision.
Chara: Tim Thomas, 30, Boston. Thomas is an outstanding goalie. He had one hell of a season last year, and although he's in a bit of a rough patch, he's been playing well this season too. Sure, the fact that Chara is captain may have a bit of an influence on this decision, but Thomas is truly an elite player and deserves to be high up in the draft.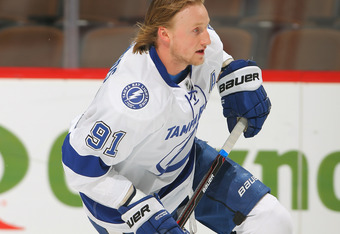 Doug Pensinger/Getty Images
Round Five
Alfredsson: Dan Girardi, 5, New York. Dan Girardi is one of the greatest defensemen on the New York Rangers. He definitely deserves to be in the All-Star Game this season, as his efforts have shown him not only to be a great player, but a leader on his team. Yes, Lundqvist wearing the "A" for this team may have some influence on his high number draft spot, but honestly, Girardi deserves it.
Chara: Shea Weber, 6, Nashville. Shea Weber is one of the better defensemen in the NHL. He also has one hell of a slapshot, which I'm sure Chara appreciates. All in all, Chara would want to grab a solid defenseman after securing offense, so this pick makes sense.
Round Six
Alfredsson: Patrick Kane, 88, Chicago. Kane is a gifted player. He has great offensive skill, and his efforts have proven he is one of the NHL's best. As his team would have their top defensive pair secured, it would make sense to pick up Kane at this point.
Chara: Brian Campbell, 51, Florida. At this point, Chara would want to make sure he had his own solid defensive pair to rival Alfredsson's. Adding Campbell, a very good player, makes sense at this point in the draft.
Conclusion
Team Alfredsson looks like it will make a few biased picks. Chara will also be making a few picks of the same nature, so it shouldn't be anything worth complaining about. Luckily, these teams are home to a few great players, so it shouldn't be too big of problem come game time.