Alabama Football: What Does Bleacher Report Have in Store for the Offseason?
January 26, 2012

Andy Lyons/Getty Images
With the football season over fans are turning their eyes towards September while their blood pressure finally returns to normal levels, but entertaining articles will continue to flow until the path to Number 15 begins for Alabama.  
There will be no shortage of information and good reads in the off-season, at least not in the Crimson Tide's case.
As Alabama featured columnists Jonathan McDanal, Sanjay Kirpalani (as well as other Bleacher Report featured columnists) and I are committing ourselves to keeping you, the reader, satisfied. There is plenty to talk about involving Alabama football and it is an ever-changing landscape, even in the off-season.  
Jonathan McDanal covered this in "Commitment to Excellence".  
Here's a look at some of the topics we will be covering in (mostly) chronological order.
National Signing Day:
February 1st is when the verbal commitments across the land will solidify their word with pen and paper. This is the first day they will be allowed to sign a written, binding commitment, although they don't necessarily have to sign that day. Some recruits are sure to string schools along and sign at a later date.
Alabama's recruiting class is something of a marvel, as usual. There are some outstanding prospects eager to sign with the Tide, led by linebacker Reggie Ragland, safety Landon Collins and the do-it-all Eddie Williams.  
We understand the fans are eager to know these verbal commitments are written in stone (as well as on paper) and we will be here to deliver the goods.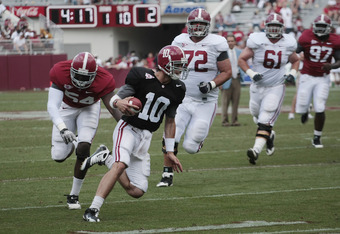 Dave Martin/Getty Images
Alabama Spring Practice and the A-Day Game:
Believe it or not, the spring scrimmage is just barely two months away and will be preceded by the spring practice in mid-late March. This will be our last chance to get a glimpse of next year's team before the fall.  
Position battles, concerns about possible new starters, as well as: "Where in the world will Barrett Jones play?" will all be questions we will try to answer with solid insight.  
2012 NFL Draft:
The Alabama Crimson Tide may have been crowned the best team in the nation by trampling LSU in the most embarrassing fashion ever witnessed this era of football, but the fans—and the team—feel there is more to prove.
What better way to solidify dominance by sending the biggest flock of newly-minted professionals into the National Football League?
Alabama made quite the impression in 2011 by sending four players to the NFL in the first round of the Draft. Could they repeat that feat?  
The team this year won the national championship for a reason:  They were full to the brim with NFL talent.  
We will be covering not only the NFL Draft but the days leading up to it as well.  
Where could Trent Richardson end up? Who will trade up for our boys in crimson? Who are the players that have a future in the NFL, drafted or otherwise?
There are some exciting predictions to be made and we'll be here to make them.  
Summer Events:
The Tide will mostly go dark once the spring practices are over, but more news is still to be had. 
Quarterbacks may stay over the summer to work with a whole new receiving corps. That in itself is exciting, as incumbent starter A.J. McCarron was the MVP of the BCS National Championship game and he has an army of highly-touted receivers at his disposal.
In addition, Phillip Sims was not the starter this year but he is still a former 5-star quarterback. Could he make the jump to overtake McCarron? The odds are low, but who knows?
There are also the voluntary 7-on-7 scrimmages, though it's uncertain what those may hold. Hopefully only good will come from them, but sometimes disappointing things can happen as well. 5-star running back Demetrius "Dee" Hart tore his ACL in the 2011 summer 7-on-7 scrimmages.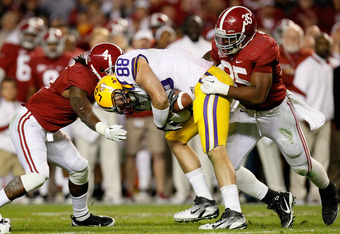 Kevin C. Cox/Getty Images
The summer may be the most boring time of the year for college football fans, but we will do our best to keep your engines warm for the fall's much-anticipated arrival.  
More Depth Chart Predictions:
I have already been offering possible previews of the 2012 depth chart by position. Those predictions are subject to change, especially once the spring practices are over. 
New arrivals are complete unknowns in the college world, and it will be exciting to see what they can do against the likes of Robert Lester or Eddie Lacy. Will the new true freshman have a chance at cracking the depth chart?
We'll cover that.
History and Reminiscing:
Though fans always look forward to next season it's always fun to remember the past. Alabama is a team drenched in tradition and no fans honor the past like Tide fans.  
Heroes of days gone by such as John Hannah, Cornelius Bennett and Tyrone Prothro will be honored. 
The newly-departing seniors will be honored as well, a task I have already undertaken.  
The Bad News:
Bad news in the offseason plagues every sport. Hopefully, the Tide will be fortunate enough to dodge the bad news bullet, but if not we'll be here to give insight.
A key off-season injury, a run-in with the law, trouble with academic qualification or even something as tragic as the April 2011 tornadoes that decimated the Tide's hometown are all topics that will not go uncovered. 
Bad news may need more than a spoonful of sugar to go down, but fans want to know what is going on with their team.
We'll bring you the bad news if it comes, but please don't shoot the messenger!
Conclusion:
The National Championship Title may not be on the line in the off-season but that's no reason to forget about your beloved Crimson Tide until September. Football is a year-round sport in the great state of Alabama.
At some places they play football. At Alabama, we live it.