What Greg Schiano to Tampa Bay Means for the NFL, Rutgers, New Jersey
January 26, 2012

Jeff Zelevansky/Getty Images
"I couldn't deal with those (bleeping) players. That's why I love college." 
Five years ago, that's how Greg Schiano jokingly talked about coaching in the NFL. I didn't have a tape recorder at the time, so the quote is not exact, but I distinctly recall a bleep in there somewhere. There certainly was the undeniable sentiment that Schiano had little interest in being a head coach in the NFL.
Standing there just after practice in the Rutgers football training bubble was one of those rare moments when, with just a few people around, a coach lets his guard down. At the time, I was a full-time member of the athletics staff at Rutgers, working on a number of projects with the football program and on that particular day, I needed approvals from Schiano directly. 
Schiano was chatting with former Rutgers defensive lineman Ryan Neill, who had just finished his first year with the Buffalo Bills. Neill was telling Schiano about his experiences in the NFL and how different the players act from those in college.
Neill told a story about Bills defensive end Aaron Schobel, fresh off signing a seven-year $50.5 million dollar contract, slowly walking through a special teams drill on his way to grab a drink. Schobel made the entire team wait, and the coaches were powerless to do anything. Schobel could do whatever he wanted.
Schiano relished in the fact that in college, the head coach was always in control of his roster. He explained how the NFL head coach—no matter how much he gets paid—will never be as important an investment as the players. The players know it. The coaches know it, too.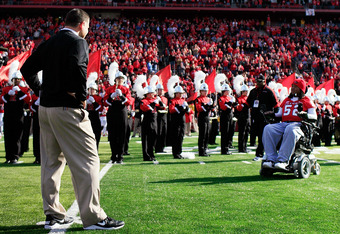 Patrick McDermott/Getty Images
That's the one thing you can say about Schiano. He is always in control.
He stopped a meeting once to debate carpet squares with his director of facilities. He made the decision on everything down to the carpet—and he was almost always right (he was certainly right on the carpet).
Never in my life have I been around a man who had as much control over as many things and somehow, inexplicably, made it work.
Schiano took the job at Rutgers and talked about building a solid foundation at a school that had gone to one bowl game in its century-long history, and he turned the program around, twice putting Rutgers within a game or two of a BCS berth, going to six bowl games in a seven-year span with five championship trophies now proudly on display.
He didn't do everything right, but he managed to make it work.
Note: Please take all of what I say with a grain of salt. I worked at Rutgers for 10 years. I vividly remember the week Schiano was hired, standing in the media room at The RAC during a basketball game going over 50 different logo designs (we settled on a big giant R), and I surely have more fond memories of working with Schiano than most people.
I also still do freelance work with Rutgers, specifically the football program, so I find myself left wondering what's next for the program, the athletic department, and my role therein.
Schiano made it work because he is an adept recruiter. He is an adept recruiter because he's a great salesman.
Spend enough time with the man and he will make you a believer. He got the state of New Jersey to pony up millions of dollars for a stadium expansion at Rutgers when the program barely, if ever, sold out home games. He convinced a dormant fan base to care about football. He made winning the culture at Rutgers.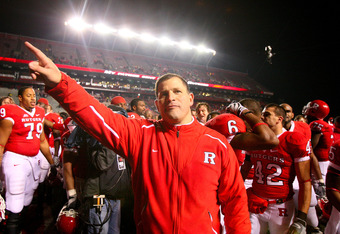 Jim McIsaac/Getty Images
Schiano made everyone at Rutgers—everyone in New Jersey—believe he was staying forever. When he passed on the Michigan job or declined to go back to Miami, people thought he'd be in his home state for a heck of a long time.
His house is blocks away from the stadium. His oldest kid is in school, and he swore he would never leave until his kids were done with school. His family lives just up the Turnpike. Greg Schiano is New Jersey.
Was. Not only is the move to Tampa Bay completely out of the blue, but it goes against everything Schiano has said publicly in the past.
Sure, the NFL is alluring, and others close to the program have told me that he did mention last year that the only way he'd leave Rutgers is for a shot in the pros, but the timing of this is very un-Schiano like.
It's not like him to leave so close to signing day. I thought he would have ensured his legacy was fully intact when he left the Banks of the Old Raritan. There is more work to be done at Rutgers, and everyone thought Schiano wouldn't leave until it was done.
During his speech in December of 2000 when he was hired at Rutgers, Schiano owned the room. There was a new buzz around the program that nobody had ever felt before. Two words became the program's slogan.
"It's time."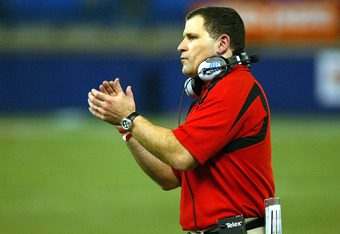 Dave Sandford/Getty Images
That's what Schiano said during his speech. "It's time." It was time for Rutgers to wake up and start winning. It was time for Rutgers to be relevant. 
Maybe "it's time" now. Maybe it's time for Schiano to move on.
With the Big East in total disarray and Rutgers unable to secure a spot in the Big Ten or ACC, maybe Schiano felt it was time to try something new, make a little money and deal with the giant egos he never thought he would deal with again.
It will be interesting to see how Schiano succeeds in the NFL. He is a great defensive mind. He understands people. He's incredibly intelligent and knows how to navigate the media. The question is, can he coach? 
Is he a good enough in-game decision-maker to succeed in the NFL? Time will tell on that.
With all the success Schiano had at Rutgers, many people feel he should have had more. His Scarlet  Knight teams surely left a few wins out on the field in the last 10 years. It's amazing to wonder with how far Schiano brought Rutgers, how much further they could have gone.
Rutgers is left wondering what could have been, and what will be. For a job nobody seemed to want a decade ago, Rutgers suddenly has an incredibly attractive job that people should be lining up to take. 
Can Schiano succeed in Tampa Bay? Can he win with those (bleeping) players? It's time to find out.