Chicago Cubs: Moves Theo Epstein Should Still Consider for 2012 Season
January 27, 2012

Jonathan Daniel/Getty Images
With Carlos Zambrano's departure to the Miami Marlins to join fellow Venezuelan Ozzie Guillen, Cubs fans around the world rejoice in the fact that their clubhouse will no longer be as dramatic as a high school classroom.  
Perhaps even more of a relief is the departure of Prince Fielder and Albert Pujols to the American League, both of whom had great success against the Cubs.  
However, despite the recent additions of pitcher Chris Volstad and Andy Sonnanstine, as well as the much needed re-signing of Kerry Wood and Reed Johnson, there is still much work needed to be done before the Cubs become a major contender in the National League  
Here are five moves that Theo Epstein & Co. should still consider:
5. Sign Yoenis Cespedes 
Cespedes was officially announced as a free agent on Wednesday (as reported by USA Today), and it is no secret that numerous clubs have already reached out to the Cuban prospect.  
Hitting .333 with 33 home runs in 2011, he would be a great offensive addition to replace 3B Aramis Ramirez and would be a step up from CF Marlon Byrd.  
I put this at number five because he would come at a hefty price, with many reports saying that he would command a contract even larger than the six-year, $30 million deal that fellow Cuban Aroldis Chapman received.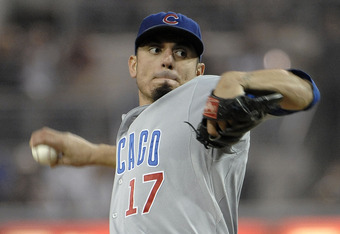 Denis Poroy/Getty Images
4.  Trade Alfonso Soriano
This could be hit or miss. Soriano, who is still owed $54 million over the next three years, certainly hasn't lived up to the $136 million dollars he signed for in 2006.  
With an embarrassing .289 OBP and 113 strikeouts, the Cubs can certainly do much better and for less money.  The downside would be that the Cubs would have to pick up most, if not all, of his remaining $54 million. But keeping him and losing the opportunity to pick up and develop a young prospect may harm them down the road.  
3. Sign a veteran for postseason experience
Only four Cubs position players have postseason experience—Alfonso Soriano, Blake DeWitt, Jeff Baker, and Ian Stewart. Of these, only Soriano has made it to October more than once. Not that Bull Durham would win the Cubs a World Series, but it would certainly help to have a postseason veteran to act as a mentor for the Cubs' youngsters.  
2. Put an end to the Matt Garza trade rumors
Garza's 3.32 ERA was by far the lowest of any Cubs starting pitcher last year, and he led the team in strikeouts as well with 197. Perhaps the Cubs can trade for something better closer to the trade deadline, but for now, they should just focus on making sure Garza is comfortable and ready to start the season as a Cub.  
1. Upgrade the first base depth
Although Carlos Pena's departure to the Rays wasn't a devastating loss given his mere .225 average in 153 games, he still managed to drive in 80 RBIs in 111 hits.  
The Dominican also accounted for almost 20% of the Cubs home run totals last year. Defensively, Pena was a key part, committing only 8 errors in 153 games.  
Thirty-year-old Bryan LaHair, although certainly not a liability for the Cubs, is not the long-term solution at first base. Free agent Casey Kotchman would be a great addition, due to his .306 average and .998 fielding percentage in 146 games for the Rays last year.