Breakin' It Down with Austin Spenney: Top 10 Replacements for John Laurinaitis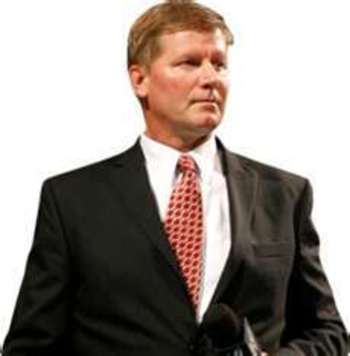 With Triple H scheduled to appear on Raw to review the work of the Executive Vice President of Talent Relations and Interim General Manager of Raw, Mr. John Laurinaitis, the future of the Raw brand is uncertain.
If the WWE COO wishes Mr. Laurinaitis the best in his future endeavors, who will be the best man to take control of Raw?
Triple H

Triple H relieves Mr. Mcmahon of his duties and takes over the day to day operations of Monday Night Raw

It is doubtful that Triple H would take over the job, especially considering that John Laurinaitis is the one who took over this position from Hunter in the first place, but anything can happen in the WWE.
What would happen if he did come back? Probably nothing good. The last thing I remember from his reign as Raw GM is every employee on the company's payroll walking out on him with a vote of no confidence.
Vince Mcmahon

Vince McMahon demands respect from the fans

You are crazy if you do not think Mr. McMahon will be returning as an on-screen character in the future. The Chairman of the Board is one of the best talkers in the company.
He has a history of making things interesting, whether it's revealing himself to be the higher power, introducing the Attitude Era, or having his son-in-law fire him on live television. Like it or not, he is the boss.
He made wrestling what it is today, and if he wants to be an on-screen character, there is not a person on this earth that can stop him.
Mick Foley

Mick Foley is named as the new commisioner of the WWE

Mick Foley is already on Raw television and he is the former commissioner. After John Laurinaitis hit him with the microphone two weeks ago on Raw, Mick Foley has every reason in the world to take revenge on the interim GM and take his job.
So, what is a hardcore legend to do after he ends the reign of Johnny Ace? Help Cena learn to embrace the hate, of course. The Rock will be appearing on Raw more frequently soon. With the Rock-n-Sock reunited, Cena is bound to take a turn for the dark side.
William Regal

William Regal makes it clear that he decides what happens in the WWE, not the fans.

William Regal still wants to be the first European World Champion in the WWE. He almost accomplished this the last time he was general manager.
I have a feeling that if he had another chance, nothing could stop him. Here's a scenario: Daniel Bryan wins the Royal Rumble and beats CM Punk at WrestleMania to unify the world titles.
The next night, WWE COO Triple H announces the end of the brand extension. William Regal and Teddy Long have a match to see who gets to be the WWE GM. Regal wins.
A few weeks later he announces the return of the Insurrexion Pay-Per-View, and the main event will be Daniel Bryan vs. William Regal. Regal wins the match to become the first European WWE Champion.
Paul Heyman

Paul Heyman's plan to save TNA

There is no doubt about it, this man is a wrestling genius. He created ECW and made it the most innovative and extreme wrestling company ever. In the video he talks about how he would save TNA, and I think he is 100-percent correct.
With Brock Lesnar now retired from UFC, it is possible to see a return of Lesnar and Heyman to Raw. Will it happen? Doubtful because, like he said in the video, he does not want to be a part of something he sees as a failure.
Now, enough with the former general managers. Like Heyman says, we should be looking towards the future, and that's exactly what I will be doing with my next five picks. It begins with...
Chris Jericho

Foreshadowing by Y2J?

According to Chris Jericho, "the end of the world as we know it" will be this Sunday. Does that mean that "it begins" on Monday? For months, WWE fans have speculated what exactly is behind the cryptic messages that began airing on the November 21st edition of Raw.
We now know who is behind it since Jericho returned to the WWE on January 2nd, but with a total of only 18 words spoken since then, we still do not know what exactly he is planning.
Is it possible that he wants more than just the WWE Championship? Does he want complete control of Monday Night Raw? Only time can tell what he really wants. As fans, we can only hope that we find out on Monday.
CM Punk

CM Punk hits the Go-To-Sleep on John Laurinaitis

Change was promised by CM Punk back in July. It's 2012 now and we have not seen a whole lot of change besides a few new authority figures. Just think of all the change we would have if Punk took over the day-to-day duties of Monday Night Raw. Although, with Punk's disdain for authority, I dont see it happening.
Michael Cole

Jericho mocking Michael Cole as he reads an E-mail from the Anonymous Raw GM

Michael Cole has got to be the worst thing that has happened to WWE television since that unspeakable storyline with Kane and Triple H. At least, he is horrible as an announcer. Cole is a very valuable asset to the WWE if he is used right.
One really good way to use him would be as a manager for someone like heel John Morrison after he returns, or a Mason Ryan. The next best use would be as the general manager of Raw. I already want to see him on the receiving end of a GTS just thinking about it.
Mr. Belding

Mr. Belding appears on Zack Ryder's YouTube show

I wish this was a joke, but it's not. I do not feel like this article could be taken seriously without including the principal from "Saved by the Bell," Mr. Belding. He has petitions online and the support of various WWE superstars, including CM Punk, to be the next general manager of Raw according to wrestlinginc.com. I hope this does not happen. I have a feeling he would be the next Mike Adamle.
Jim Ross

Jim Ross heel promo

Before I get into my idea for Jim Ross, I want to give some honorable mentions for some people who just missed the cut. They are: Shawn Micheals, Jim Cornette, The Four Horseman, The NWO, Edge, Hugh Jackman, and Stephanie and Shane McMahon. In the end I decided the best choice would be Good Ol' JR! Well...maybe not so good.
Here's my vision:
John Laurinaitis starts off this Monday's Raw in the ring just 24 hours after "accidentaly" costing CM Punk the WWE Championship. He tries to explain himself but is cut short by Triple H's music. Hunter comes out and procedes to fire John Laurinaitis as general manager. Johnny goes to the back, and then Triple H says, "Now, let me introduce the new general manager of Raw, a man who was fired at the hands of John Laurinaitis, Jim Ross."
JR comes out to a huge ovation from the live audience. He talks about his contract, and how he made sure there were clauses in to make sure he would not be fired again. Then Triple H reaches out to shake the hand of the new man in charge of Raw. JR answers the handshake with a slap to the face that nearly knocks Triple H over.
Hunter has a look of disbelief on his face as JR tells him to get out of his ring. He then talks about how he is tired of being mistreated and how the product was nothing without him on commentary. He ends it by saying he will get revenge on everybody that did him wrong, and he will start by firing Michael Cole.
Final Thoughts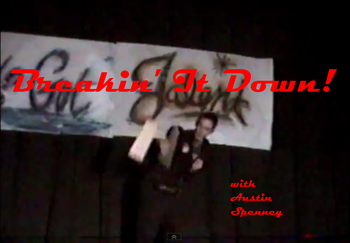 Thank you for reading "Breakin' It Down with Austin Spenney."
Now, in my best Zack Ryder impersonation...
Don't forget to add me on Facebook, Follow me on Twitter @blackbelt_7, buy all your nutritional products at Amway.com/austinspenney, and until next time, make sure you're hypin' it up, and I'll be breakin' it down.
Keep Reading