Notre Dame Football: Close Losses Won't Cut It for Brian Kelly
January 26, 2012

Ezra Shaw/Getty Images
The Brian Kelly era hasn't started out as well as Notre Dame fans wanted it to. Kelly has had back-to-back 8-5 seasons as the Irish head coach, but like every season for Irish fans, it is BCS or bust.
However, are two 8-5 years in Kelly's first two seasons really that bad? If one remains impartial, 8-5 is acceptable as long as there is improvement on the horizon and the team doesn't regress. 
It isn't simply the record that has devastated Irish fans. It is the way the games have been lost, and who they have been lost to.
Expectations were high for Coach Kelly after he led Cincinnati to two straight BCS bowls. He took over a Notre Dame team that was considered to be much more talented than his last (although the personnel didn't fit his system as well) and fans thought immediate gratification would come.
It didn't.
Most people are willing to give Coach Kelly time to produce. I'm one of them, but like Notre Dame's time under Charlie Weis, there have been too many close losses with Coach Kelly at the helm. The biggest difference between good and great teams is what happens in the fourth quarter.
In Coach Kelly's first season with the Irish, the team started off 1-4 with its only victory over Purdue. Kelly did turn the ship around, and Notre Dame won seven of its last nine.
Of Notre Dame's five losses in 2010, only two of them weren't close.
A Stanford team coached by Jim Harbaugh and led by Andrew Luck dominated the Irish in a 37-14 embarrassment. 
Once again, the Irish were defeated handily by Navy, 35-17, and the coaching staff didn't seem to have an answer for Navy's option attack (which brought back nightmares from the Weis era).
While these two games were upsetting, the other three losses hurt even worse. 
Against Michigan, the Irish had control of the game until Dayne Crist was injured in the first half, forcing two inexperienced quarterbacks to come in the game.
Crist returned to give the Irish a late lead, but Denard Robinson took Michigan down the field and scored, making the game 28-24. Notre Dame had just 27 seconds to score a touchdown, but that wasn't enough time. The defense needed to stop Robinson and make one last stand, but it couldn't.
The Irish managed to take the next game against Michigan State into overtime, but after a fake field goal, Notre Dame lost its second straight close contest, 34-31.
The last close loss came after the team had lost to Navy. Against Tulsa, with Crist out of the game once again, Coach Kelly made an inexplicable call to throw the ball into the end zone when the team only needed a field goal to win. The ball was picked off, and the Irish lost 28-27.
Kelly's second season had many of the same snafus, and it started off as a debacle. 
The team wasn't ready for South Florida, and Notre Dame played a horrendous half of football. The game ended with a 23-20 loss and Dayne Crist being pulled for the season (although the Irish played well late in this game).
The next week, the Irish defense couldn't hold Michigan's late charge just like the game one year prior. Robinson gave his team a 35-31 lead leaving no time for the Irish to retaliate (Michigan had a 28-point fourth quarter).
Before their close bowl game loss against Florida State, the team lost to USC and Stanford. The games weren't very close, and the Irish looked outmatched in each (although the Stanford contest wasn't all one-sided after Andrew Hendrix entered the game).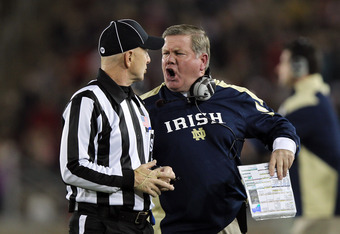 Ezra Shaw/Getty Images
In the first half of the Champs Sports Bowl against Florida State, the Irish defense kept the team ahead while the Notre Dame offense was stifled. In the second half, the offense continued to struggle, and the defense gave up two fourth-quarter touchdowns, resulting in a 18-14 loss.
Coach Kelly is building a competitive team for years to come. I won't dispute that. He has focused on getting hard-nosed defensive players and has grabbed skill players that are a good fit for his system.
But if Coach Kelly wants to be successful at Notre Dame, he needs to do something that Weis wasn't able to do—win the close ones.
The Irish have had five wins of seven points or less during Kelly's tenure, yet they have lost six.
A confident quarterback running the team will go a long way, but Kelly needs to instill an attitude of not being willing to lose that was lacking in many games over the last two seasons.
Granted, there is a degree of luck involved in winning football games, but in order to minimize that factor, the players need to lay everything on the line. Kelly needs to get his players to want to lay everything on the line for both themselves and for him (with some of his comments and demeanor, I'm not sure he has done that yet).
I don't mean to constantly harp over the past, but there are important lessons to learn from history.
Weis could have been extremely successful at Notre Dame, but it often came down to the defense breaking on the last drive of games. Look at how many contests could have gone either way for Weis. At the end of the day, close losses just don't cut it.
For the team's sake, I hope Notre Dame comes out next season with a different mentality.
I won't sit on a pedestal and use the bully pulpit to say the team didn't try in certain games (as was said by some), but I will say that close losses are what they are—losses.
With a lot of new blood likely starting for the Irish this season and a very tough schedule (although turnover is something coaches deal with every year), it will be difficult for the team to dominate its opponents.
In fact, it won't be easy getting back to 8-5 (although with the talent on the roster a good season is always a strong possibility). 
All fans can ask for is a team that wants to win and tries hard to do so. When the game comes down to the fourth quarter, use every weapon in the arsenal in order to win. 
Can Kelly build a team that has ice water in its veins for seasons to come? I believe so, but only time will tell.