St. Anthony Headlines an Intriguing 2012 SNY Invitational Basketball Tournament
January 26, 2012

Tomorrow night, four high schools from the tri-state area will compete in the SNY Invitational. It is the premier high school tournament in the New York Metro Area. The tournament gives teams a chance to prove themselves while raising a substantial amount of money to provide scholarships to worthy students.
The biggest draw in this year's tournament is once again St. Anthony of Jersey City. They are the defending national champions and are poised to make another national title run this year. They are currently ranked in the top five in virtually all of the national high school basketball rankings.
They are coached by legend Bob Hurley, who has amassed over 1000 victories in his career and has built St. Anthony into the most successful high school basketball program in the country. St. Anthony has won 23 state titles under Hurley.
On the court, they are led by 6'8" point guard Kyle Anderson, a rising star who is considered one of the top players in the nation. He is heading to UCLA next season, and Coach Hurley has compared him to a player with a grand history in LA, calling Anderson "a modern-day Magic Johnson."
Hurley says of all the players he's ever coached, Anderson has the most professional upside if he continues to better his game.
St. Anthony has not lost a game since March 13, 2010. The other three teams in the field have the daunting task of ending the Friars' undefeated streak.
On Friday, Thomas Jefferson High of Brooklyn will try to slay Goliath. They enter the tournament confident after a major upset of Lincoln High School, considered the top squad in NYC. 
Jefferson has been the Cinderella of NY high school hoops this year, and their top guard exemplifies this.
Jaquan Lynch, who has lit up the top teams in the city, was a victim in a shooting incident which changed his life.  He was 15 at the time and was hanging with the wrong crowd and did not appreciate the opportunity basketball was giving him.
The shooting made him realize what he was throwing away. He is now focused on basketball alone and has emerged as one of the best talents in NY. He has Division I aspirations, and a big performance against St. Anthony could go a long way toward achieving his goal.
The other matchup on Friday features two teams trying to regain momentum.
St. Raymond of the Bronx is a team with talent which is struggling of late to finish games. They have played a stack schedule and have shown they can play with high caliber teams. They just need to execute better down the stretch.
They have a marquee player in forward Daniel Dingle, who will play college basketball at Temple.
The Ravens have a great shot at making the championship game as they should be able to advance against Benjamin Cardozo of Queens.
Cardozo started the season with one of NY's more promising front courts, but was dealt a crippling blow after their best player, Jermaine Lawrence, unexpectedly transferred earlier this month. Lawrence was the anchor of Cardozo, and currently has 17 Division I scholarship offers.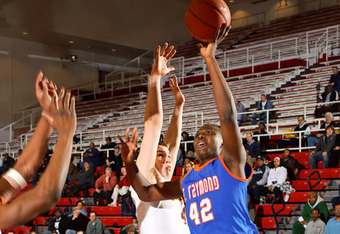 Without Lawrence, guard Ryan Yearwood is the player who Cardozo hopes can step up and fill the void. Yearwood is up for the challenge, but it will take time for him and his teammates to get acclimated to their new roles without their star.
This year the SNY Invitational will generate over $70,000 to help schools and students in need of financial aid. The tournament has generated over $300,000 since its inception in 2008 to help schools and deserving students while putting on a great basketball event. It's a great cause which has helped many families in the tri-state area in continuing the educational pursuits of their children.
The tournament tips off Friday at 6 pm at the LIU Wellness, Recreation and Athletic Center in Brooklyn with St. Raymond v. Benjamin Cardozo, followed by St. Anthony v. Jefferson.
On Saturday, the consolation game will tip at 2 pm and be followed by the Invitational Championship at 4 pm.
For more information about the event and for ticket information, go to snyinvitational.com or check out the SNY Facebook page and click the tab "SNY Invitational".
If you can't make the tournament, the games will be broadcast on SNY, so check it out to see great high school basketball and a few players who you'll hear about in the near future in college basketball.