NY Knicks: Carmelo's Willingness to Evolve Benefits Himself, Team in Long Run
January 26, 2012

Christopher Pasatieri/Getty Images
During a commercial break of MSG's Knicks broadcast last night, a Budweiser ad came on. You've probably seen it—the one where patrons drinking at the bar are participating in a word association that finishes with the guy saying, "My cute neighbor Sarah."
Well, it got me thinking. If I were to survey random NBA fans and ask them to describe Carmelo Anthony in as few words as possible, what would they say?
The answer to that question could be particularly biased depending on whether or not you're an Anthony endorser, but even given the propensity for partiality, there are essentially two statements on entirely opposite sides of the spectrum that would dominate the replies:
Anthony is one of the best if not the best pure scorer in the NBA.
Anthony is a selfish ball hog who only cares about scoring points.
While response No. 1 has a positive connotation and No. 2 is anything but, they both are byproducts of Anthony's tendency to take too many shots. And therein lies one of the Knicks' most significant problems among a cornucopia of them that have contributed to an entirely unacceptable, implausible 7-11 record and 10th place in the Eastern Conference.
Preseason expectations may have been slightly unrealistic, but even expert analysts were convinced the addition of Tyson Chandler automatically put New York in the same conversation with the Chicago Bulls and Miami Heat. And competing with the Boston Celtics—who blew the Knicks out of the building during last year's playoffs—goes without saying, doesn't it?
Not exactly.
The Knicks did serve up some Christmas joy with a bit of vengeance against Boston to open the season, but it's been downhill ever since. In fact, excluding a victory over Philadelphia on the back end of a four-game winning streak, New York has failed to beat a team with more than six wins.
Already a quarter of the way through the season, and the only opponents the Knicks have taken to task can be found in the basement of the league's standings. They say "you're only as good as the company you keep," but the Knickerbockers have no one to blame but themselves.
Anthony is an easy scapegoat, but the root of the team's issues is more than meets the eye. Offensively, the entire squad is in a funk, and it's become a vicious cycle.
When Anthony forces shots, less movement occurs among his teammates, and the offense becomes stagnant as they watch him go to work. On the other hand, when Anthony has been unselfish, the team has generally struggled to put the ball in the basket. As a result, Anthony—being that he is the first option—has no alternative but to resort back to one-on-one isolation out of desperation to score.
Taking into consideration that, to date, Anthony is shooting a putrid 39 percent from the field and that the Knicks aren't much better as a unit (42 percent), it is apparent that Anthony is not solely responsible for this cataclysm.
However, he is an unbridled contributor, and the overall success of the franchise ultimately rests squarely upon Anthony's shoulders.
Not only are the Knicks currently four games under .500, but they are four games under since Anthony's arrival last February. The excitement surrounding the team's first playoff berth since 2004 created a facade last season, but what may have been masked then is now plain as day; the chemistry between Anthony and his counterparts is virtually nonexistent.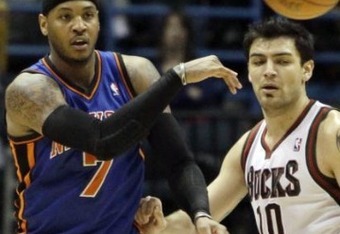 This has nothing to do with a flawed coaching philosophy on Mike D'Antoni's behalf. He's supplied his men with the tools to succeed, but the execution aspect of it is beyond his control.
As a leader and New York's most gifted player, Anthony must come to the realization that if the Knicks are ever going to meet the lofty goal of a deep playoff run—or championship no less—it will not happen with him carrying the load game after game. When you've approached the sport you love the same way for as long as you can remember, altering your style for the betterment of the team is extremely difficult.
Nevertheless, Anthony may have had a moment of clarity Tuesday night when the Knicks crushed the Charlotte Bobcats by 33 points for their most lopsided win of the season. Having sunk a measly free throw in what was the lowest-scoring outing of his career, Anthony filled up the box score in other ways. He grabbed 11 boards, dished out four assists and matched his point total with just one turnover.
This may have been the wake-up call he needed, as a humble Anthony spoke to reporters after the game of his effort to get his teammates more involved and restore belief in themselves.
I needed a night like this where I didn't have to do too much and we still won the game by a lot. I needed a night like this when I score one point and we win by 20.

I just wanted everybody to get back their confidence. I told you the other day I was going to do a good job of getting guys more involved. I did that tonight.
It's hard to tell if Anthony's comments were sincere, but it's going to take a lot more than a post-game interview to silence his harshest critics. The process of persuasion will have to be accomplished on the court.
For Anthony to adjust his game overnight is utterly impossible, but he's certainly done a fine job selling it over the previous two contests.
After jacking up 30 shots in a double-overtime loss to his former team, Anthony has gone a combined 5-of-21 for 16 points over the course of the past two games in which the Knicks are 1-1. He's also averaged 7.5 rebounds and five assists.
Meanwhile, Amar'e Stoudemire and Landry Fields are beginning to find a groove, and Tyson Chandler is exhibiting the kind of unforeseen offensive production that comes as a bonus to his rebounding and defense.
Provided Anthony's new outlook isn't a short-lived fad, the Knicks will experience a resurgence as everyone hits their stride.
All the great ones could score, but it is the other facets of the game in which they excelled that set them apart from the rest and make them the greatest of all time. Michael Jordan was an exceptional defender, Karl Malone was an extremely efficient rebounder and Kareem Abdul-Jabbar was a relentless shot-blocker. In addition to being well-rounded, they were perennial winners.
If Carmelo Anthony intends to be mentioned in the same breath as these legends one day, he'll need to put forth maximum effort in other areas besides scoring as well. Otherwise, he'll be brushed aside along with the Bernard Kings of the world when the next generation comes along.
It's all up to him.