Boston Red Sox Speculation: Jackson, Oswalt and Floyd All in the Starter Mix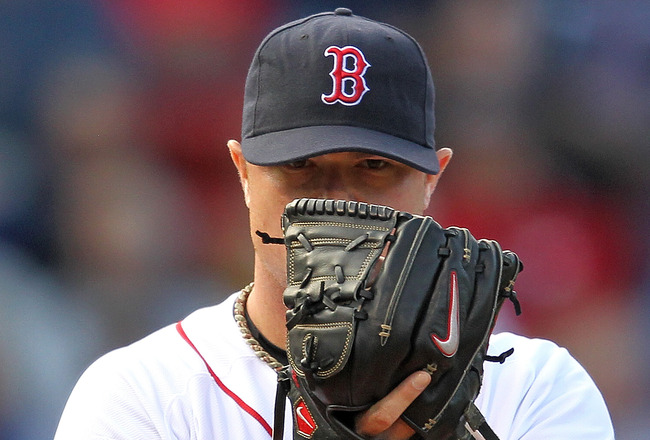 The Red Sox are looking to give Jon Lester some help in the rotation.
Jim Rogash/Getty Images
The Red Sox have added Cody Ross into the mix and subtracted Marco Scutaro (via Boston Herald). It looks like they may make at least one more move.
Ross will probably assume a platoon role in right field with Ryan Sweeney.
The starting rotation might not be set just yet, though.
Three pitchers—Edwin Jackson and Roy Oswalt, who are both free agents, and Gavin Floyd, who the White Sox may be willing to trade—could be in the Red Sox's sights.
Which one would be the best fit?
Roy Oswalt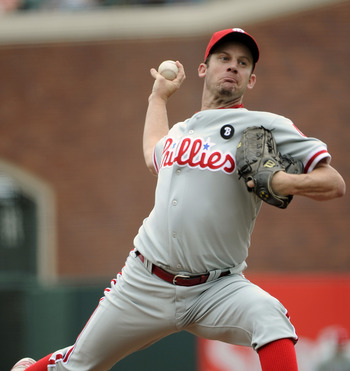 Roy Oswalt has had a nice career but are his best years behind him?
Thearon W. Henderson/Getty Images
There was a time when the thought of acquiring Roy Oswalt would have been front-page, show-stopping Red Sox news. It would have led SportsCenter and created Beantown hysteria.
In his first six major league seasons, Oswalt won 20 games twice, had an earned run average under 3.00 four times and finished in the Top Five of the National League Cy Young Award voting five times.
That was all between the years 2001 and 2006, though.
His last five seasons haven't been as good, and last year he had career worst in WHIP ratio, hits per nine innings ratio and strikeouts per nine innings ratio.
At age 34, those types of numbers seem more like a downward trend and less like a random off year.
Add in Oswalt's lack of American League Experience (he has none), back injuries to create additional concern. Oswalt had back problems last summer that, for a brief period of time, were considered severe enough to possibly end his career (via NBC Sports). Thankfully they weren't that bad, and Oswalt did return to pitch last season. However, aging pitchers with back problems don't instill a ton of confidence in Major League general managers.
The fact that Oswalt may be willing to accept a one year deal (via Yahoo), is nice, but if his one year is rocky—and injuries and adjustments to the American League create poor performance—then one year may still be too long.
Edwin Jackson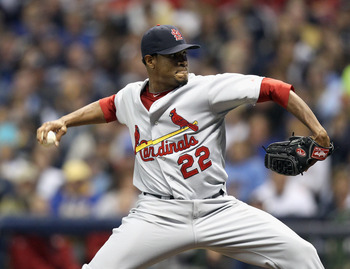 Edwin Jackson has shown flashes of brilliance in his career but not frequently enough.
Christian Petersen/Getty Images
Edwin Jackson has played on numerous teams. He's thrown a no-hitter, pitched in the postseason and in both leagues, including time in the American League East as a member of the Tampa Bay Rays team that played in the 2008 World Series.
Jackson has tempting potential. He's never been able to put together a streak of strong performances, save for his 2009 season in Detroit. In that season, he was 13-9 with a career best 3.62 earned run average as well as a career best 1.262 WHIP ratio.
Those numbers aren't jaw-droppingly good, but they'd be accepted with open arms if Jackson were generating them from the No. 4 starter slot in the rotation. The problem, of course, is that those numbers are the career bests over the course of what is now a nine-season career.
He broke into the league at the young age of 19, so in spite of his lengthy career he's still only 28 years old. That's something the Red Sox should be taking into consideration. The team seems to prefer short-term contracts, but at the age of 28 and with decent potential Jackson, may be an exception if the price was right.
Jackson also has durability on his side as well. He's started more than 30 games in each of the last five seasons. The Red Sox have had issues with injuries and durability, so adding Jackson could provide some stability as well.
There are rumors that suggest that the Red Sox may be in pursuit of Jackson—they may have even extended and offer to him (via the Boston Herald).
Is he on the way to Boston? As of now there's no sure answer.
Gavin Floyd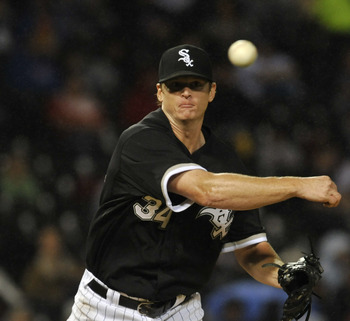 Gavin Floyd may be available if the Red Sox can put together a deal with the White Sox.
David Banks/Getty Images
Gavin Floyd has been a steady, consistent presence in the White Sox rotation since the 2008 season. He makes over 30 starts a year, and his earned run average is routinely around 4.00.
Floyd is the most stable and most dependable of the three pitchers being discussed. He's not past his prime like Oswalt and he's not really waiting to find consistency the way Jackson is.
Acquiring Floyd is the safest bet, but it's also going to be costly. He doesn't make big money, but it will take prospects to acquire him. The Red Sox have already dealt away prospects in the deal they made to acquire Andrew Bailey and Ryan Sweeney.
The Red Sox would strongly prefer to add another starting pitcher without trading for him. Free agency presents the most attractive options as far as cost goes. Floyd might be the best guy out there that's available, but over the last two seasons the Red Sox have parted ways with Josh Reddick, Anthony Rizzo, Casey Kelly and Miles Head, among others.
Floyd may very well end up being traded, but it's beginning to look like Boston may not be the eventual destination.
Keep Reading

Boston Red Sox: Like this team?