Philadelphia Phillies: Valdez Trade Creates Tremendous Opportunity for Galvis
January 26, 2012

Al Messerschmidt/Getty Images
Are you ready, Freddy? You have a big chance to advance your career right now, Mr. Galvis.
The Phillies traded Wilson Valdez to the Cincinnati Reds on Jan. 25 for left hander Jeremy Horst. In doing so, they traded the final member of their major league infield.
The spot leaves a void on Charlie Manuel's bench that includes only Ty Wigginton and Jim Thome as reserves. Neither of the two veterans have any chance of being put in at shortstop, regardless of it being in a backup capacity. Essentially, Jimmy Rollins, who has taken three trips to the disabled list the past two years and four such trips since 2008, lacks a back up.
The front runner to take the final spot is Michael Martinez, a utility player who spent all of 2011 on the big league roster. Martinez had to be on the roster though, or the Phillies would risk losing him. That risk doesn't exist anymore.
Presumably, he would be the front runner to take the spot. But let's never count Michael Martinez as a lock to make any team's roster. He's Michael Martinez. He'll be 30 years old by the season's end, and could not even crack the Nationals' roster once, not even as an injury replacement or September call up in some of Washington's worst years.
Making 234 plate appearances last season, Martinez hit .196 last season. He didn't just struggle with pinch hitting; the switch-hitter hit .203 in games in which he started. In his best month, he peaked at a .247 clip in July.
In other words, he can be beat.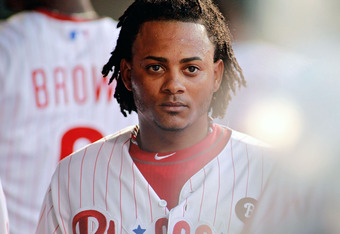 Len Redkoles/Getty Images
Who can beat him? There is only real in-house candidate that could compete with him being capable of playing shortstop: Freddy Galvis. The 22-year-old with a slick glove certainly has the defensive capabilities to replace the reliable glove Valdez posses.
Does he have the bat? Well, Galvis actually has improved each season offensively to project some type of major league competence. His respective annual batting averages from 2007-2011 have for the most part climbed upward: .203, .238, .240, .233, and .278. That's all while climbing from low A ball to AAA, obviously facing increasingly challenging competition.
There is reason to think he could perform at least within reach of Martinez's .196, if not .25 points higher. Again, they would not be losing anything in the field either and from all accounts would actually be making an upgrade over Valdez and Martinez. Additionally, he brings adequate foot speed checking in somewhere between 40 and 45 on the traditional "20-80" scouting scale. Galvis stole 23 bases at two combined levels last season, but was caught 13 times. He could work on his base stealing, but his speed is by no means a "deal breaker."
It would benefit both he and the team if Galvis could top Martinez for the last spot. Realistically speaking, Martinez does not have much a future with this team. To his credit, he made the team as a 28-year-old rookie last season, but we've likely seen his highest potential.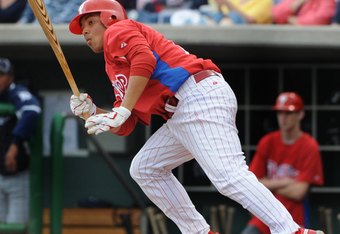 Al Messerschmidt/Getty Images
Having established that as the case with Martinez, let's peak into Galvis' future.
Galvis is the most apparent "shortstop of the future," Jimmy Rollins' heir apparent. At 22 years old, he could put himself in position to learn the game by watching a collection of accomplished, established veterans for 162 games as a front row spectator. It would beat filling out a spot in the Iron Pigs' lineup each night.
There is a track record of that type of success in Philadelphia: a young prospect sitting on the bench, backing up a veteran as part of their way to transition into becoming a big league player. The players who have done this while playing for the Phillies within the past 10 years have outperformed those who did not.
Note: I am not guaranteeing Galvis will be an All-Star, just identifying a trend.
Chase Utley was a dynamic threat of the bench in 2004 and the first part of 2005, in addition to being an injury replacement for David Bell and Placido Polanco in 2003. Ryan Howard eased in 2004-05 as well, also at times being an injury replacement.
Shane Victorino was Pat Burrell's late inning defensive replacement and pinch runner in the first part of 2006, then played increasingly more games once Bobby Abreu was traded and Aaron Rowand was injured. Carlos Ruiz was a part-time catcher from 2006-08 before easing into the starting catcher role. Michael Bourn was a backup center fielder in 2007 and extra legs off the bench, and although he was traded to Houston, he was able to become an effective All-Star starting center fielder.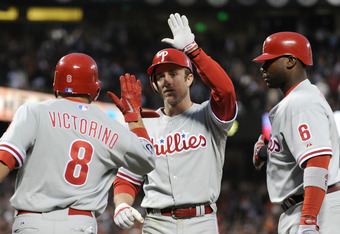 Harry How/Getty Images
Why does it work? One particular reason is the younger players learn from the proven, established veterans. Utley was there with David Bell, a current minor league manager, and Placido Polanco, who is widely regarded as a future manager. Ryan Howard backed up a future first ballot Hall of Famer in Jim Thome. Carlos Ruiz played behind a two-time All-Star catcher. Shane Victorino roamed the outfield with the all-out Aaron Rowand, and Bobby Abreu, who had one of the best approaches at the plate in the National League.
Conversely, people who were thrown right into the starting role did not really reach their potential.
Pat Burrell was widely considered a player who performed below expectations. Granted, he had a productive career in Philadelphia, but not nearly as successful as he was expected or projected to be. He became a full-time player less than two years after being drafted.
Domonic Brown has struggled as a full-time player. Marlon Byrd had a solid first year, but then struggled for the remainder of his tenure in Philadelphia. He fell off the map until he became a backup and then became an All-Star.
In general, those who eased into the role, going from reserve to starterd fared well.
Look around the horn and at their contracts. Placido Polanco could be a free agent in less than eight months. Chase Utley's deal expires following the 2013 season. Jimmy Rollins could be gone after the following season. It would be nice to have at least an idea of how Galvis looks against major league pitching. His 150-200 at bats as a utility player would be more telling than 500 or so in AAA ball.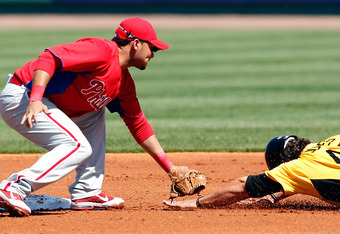 J. Meric/Getty Images
If it looks promising, Freddy Galvis and his pre-arbitration year's salary would look pretty good to calm down the flaming projected payroll, which guarantees $104 million to just six players. Of the six, three of them are in the infield. A salary of less than half a million could allow them to explore external, more costly options in other positions or keep impending free agents. Wouldn't you like to see Cole Hamels back? It's usually best to install an internal option anyway, that is how the 2008 championship team was built.
So the Phillies have plenty of reason to allow Galvis to pursue this opportunity. Galvis just has to make the most of it to make that half a million or so salary truly be a bargain.
If he can show up in Spring Training and prove he is adequate at the plate, he has a real opportunity in front of him to advance his career significantly. It does not even need to be adequate, just better than Michael Martinez.
Galvis could then spend the next season learning under the wing of team leader Jimmy Rollins, future manager Placido Polanco, and the ultimate gamer Chase Utley.
He has a solid opportunity here of which to take advantage. Are you ready, Freddy?