Toronto Blue Jays: Are There Any Starting Pitchers Worth Pursuing?
January 26, 2012

Jamie Squire/Getty Images
The Blue Jays desperately need help in their rotation. Ricky Romero has emerged as an ace but the back four starters are shaky at best. Brandon Morrow looks nearly unhittable at times but cannot maintain it over a full season. Henderson Alvarez looked promising last season but remains extremely unproven. Kyle Drabek can no longer throw strikes, Brett Cecil will be lucky if his ERA is below 4.50 and Dustin McGowan hasn't been healthy in nearly five years.
If there's one thing fans have learned this offseason, it's that established starting pitchers do not come cheap. The Blue Jays badly need help in their starting rotation but is there anything worth trading for at the moment?
The top pitcher on the trading block seems to be Matt Garza. Garza is coming off a 10-10 campaign with a 3.32 ERA over 198.0 IP. I prefer Jair Jurrjens, but talks surrounding him have more or less vanished. Sports transactions are based on precedence and the Mat Latos, Gio Gonzalez and Michael Pineda deals are the benchmarks. The Reds and Nationals gave up several top prospects to land their respective pitchers, while the Yankees were forced to part with Jesus Montero to land Michael Pineda. 
I see all clubs wanting similar packages for their aces. Theo Epstein might demand some sort of package including top-catching prospect Travis D'Arnaud, a top-pitching prospect in either RHP Deck McGuire or RHP Drew Hutchison and an MLB ready player for Matt Garza. Garza is a great pitcher but he is hardly worth depleting a farm system for. Although the Jays have the depth in their system to swing a trade for Garza, the price is not right. I think Alex Anthopoulos would be wise to stay away from the pitchers on the trading block at the moment.
The Blue Jays will likely enter spring training with the rotation they currently have, but that does not mean there are aren't a few free-agent options they could explore.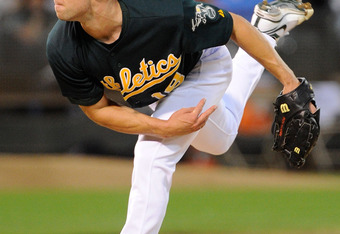 Thearon W. Henderson/Getty Images
The most obvious name is Edwin Jackson, another option the Jays would be wise to pass on. Edwin Jackson is a phenomenal pitcher but his expectations are completely unrealistic. He is looking for a long-term deal worth at least $10 million a season. Jackson is an absolute workhorse appearing in over 30 starts in each of his last five seasons. In theory, a reliable pitcher like Jackson is just what the Blue Jays need. Do I want to see the Blue Jays hand $10 million a season to a pitcher with a career ERA of 4.46? No thank you.
A low risk, high reward option that is available is Roy Oswalt. At 34 years of age, his stuff is definitely a lot more hittable than it used to be and his back may not hold up over a full season. Having said that, he is a three-time All-Star with playoff experience and supports a career ERA of 3.21.
His veteran presence would do wonders for the young and inexperienced pitching staff of the Blue Jays. He is willing to pitch on a one-year deal so he comes with very little risk. Roy Oswalt would not cost the Blue Jays a draft pick in compensation because the Phillies declined to offer him arbitration. I see him wanting something in the $9-12 million range. 
This may sound crazy, but another low risk option is Rich Harden. I would love to see another Canadian player on the Blue Jays roster. Once a top arm in the American League, Harden has been plagued with injuries and hasn't pitched a full season since his 31-start campaign back in 2004 with Oakland.
Harden would definitely pitch on a one-year incentive-based deal as he does not seem to be attracting a ton of interest around the league. When healthy, Harden puts up monster strikeout numbers and has historically torched the Jays. Like Oswalt, Harden would be a great veteran leader for a young pitching staff.
Signing Rich Harden would gives Canada's team more homegrown talent and is an extremely low-risk option for the Jays. Let him battle it out for a rotation spot with Drabek, Cecil and McGowan. Worst-case scenario, he can be a solid flamethrower out of the bullpen.