5 Ways St. Louis Cardinals Can Repeat in 2012—Even Without Albert Pujols
January 26, 2012

Michael Heiman/Getty Images
The Texas Rangers trade Mark Teixeira and the next season posted their best record since 1999. 
The Los Angeles Angels lose Kendrys Morales for the entire season and still contend for the 2011 AL West title right up until the last week.
The Tampa Bay Rays let Carlos Pena walk after 2010 and win the Wild Card the next year.
As history has shown, losing a slugging first baseman is not the end of the world.
Now, while none of the above players are going to be confused with Albert Pujols, they did manage to put up some pretty impressive offensive numbers in their last full year with the teams that lost them.
Despite the loss, however, each team was able to sustain, if not improve, on the previous year. 
Since the St. Louis Cardinals won the World Series last year, improvement is hard to come by.  But there is no reason why they can't enter 2012 optimistic about their chances to return to the playoffs even after saying goodbye to the greatest player in baseball.  And as they showed last year, once you get to the playoffs, anything can happen, even winning the World Series. 
Below are five ways the Cardinals can do just that: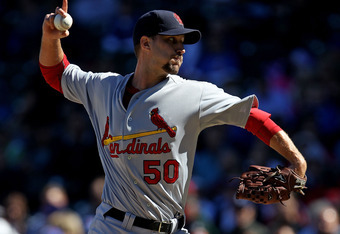 Jonathan Daniel/Getty Images
1. Offense sells tickets, but pitching wins championships
For all of Pujols' exploits at the plate, it was the Cardinals' pitching staff that led the way in 2011, and that was without the presence of 2010 Cy Young runner-up Adam Wainwright, who was out rehabbing from Tommy John surgery. 
With Wainwright back in the fold for 2012, presumably at full strength, the Cardinals are in significantly better shape than they were heading into 2011.  And if they re-sign Edwin Jackson?  You are easily looking at a top-three rotation in the National League, which is a great thing to have if your run production goes down.
2. Weaker NL Central competition
With Prince Fielder signing his big-money deal with the Detroit Tigers, any potential advantage the Milwaukee Brewers would've had in the "our slugging first baseman is better than your slugging first baseman" area is gone.  And with reigning NL MVP Ryan Braun potentially out for 50 games, they'll be in even worse shape. 
Both of those factors play heavily on the Cardinals' chances to return to the playoffs, even without Pujols. And not having Houston in the division means one less team to contend with and also robs any NL Central pretenders from fattening up their records on the lowly Astros. 
3. "Paging Mr. Unexpected…"
Those teams that end up improving the year after losing a slugger often have someone on their roster that season who far exceeds what was expected from him.  Maybe it's a rookie who unexpectedly makes the squad out of spring training, or perhaps a mid-level free agent who puts up career numbers.  Sometimes it's a second- or third-year player who makes "the leap," or a former All-Star returning to form. 
In any case, a key component to the Cardinals' success this season will likely hinge on that guy. Last year it was Lance Berkman.  Who will it be this year?  Highly touted rookie Matt Adams, perhaps?  Maybe Skip Schumaker, fresh off signing a two-year extension, might fit the bill.  World Series MVP David Freese is also a candidate, as is Carlos Beltran. 
They can come from anywhere and nowhere, and if the Cardinals return to the postseason, chances are it was Mr. Unexpected who helped them do it.
4. Big-market letdown
The economic superpowers in the National League continue to squander their considerable resources and will once again likely not be a factor in 2012 (I'm looking at you, New York, Chicago, Los Angeles and Washington). 
The New York Mets lost Jose Reyes and Carlos Beltran and their pitching is abysmal. 
The Chicago Cubs said goodbye to Carlos Zambrano and hello to Matt Garza—not exactly an upgrade—and their offense is offensive. 
Team morale on the Los Angeles Dodgers continues to be low as they suffer through another season of not being able to add any impact players to their payroll, despite what they are telling people. 
And to be fair, the Washington Nationals are building something special over in our nation's capital, but the fact remains they wasted so much money on Jayson Werth last season that they were scared off from signing the one player who could've made them playoff contenders in 2012: Prince Fielder. 
Add all that up and the playoff field is once again wide open for mid-market teams, which should be music to the Cardinals' collective ears.  
5. Choosing Pujols' replacement
We can all agree that whomever the Cardinals put at first base will not come close to measuring up to what Pujols gave them for 11 seasons.  But that doesn't mean that person can't play an integral role in the Cardinals' 2012 fortunes. 
Of all the positions, replacing an All-Star at first base is one of, if not the easiest one to accomplish.  The reason is because any good power hitter is a candidate for first base, and therefore it's much more likely a team will be able to find someone to replace much of the lost production. 
The Cardinals have a big decision to make, and if they make the right one and find somebody who can put up .285/25 HRs/80 RBIs to complement Berkman, Beltran and Matt Holliday, they should have enough offense to keep them right in the thick of things.