Prince Fielder to Tigers: 10 Bold Predictions for Slugger's First AL Season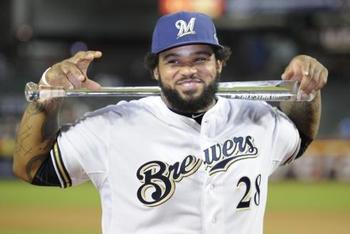 After agreeing to a nine-year, $214 million contract with the Detroit Tigers on Tuesday, Prince Fielder finds himself staring into the belly of two enormous shadows.
Initially, Prince must contend with the same shadow that has been cast over him since he hit a home run out of Tiger Stadium when he was 12 years old. His father, Cecil Fielder, had career resurgence with Detroit in 1990, when he hit 51 home runs and had 132 runs batted in.
The spotlight of playing in the same city as his father will eventually fade as Prince continues to produce the same numbers that allowed him to be such a highly sought-after free agent.
The more daunting shadow to overcome will be the one cast by only the fourth $200 million contract in MLB history. That will be something he will have to continue to prove worthy of over the course of his career.
Fielder Will Be Clutch in Big-Game Situations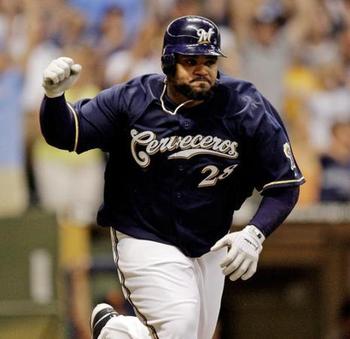 Fielder has 4 career walk-off HR.
Over the course of his career, Fielder has delivered in late-inning situations when the game is undecided, producing a slash line of .310/.437/.583.
He has also been clutch with two outs and runners in scoring position, driving in 132 runs in 385 career at-bats.
After some poor plate appearances in 2010, he had a bounce-back performance in high-leverage situations last season, hitting .305 with 10 home runs, 47 RBI and a .648 slugging percentage.
Fielder gave the American League a glimpse of just how clutch he can be during the 2011 All-Star Game in Phoenix, as he hit a three-run bomb to put the National League ahead to stay in a 5-1 victory.
Speaking of go-ahead home runs, Fielder has 80 in his short career.
Prince will have 50 HR in 2012

Look for Fielder to hit 50 HR and 140 RBI in 2012

Fielder's single-season best of 50 home runs came in 2007, and he will at least match that number for the Tigers in 2012.
According to ESPN MLB Ballpark Factors, Comerica Park is alongside Wrigley Field as the 14th-ranked ballpark with 0.987 home runs per game. So a conceived pitcher's park ranks middle of the road and is unlikely to hold Fielder's power.
Fielder had an average home run distance in 2011 of 408.9 feet; the only portion of Comerica Park that can hold those numbers is dead center.
He also crushed a total of 11 "No Doubt" home runs last season, third most in MLB.
Fielder will win the WAR with Pujols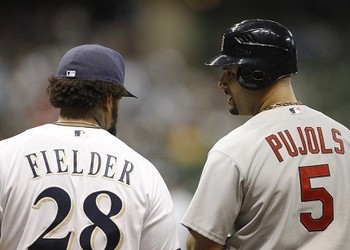 Both Prince and Albert received $200 million plus contracts this off-season.
Albert Pujols and Prince Fielder have been linked to each other all offseason as the two biggest free agents on the market.
Both have been among the top first baseman in the National League in recent years, but Pujols holds a commanding 39 to 22.1 WAR advantage over Fielder since 2007. That ended last season when Fielder edged out Pujols, 5.5 to 5.1.
Pujols' defense will always be better, but his UZR numbers have declined from 24.7 in 2007 to 2.4 last year.
Granted, Fielder has been in the negative every season except one, but his numbers have stayed steady ranging from minus-7.2 to a minus-5.1 during the same time period as Pujols' decline.
Offensive projections have the two on a very similar pace for 2012. Fielder gets the edge for being on a better offensive team and hitting in a lineup with another perennial MVP candidate, Miguel Cabrera.
With all that said, their WAR will once again be close, but expect Fielder to turn his 2011 WAR victory over Pujols into a trend.
Fielder will hit a 500-foot HR at Comerica Park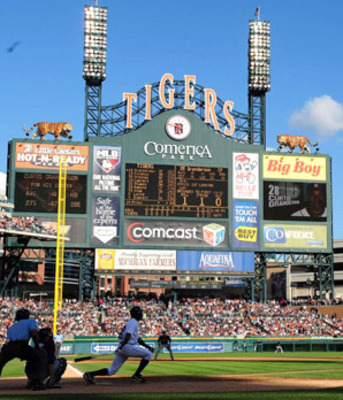 Can Comerica Park hold Fielder?
Carlos Peña has recorded the longest home run at Comerica Park to date. It was a 461-foot bomb versus the Seattle Mariners.
Prince hit two home runs longer than that last season, a 472-foot shot at Minute Maid Park and a 469-foot at Miller Park.
The pinpoint prediction for the record setting 500-foot home run is during a Sunday afternoon matchup versus the Kansas City Royals on June 8th. If that wasn't specific enough, the pitcher will be none other than Jonathan Sanchez.
It's all in good fun, folks.
Prince flashes his speed with an Inside-The-Park HR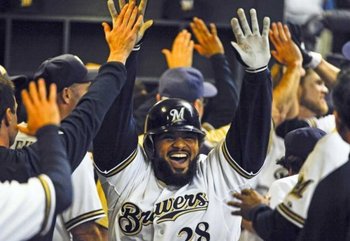 Prince has 2 inside-the-park homeruns.
For a plus-sized man, Fielder has surprisingly good wheels. To go along with his two inside-the-park home runs, he has nine triples and 16 stolen bases in his career.
His first inside-the-park HR came against the Minnesota Twins in 2007, when a high pop-up got lost in the Metrodome's white roof.
One year and another American League team later, he hit his second inside-the-park home run.
This time it was against the Toronto Blue Jays. The ball originally appeared to be caught under some padding as outfielder Alex Rios waved his hands to signal a ground-rule double, but it was ruled a fair ball by the umpire.
Is it a coincidence that his only two inside-the-park home runs came against American League teams and now he is a member of that very league? I think not.
Struggles will come. Not many, but some.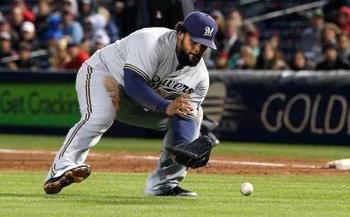 Detroits defense could be suspect with Fielder and Cabrera at the corners.
Prince Fielder has never been praised for his defensive efforts, but his lack of a glove is to be expected. An early concern from most Detroit fans is the trickle-down effect that the Fielder signing does to an already average defense.
With Fielder clearly cemented at first base, with the occasional DH start, that possibly moves Miguel Cabrera to third base. Although Cabrera was a third baseman early in his career, that is not his ideal position at this point.
If the Tigers' lineup consistently puts Fielder and Cabrera at the infield corners, the defense will struggle.
Everyday players seem to have trouble transitioning from the field to the DH role. Most recently, Adam Dunn and Jorge Posada are prime examples of this.
Most baseball people feel it's the inability to adjust to the sit, hit and then sit again routine.
Prince will not likely be the DH very often, but expect him to struggle as most former National League players making that adjustment do.
Detroit will win the AL Central by 25 games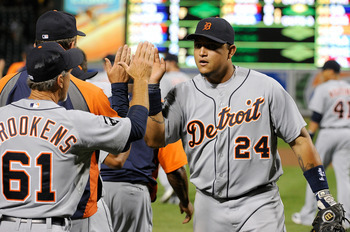 Look for the Detroit Tigers to run away with the AL Central again in 2012.
The Detroit Tigers finished with the widest division lead (15 games) in MLB last season, and there is reason to believe that margin will increase in 2012.
A full season of outfielder Delmon Young, pitcher Doug Fister and possibly top prospect Justin Turner will only help add to the 95-win total from last year.
Designated hitter Victor Martinez is lost for the season with a torn ACL.
Could the loss of Martinez make the Tigers better? Some think yes. If not for that loss, there would be no Prince Fielder on the roster.
Fielder is a difference maker and could hit four times the 12 home runs Martinez had last season. Martinez only supplied protection for Miguel Cabrera through reputation; Fielder will supply protection through fear.
Don't be surprised if Detroit not only wins the AL Central by 25 games but also has the best record in Major League Baseball.
The American League MVP stays in Detroit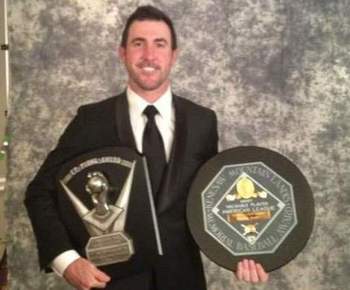 Justin Verlander shows off his MVP and Cy Young awards.
Go ahead and plan for another MVP Award celebration in the Motor City. Coming off Justin Verlander's 2011 MVP season, Fielder will make it back to back in 2012.
Fielder will play in 157-plus games for the seventh consecutive season.
That consistency will allow him to put up his career high of 50 home runs (2007) and 141 RBI (2009) in a single season.
He will also finally break the .300 batting average mark after posting a .299 average in 2009 and 2011.
Add a fourth All-Star appearance in the upcoming 2012 season to three previous top-4 MVP finishes, and you can see that Fielder is on the verge of putting together a remarkable season.
Fielder will do his best Mr. October imitation vs. the Yankees in the ALCS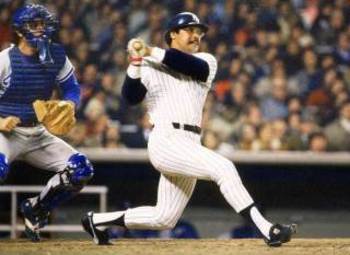 Reggie Jackson hits 3 home runs during Game 6 of the 1977 World Series.
Reggie Jackson is known as Mr. October, most notably for his heroic three-home run performance in the 1977 World Series.
Fast forward to October of 2012, the Detroit Tigers head into Game 6 of the ALCS with a 3-2 series lead over the New York Yankees.
Fielder does his best imitation of Mr. October by hitting three home runs, including a series clincher off future Hall-of-Famer Mariano Rivera.
Prince gets fitted for a World Series ring
2012 World Champion Detroit Tigers?
Somewhere in that Comerica Park dog pile is an MVP season by Prince Fielder being validated by a World Series victory.
The World Series MVP goes to Verlander for winning three games; but the 1-2 punch of Fielder and Miguel Cabrera powered the offense.
Regardless of all the previous bold predictions, look for Fielder to cast away any shadows that might follow him into what is expected to be a special season for the Detroit Tigers.
Keep Reading

Detroit Tigers: Like this team?