Liverpool FC: 5 Reasons the League Cup Win over Manchester City Is a Great Sign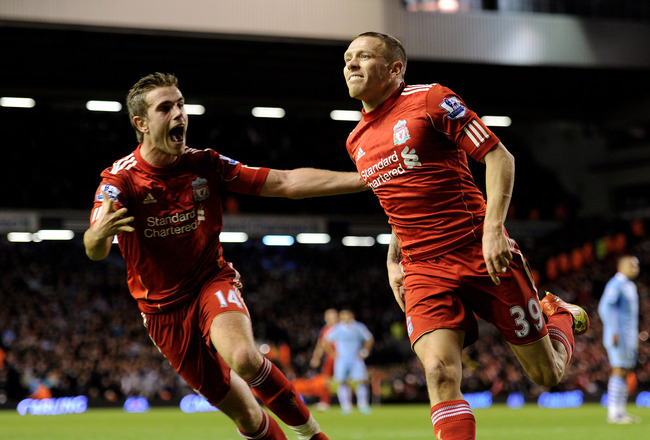 Michael Regan/Getty Images
When the final whistle blew after a pulsating game against Manchester City on Wednesday, Liverpool had clinched their biggest result of the season. The 2-2 draw at Anfield meant that Liverpool were through to their first League Cup final since 2005.
Liverpool fans should take the win as a great sign. It showed that there is still only one really competitive team to compete with in Manchester. It showed that Liverpool can still have success in cup matches. And it showed these five things.
5. Experience Is Key, and Liverpool Has Experience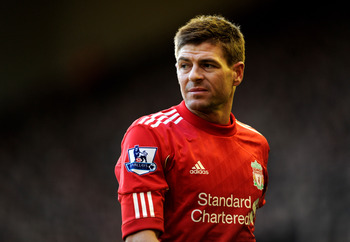 Michael Regan/Getty Images
While Liverpool has some of the best youngsters in the country, they are still often criticized for their aging squad. It is claimed that the squad is too old to succeed, and that unless Liverpool starts to incorporate their young players more, a cup triumph is a long way away.
Today Liverpool proved that, if used correctly, experience trumps youth. A Reds side led by Craig Bellamy, Steven Gerrard, and Dirk Kuyt wrestled over a City team dominated by young players.
While Liverpool should absolutely continue with their youth movement that has seen the likes of Jordan Henderson and Martin Kelly earn plenty of first team experience, the win has shown that there is no rush to do so. The veterans in the team are the key to winning, not the young players. With the right combination, Liverpool will be unstoppable.
4. Every Once in a While, Luck Is on Our Side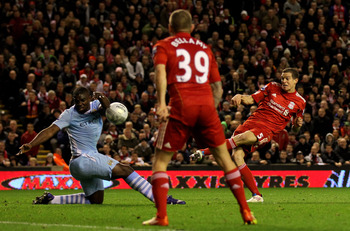 Alex Livesey/Getty Images
Luck has not been on Liverpool's side this season. No team has hit the post as much, and no team has lost its best players for such extended periods of time. Bad luck has been a major reason for Liverpool's struggles, but the match against Manchester City showed a glimmer of hope that that luck might be beginning to turn.
With almost 39 minutes gone and Liverpool down 1-0, Daniel Agger found himself in the right place at the right time in the penalty area when the ball bounced out to him. He fired a rocket shot that was heading on target until it struck a flailing Micah Richards in the knee before bouncing up into the arm of the City defender. Without hesitation, referee Phil Dowd pointed to the spot.
Steven Gerrard scored the penalty. Liverpool are through. They got lucky.
3. Liverpool Can Win Without Luis Suarez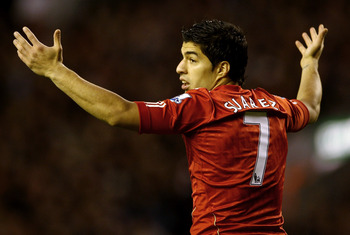 Scott Heavey/Getty Images
When Luis Suarez returns to the Liverpool lineup, it will have been nine games the team have had to battle through without him. After seven of those nine, Liverpool has won four and drawn three.
The win over Manchester City was yet another testament that, while Suarez is undoubtedly the team's best and most important player, Liverpool can win without him. The fact that they are able to overcome a superpower like City without their star player is nothing but a good sign: after all, they are only stronger when he is in the team.
2. Money Doesn't Necessarily Guarantee Success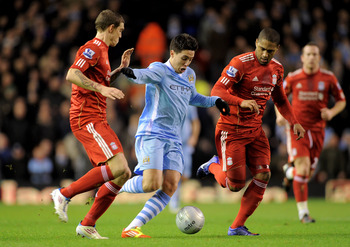 Michael Regan/Getty Images
In the modern game, money has become very important. Teams like Chelsea and Real Madrid have shown that with the right owner backing, any team can achieve success. You just need copious amounts of money and the owners have to be willing to shell it out.
Against Liverpool, City used a Starting XI that they have paid a grand total of £159 million for. Liverpool's lineup had cost them only £92 million.
The Reds once again showed that teams who spend money smartly can overpower teams that just spend it. They proved, with a little help from City, that money doesn't necessarily buy you success. Liverpool's three most highly-rated players in the match cost them £10 million; City's three worst cost them £44 million.
1. Liverpool Will Have a Chance to Win Silverware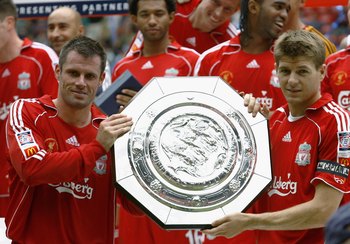 Shaun Botterill/Getty Images
Not since 2006 has Liverpool brought home any trophies to Anfield, and even then it was the Community Shield. One of football's most successful teams has been starved for success in recent seasons, but they will finally have the chance to feed themselves once again.
On Sunday the 26th of February 2012, Liverpool will return to Wembley for the first time 16 years.
Barring would what only be described as a monumental slip-up against Welsh Championship promotion-battlers Cardiff City, Liverpool will finally have some silverware to mark their season with. This taking nothing away from Cardiff, who fully deserve to be where they are, but Liverpool is the superior side, and should show it at Wembley.
Follow Jake Ware on Twitter at @JacobWare95
Keep Reading

Liverpool: Like this team?