Los Angeles Kings: 7 Players to Pursue at the NHL Trade Deadline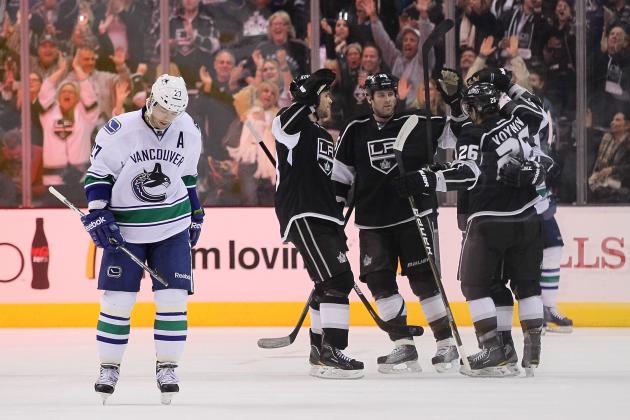 Victor Decolongon/Getty Images

With the NHL All-Star break upon us, and teams quickly approaching the trade deadline, it has become more clear who will be buyers and who will be sellers.
At this point in the wild Western Conference, the Kings are currently sitting in a position of buyer. But who exactly should they be pursuing?
It's no question the Kings need offense. And their are likely going to be some decent suitors out there—if the price is right.
Here are just a few players I feel the Kings should go after and might have a shot at.
Begin Slideshow

»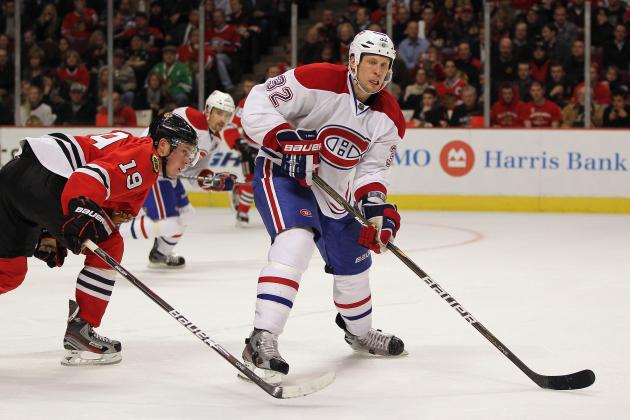 Jonathan Daniel/Getty Images

Travis Moen has a reputation as a nasty and productive bottom-six skater. And there would be no better suited team for him than the L.A. Kings.
The Kings have been sorely lacking depth in their forward lines, especially when it comes to the third and fourth lines.
Moen is a grizzled vet with lots of playoff experience. He is also an unrestricted free agent at the end of the season. With Montreal teetering on the edge of complete and total rebuild, it's not out of the question that the Kings may be able to swipe this guy up for little more than some draft picks or a prospect.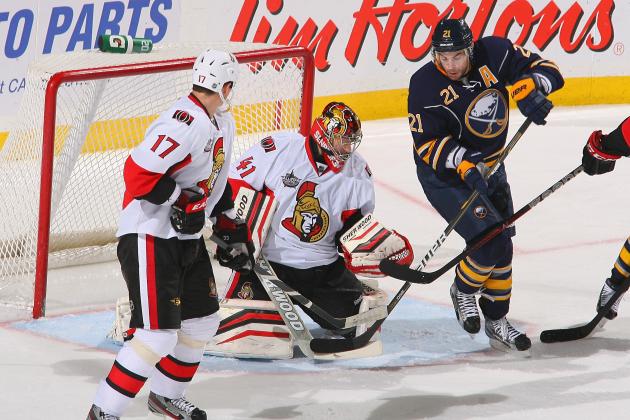 Rick Stewart/Getty Images

The Sabres have been a huge disappointment this season. And Drew Stafford has drawn a lot of criticism for his inconsistent play.
However, I think Stafford has been victimized on a team that is struggling from top to bottom, on every line (save Pominville and Vanek).
Stafford is a big body who likes to get into the dirty areas of the offensive zone, something the Kings have lacked on a consistent basis.
Whether or not he can be acquired is the big question. Stafford recently signed a four-year extension with Buffalo at $4 million a season and was seen by fans as one of the Sabres' core. He's a young guy with lots of potential, and he wouldn't be a rental.
It would likely cost way more than picks and prospects, but he would be a dynamite addition.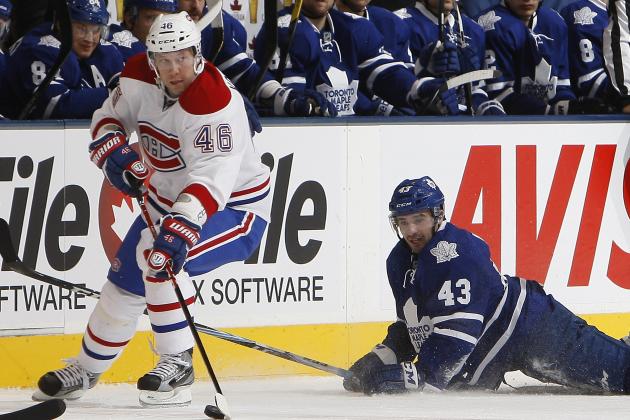 Abelimages/Getty Images

The Kings need some skill on wing. Particularly left wing.
Kostistyn could be a very nice fit in the top six for L.A. He, too, is an unrestricted free agent at the year's end, and in all honesty a swap of unrestricted free agents, maybe Penner for Kostitsyn, wouldn't be that bad a deal for either team.
Montreal needs size; L.A. needs skill. Both players are UFAs, and their contract numbers are similar.
Regardless of what it takes, Kostistyn could be a valuable addition to the Kings.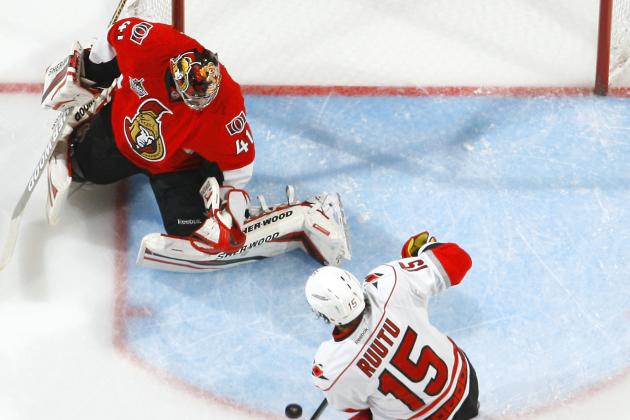 Phillip MacCallum/Getty Images

With Carolina well outside the playoff picture, and edging towards starting over from scratch, you'd have to figure Ruutu might very well be had for the right price.
He's a skilled forward, and although he is listed at center, Ruutu has played more time at wing this season then center.
With what will be his third 20-goal season on the horizon, the Hurricanes will likely want to unload the impending free agent to a team that needs some scoring depth and has plenty of youth to deal in return.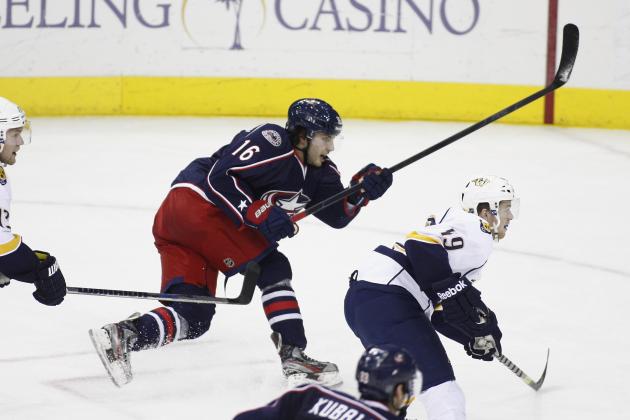 John Grieshop/Getty Images

Life has been a struggle for Derick Brassard since joining the NHL.
He was drafted sixth overall in 2006 by the Blue Jackets and has slipped into the category of disappointment with the Columbus fans.
While his game hasn't looked strong 100 percent of the time, Brassard still shows real flashes of skill that garnered him such a high draft choice.
A change of scenery would be a great thing for Brassard, and Daryl Sutter would be a perfect coach for him.
Columbus would welcome the salary dump and appreciate pretty much anything decent they would get in return at this point.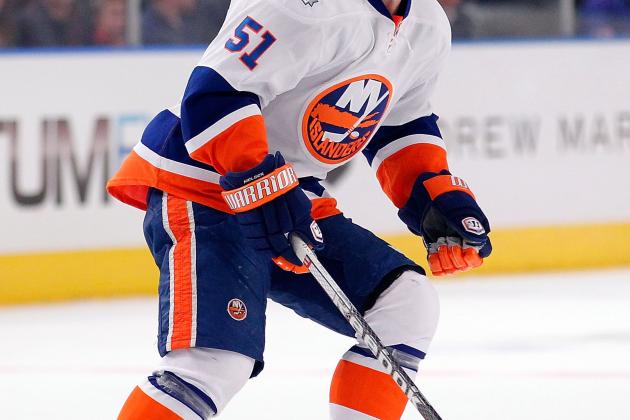 Paul Bereswill/Getty Images

Nielsen has been playing 2nd line center for the Islanders, and while he may not be the most suited scorer for the role, he's done well enough.
Nielsen has grown well under the radar out in Long Island, but he is one of the better two centers in the game right now. He had seven short-handed goals and was a plus-player on a struggling team.
He has floundered a bit this season, but with his contract coming up this off-season, and a raise likely in order, it seems likely that the Islanders will part ways with him for younger talent to build on.
Nielsen would do nicely in the Kings' bottom-six forwards.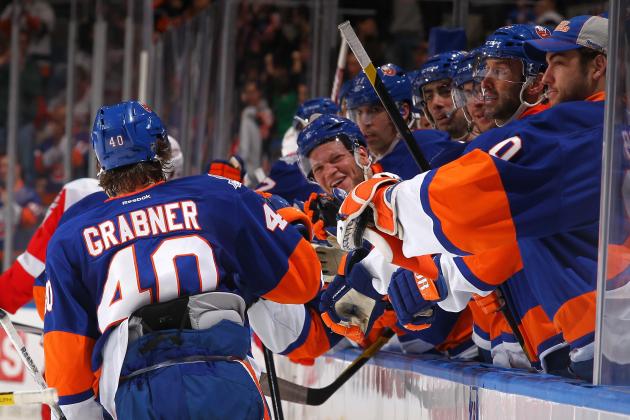 Al Bello/Getty Images

If you want speed and skill, Grabner is your guy.
If you want consistency, well, you might want to look elsewhere.
The breakout rookie from last season is having a sophomore slump that is making many Islanders fan gag on the new five-year contract he signed. His inconsistencies have also caused him to be waived by Florida, and then traded by Vancouver.
Enter Daryl Sutter. A man seemingly capable of squeezing water out of a lump of coal.
It's a deal that would be a roll of the dice, but it could pay off in a big way if Grabner can find his rookie reins. After all he is arguably the fastest player in the league, and the Kings haven't had speed like that in at least 10 years.