College Football: Why New Big East Will Succeed
January 26, 2012

Thomas B. Shea/Getty Images
We've heard the naysayers like Weston Bruner explain why the new Big East football conference wiill run into problems. 
The Baltimore Sports Report.com writer "would be surprised if the Big East survived as a football conference if the automatic bids were eliminated." 
SB Nation's Cardiac Hill writes "I used to think the Big East could survive as a football conference, but now I'm not so sure."
But the new Big East football conference is going to survive and succeed, and there's two reasons to believe it will: For one, with the leadership of commissioner John Marinatto, it added schools in some of the largest and fastest growing marketing areas in the country.
And the other reason being it's been shown when football programs step up and join the BCS, they make huge strides in performance, and increase their fan base.
Adding the large markets
With the addition of San Diego State, Houston, SMU, and Orlando, the Big East will now have football teams in more of the nations largest marketing areas. 
Currently Rutgers and UConn, two of the conference's five remaining football programs, are right outside New York City, the nation's largest marketing area with over 18 million people.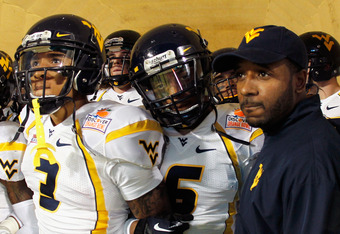 Mike Ehrmann/Getty Images
And in case you're under the assumption that Syracuse is NYC's team because it has a New York address, "The most popular team in New York is Rutgers," according to Nate Silver in his article "The Geography of College Football Fans and Realignment Chaos."
New member SMU, located in the center of Dallas, represents the nation's fourth largest market with 6,500,000 people. And Dallas isn't just big, it's also grown 23 percent since 2000.
New member Houston is located in the nation's sixth largest market with 6 million and it has grown 26 percent since 2000.
Ever since the Big East added USF in 2005, they made it a policy to look for new teams in large and fast-growing marketing areas.
New member San Diego State lies in the nation's 17th largest market with over 3 million. San Diego has grown 10 percent since 2000.
And new member UCF, in Orlando, is located in the nation's 26th largest market in football-crazed Florida. Orlando has close to 2 million residents and has grown 30 percent since 2000.
Boise State does not sit in a large marketing area but it regularly sits in the top 10 of college football's yearly rankings, so an exception was made.
And new member Navy, thought not to be in a large marketing area, is one of just a few teams with national followings.
Louisville and Cincinnati, two other current Big East football members, are in medium-sized markets, but they're growing. Cincinnati has grown 6 percent since 2000 and Louisville 13 percent.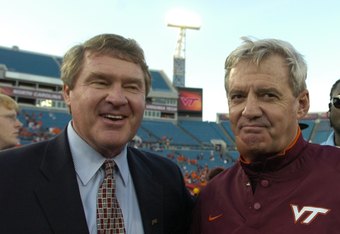 Al Messerschmidt/Getty Images
And USF, the other current football member in Tampa, the 19th largest marketing area with three million, has grown 16 percent since 2000.
Getting rid of weak marketing areas
With the departure of Syracuse, Pitt and West Virgina, the new Big East football conference may become stronger.
Syracuse, the nation's 80th largest market, has just 650,000 people and has only grown 2 percent since 2000. 
Pitt and WVU are both located in the Pittsburgh marketing area. It's the nation's 22nd largest marketing area with 2,500,000 but it's declined by 3 percent since 2000.
Teams excel when joining the Big East
In simple terms, when football schools upgrade to the Big East conference, they improve their football, increase attendance, and make more money.
For whatever reasons, be it more money, or becoming more committed to improving their overall programs, these teams become better.
Take a look at the five current Big East football teams: It's really difficult to think of any program that has improved more in as little time.
Cincinnati joined the Big East in 2005. The Bearcats started playing major college football in 1954 and had never won more than eight games in a season, and rarely played quality teams.
In five years as a member of the Big East they've won 10 games twice, 11 games once, and 12 games once.
Since joining the Big East, Cincinnati has played in two BCS games—they're committed!
Louisville also joined the Big East in 2005.  As a member of Conference USA Louisville had some good years. In 2001 and 2004, they won 11 games.
Things got bigger and better in 2006 when the Cardinals won a BCS game and finished 12-1.  They haven't had a year like that since, but in 2008 they added 13,000 seats and 33 suites to Papa Johns Stadium—they're committed!
Rutgers joined in 1991.  Before they joined they played in a stadium that held 25,000, only won one bowl game in 122 years of football, and played weak schedules.
The Scarlet Knights built a new, state-of-the-art, 42,000 seat stadium in 1994, they added 12,000 seats in 2009, and they've won five bowl games in the last six seasons—they're committed!
But USF and UConn have come the furthest, as both didn't start playing Division 1A football until 2000.
UConn joined the Big East in 2004. Since then, the Huskies have been to a BCS game and in 2003, to get ready for the Big East, they built a new 40,000 seat stadium which can be expanded at any time— they're committed.
USF joined the Big East in 2005. The Bulls draw huge crowds in Raymond James Stadium, home of the NFL's Buccaneers, and every year they seem to knock off a top 10 team— they're committed.
These teams got committed to improving and saving Big East football after the first ACC raid in 2003. Now they'll do it again, they'll re-group and re-commit.
There's only one program that's grown faster than these five; Boise State. And guess what conference they're joining in 2013—the Big East.
Don't be surprised to see Boise State remain as a perennial top 10 team, Houston continue with 2011's success, and SMU, UCF, and San Diego start start to improve quickly.
Don't be surprised to see Navy, the 11th and latest team to join, improve their football program also.
Who will the 12th team be?
In order for the Big East to stage a conference championship game they'll need to add one more team. ESPN's Andrea Adelson feels that BYU and Air Force are still possibilities, even thought they said no.
What about the new television contract?
The conference's new television television contract could huge. The current contract ends after the 2013 season.
Not going away
The Big East is not going away, it has shown great resilience.  The ACC h tried to kill it in 2003—it only made the Big East stronger.  They're trying again, it's not going to happen.
The Big 12 is trying to kill the Big East by encouraging West Virginia to break its Big East contract and leave.  Whether WVU leaves next year, or in 2014, the Big East will still be around.
This new football alignment is going to surprise a lot of people.  And as for basketball, even with the loses of Syracuse, Pitt, and WVU, it will still remain the third best conference in the county, right behind the NBA's Eastern and Western conferences.