LSU Football Recruiting: Can Tigers Land Cordarrelle Patterson?
January 25, 2012
With the long-awaited departure of quarterbacks Jordan Jefferson and Jarrett Lee, LSU will turn to junior Zach Mettenberger to lead the offense in 2012 and hopes to land some talented recruits to put around him, like junior college wide receiver Cordarrelle Patterson.
The Tigers' passing game can only get better in 2012 under Mettenberger after a terrible finish to the 2011 undefeated season by Jefferson.
Mettenberger will have a bevy of weapons to work with, including a running back pool that is the envy of every coach in the nation.  Also returning is underutilized wide receiver Russell Sheppard and rising star Odel Beckham Jr.
Patterson is the type of player that could come in and instantly improve the Tigers' passing game. 
At 6'4" and 205 lbs, he has the size to dominate defensive backs, even in the SEC.  He also has the speed to get behind the defense and stretch the field, a threat that LSU no longer has with the departure of Rueben Randle. 
The trio of Sheppard, Beckham and Patterson would give the Tigers threats at every level.
Sheppard is a good complement to a running game when utilized on quick screens and wide receiver runs.  Beckham has proven himself to be an elite wide receiver in the 10-25 yard range, never afraid to catch a ball over the middle of the field.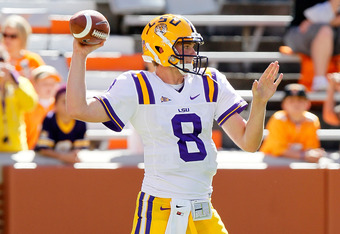 Kevin C. Cox/Getty Images
Patterson would add the deep threat that would give Mettenberger a complete package of wide receivers to work with.
Patterson's physical stature and route-running are similar to Dwayne Bowe, and if he can offer the Tigers similar production on the field, the LSU offense will be extremely difficult to stop in 2012.
Patterson currently has a long list of schools to consider, but as signing day draws nearer, that list will shorten to LSU, Ole Miss and Georgia.  The Tigers hosted him on his most recent visit on January 20th, so hopefully the feel of LSU and Tiger Stadium are fresh in his mind as he makes his decision.
Of the schools he's considering, only LSU offers him a legitimate shot at a BCS title.
Follow me on Twitter @brettstephen for more recruiting news as signing day approaches.