Top 5 Funniest WWE Royal Rumble Eliminations of All Time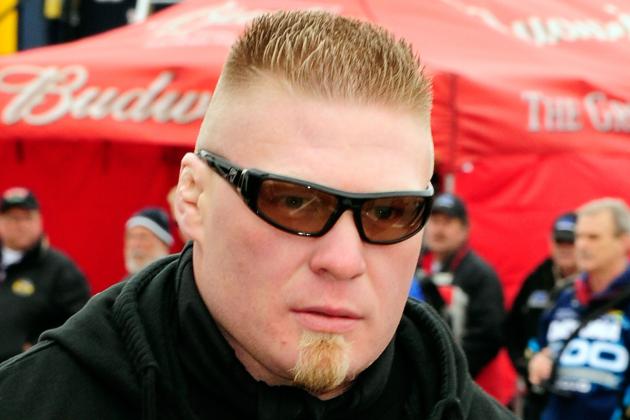 Sam Greenwood/Getty Images

The big event is now just a short four days away! The anticipation gains momentum each and every single passing minute. The WWE Royal Rumble is Sunday night!

However, it's time to take a look back at Rumble history. We all know about the great surprises and the winners.
But what about the comedy segments? Here are the funniest Rumble eliminations!
Begin Slideshow

»
This was great. The Great Khali was done as a monster heel. His dominant run as a main event star in WWE was all but over. So I didn't mind him playing a comedy character.

Seeing Beth Phoenix enter the Royal Rumble was shocking enough. Her eliminating Khali by kissing him? Hilarious!
Brock Lesnar was excellent in 2003. His run to the top in 2002 was great, but he improved even more the following year. Thus, Lesnar winning the Rumble was a foregone conclusion to begin 2003.

However, the ride to the end was fun.
The best part was Matt Hardy getting an "F-5" out of the ring. I remember laughing at just how powerful that move was, and how it looked on WWE TV. Loved it!
Hornswoggle is a great WWE talent. I loved seeing him enter the 2008 Rumble. He was certainly not going to win, but he always entertains.
This match was no different. With The Miz about to be thrown over the top rope, who forced him to touch the floor?

Hornswoggle!

Yes, he eliminated The Miz. It was great years ago and it's still great now.
It's also yet another reminder of how much the term "buried" is thrown around. I very rarely, if ever, use that term, and for good reason.
It barely even exists. It's just a term fans like to use without fully understand its meaning.

How many fans assumed this move buried The Miz in 2008? Or that his career was buried forever by being eliminated by Hornwsoggle? Look at him now. I rest my case.

Very funny moment!
Drew Carey is a WWE Hall of Famer, and I love it!

Their celebrity wing in the Hall was an excellent idea. Royal Rumble 2001 is a reason why that place exists.
Carey was a great inductee this past year. His performance in 2001 was more than enough!

For those who don't know, 10 years ago, Carey entered the Royal Rumble. He had no chance to win, and never fully grasped what he was getting himself into.
To further that point, Carey found himself face to face with Kane. All alone. With nobody to help him out.

What did he do? He jumped over the top rope and waved goodbye! Good move.

I always knew Carey was a funny man, but now I realize he's also very smart!
Santino Marella lasted one second in the 2009 Royal Rumble.
Yes, it's a record. Yes, it will last forever. Yes, I thought it was a brilliant move.

Marella has always been an outstanding WWE character. His name was forever etched into WWE history in 2009. He was in and out of the Rumble in one second.

Thanks to Kane, WWE fans all over the world were treated to an amazing moment. Amazingly funny!

Reminder: I am now on Twitter @JustinWatry! I give every new follower a special shout out, so do not be shy...thanks.