College Football Recruiting: The 5 Most Surprising Classes in the Nation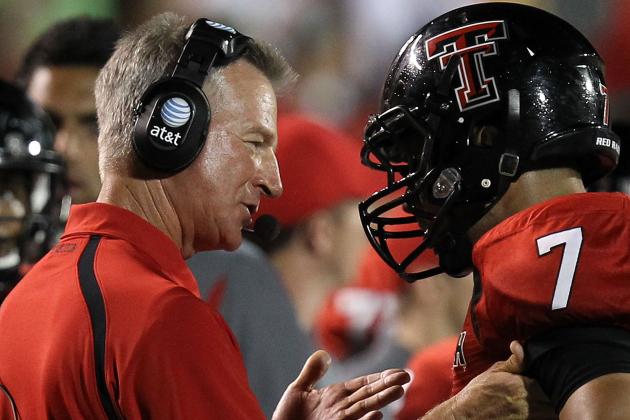 Ronald Martinez/Getty Images

These days there is a true recruiting season that many fans follow with a passion.
There are prospect rankings and ultimately team rankings by many college football and recruiting sites across the web.
With less than a week to go until National Signing Day, some familiar names like Alabama, Texas, Florida and Ohio State have put together classes that will be placed at the top when final rankings are released next week.
However, when you analyze the commitments' lists of schools across the nation, you will find some surprises near the top of the rankings as well.
This slide show looks at the teams that are surprising candidates to be ranked among the top 25 classes in the country when all is said and done.
Begin Slideshow

»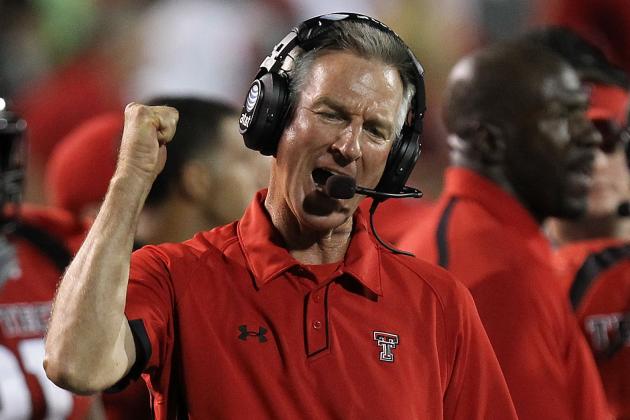 Ronald Martinez/Getty Images

Coming off a season where Texas Tech finished just 5-7 and failed to qualify for a bowl game, it is somewhat of a surprise that the Red Raiders and coach Tommy Tuberville are putting together a recruiting class that should finish among the top 25 in the nation on most recruiting websites.
Losing their final five games and seven of their last eight, Tommy Tuberville needed some good news to cool off his seat a bit in Lubbock.
This recruiting class is very good news and should give Texas Tech a needed boost in talent.
The commit list includes eight junior college transfers who could provide instant impact for Tech, including highly-touted wide receiver Javon Bell and talented outside linebacker Will Smith (both rated 4 stars according to Scout.com).
The class also includes high school blue chip talents, including one of the very best offensive guards in the country, Michael Starts, and speedy wide out Dominique Wheeler (both rated as 4-star recruits by Scout.com).
In total, the Red Raiders have accumulated a solid 24 commitments with less than a week to go until signing day.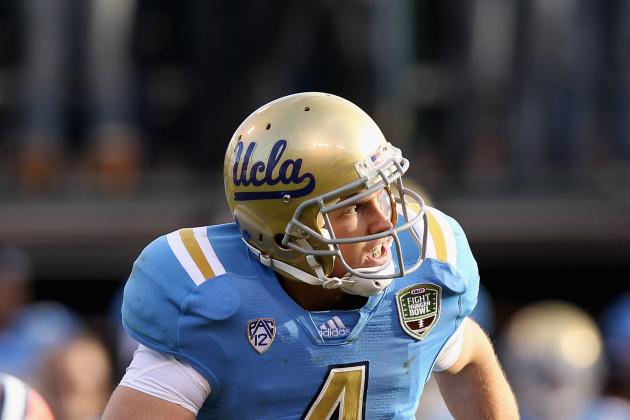 Ezra Shaw/Getty Images

After finishing the season with a losing record, UCLA was able to get a waiver that allowed the Bruins to play in a bowl game.
They lost the bowl game to Illinois and ended up losing each of their last three ball games.
That lead to the firing of head coach Rick Neuheisel and hiring of a new head man, Jim Mora Jr.
That storyline certainly doesn't sound like a recipe for a great recruiting effort.
However, against the odds, UCLA is putting together one of the very best recruiting classes in the entire nation.
This class of commitments could end up being a top-10 ranked class by services all over the web.
The class is headlined by stud defensive lineman Ellis McCarthy (rated 5 stars by Scout.com) who flipped his commitment from Cal to UCLA. He chose UCLA over top programs like Oregon, Cal and USC.
In addition to McCarthy at DT, the Bruins have commitments from an impressive list of defensive players, including defenders that Scout.com lists as 4-star recruits at linebacker, cornerback and defensive line.
UCLA has needed defense lately, and this could be the class that brings it to them.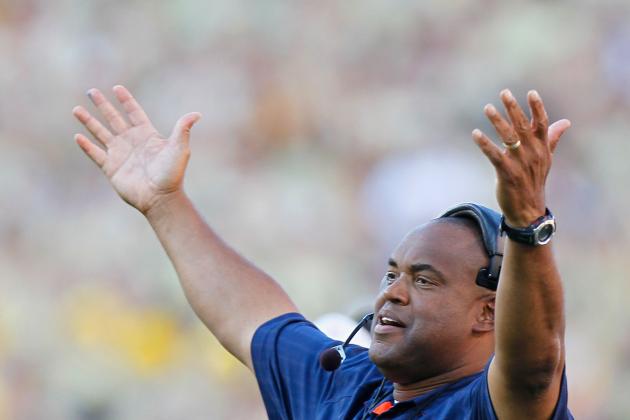 Kevin C. Cox/Getty Images

Virginia had a surprising season under new coach Mike London, winning eight games and upsetting Miami, Florida State and Georgia Tech along the way.
The Cavaliers are continuing the surprise by putting together a solid recruiting class.
The ACC should take notice that London is building a winner in Charlottesville.
The Cavaliers have not been showing up on many top-25 recruiting rankings lately but could very well end up being ranked there by many websites this signing day.
Virginia fans have to be excited about this class and the group of players on this year's commit list.
The class is lead by 5-star stud Eli Harold, who Scout.com calls the highest-rated outside linebacker in the country.
He is joined by a huge get at QB, talented quarterback Greyson Lambert.
The Cavaliers have a big 25 total commits as we get closer to signing day and have added significant talent on both sides of the ball.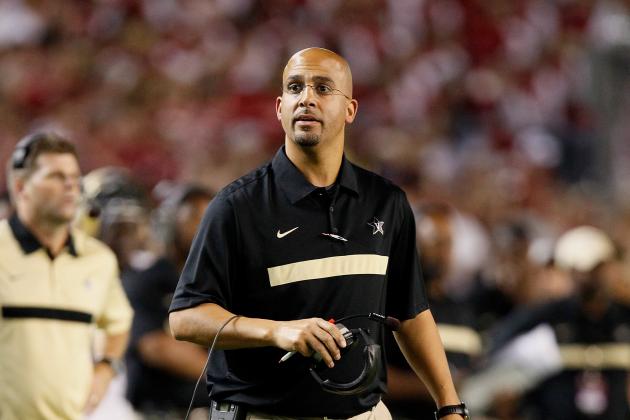 Kevin C. Cox/Getty Images

First-year head coach James Franklin led Vanderbilt to an unforeseen bowl-eligible season in 2011.
If that wasn't a big enough surprise for fans in Nashville, Franklin is now putting together one of the very best recruiting classes in Commodore history.
Franklin has changed the outlook for Vanderbilt in a short time and is attracting talented players to join the fight.
Vanderbilt has 22 commitments so far and may add a couple more before next week's signing day.
The class is headlined by Scout.com 4- star rated running back Brian Kimbrow and 4-star defensive end Josh Dawson.
Adding talent on both sides of the ball will be needed in the rugged SEC. However, Vanderbilt is doing just that and should be looked at as a program on the upswing.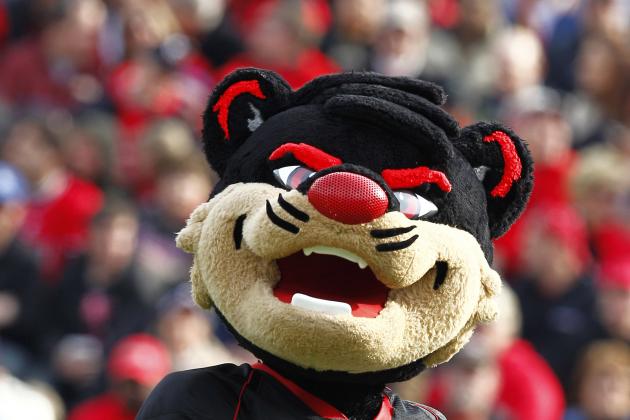 Tyler Barrick/Getty Images

Cincinnati had a strong season in 2010, winning an impressive 10 games.
That being said, not everyone would have predicted that the Bearcats would have the No. 1 ranked class in the Big East and what should be a top-25 ranked class nationally this recruiting season.
Cincinnati head coach Butch Jones is doing an outstanding job for the Bearcats and has his program on a roll.
Dennis Norfleet, rated as a 4-star running back by Scout.com, is a speedy back and was a huge get for the class. He chose Cincinnati over big programs like Michigan State and Tennessee.
The Bearcats also dipped into Florida and received a commit from talented quarterback Bennie Coney and added defensive talent with the commitment from dynamic defensive end Josh Posley from Indianapolis.
With a big 27 commits, Cincinnati is adding a boatload of talent to its roster and will continue to be a major factor in the Big East.