Anaheim Ducks: 5 Reasons Bobby Ryan Will Play for the Anaheim Ducks Next Season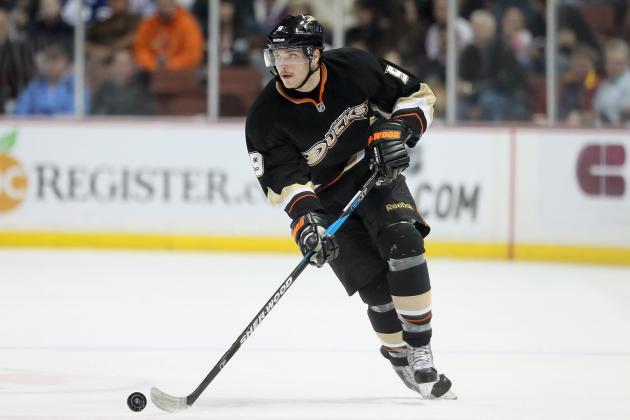 Jeff Gross/Getty Images

If Bobby Ryan leaves Anaheim, it won't be because of his playing ability or production.
The Ducks forward has been the subject of trade talks and rumors since early December, largely due to Anaheim's abysmal first half performance. The consensus was essentially that if the firing of Randy Carlyle and subsequent hiring of Bruce Boudreau wasn't enough to improve the team, Ryan would be sure to go.
Anaheim's success during the month of January has shut down the Ryan rumor mill as of now, which without a doubt comes as a huge relief to Ducks hockey fans who didn't want to see their star forward moved.
This article will offer further relief as I believe that it is almost entirely conjecture to continue to say that Ryan could be traded before this year's trade deadline.The mentality was that the Ducks just had to do something in the way of a personnel shakeup, or essentially make a "panic trade."
The possible trade of a big name player is fun to talk and write about (I've done so myself). However sensible reasoning must precede such a move, and anyone who thought GM Bob Murray would've just traded away Ryan in the name of "shaking things up," isn't even coming close to giving Murray enough credit.
There are several real, tangible reasons that Ryan will be in an Anaheim uniform next season.
Begin Slideshow

»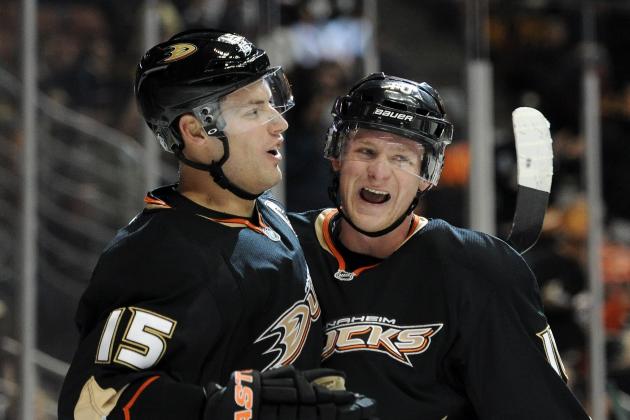 Harry How/Getty Images

The 2012-2013 season will be Getzlaf and Perry's last season under contract with Anaheim. Bobby Ryan, on the other hand, is under contract through 2014-2015.
Having to re-sign both Getzlaf and Perry, or possibly fill the voids they would leave should they sign with another club, will be a daunting task for Anaheim's management. If the team were to lose one or both of those players on a Ryan-less roster, Anaheim's core would be almost completely gone.
On the other hand, if Ryan was still sporting the black and gold, Perry and Getzlaf might be more inclined to re-up with Anaheim as opposed to testing the waters of free agency. If they still choose to leave, Anaheim will have Ryan to continue to build around.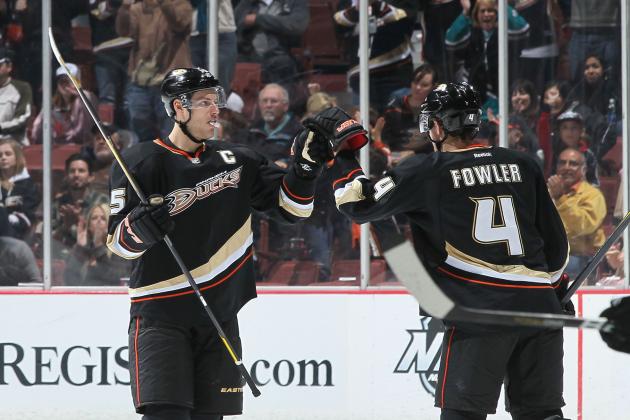 Victor Decolongon/Getty Images

The Ducks have (at least for awhile) put some distance between themselves and the bottom of the Western Conference. Since Jan. 3 they have picked up 17 out of a possible 20 points. Their only regulation loss in that span came Tuesday night against the Dallas Stars, 1-0, where Anaheim vastly outplayed and outshot Dallas.
This was without a doubt the Ducks' best month of the season, and has gone a long way in reducing the validity of Bobby Ryan trade rumors. If the Ducks continue at this pace, or even close to it, there will be no reason to use the words "Bobby Ryan" and "trading block" in the same sentence.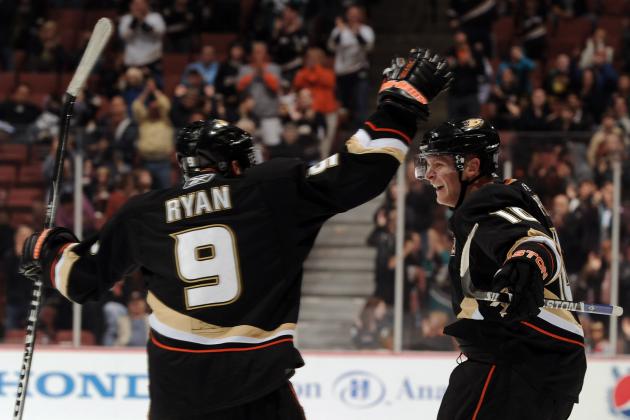 Harry How/Getty Images

In each of his three full seasons with the Ducks, Bobby Ryan has eclipsed the 30-goal mark. As a power forward coming onto a team of power forwards, that is no small accomplishment. Trading away such a consistent producer wouldn't make sense even in the wake of Anaheim's weak defense.
Often times a trade can be the result of a player just needing a change of scenery. Ryan is not in that situation. He does just fine in an Anaheim uniform and certainly doesn't fit the mold of a discontented player who isn't doing well and isn't producing for his club. His best years are still ahead of him and even with the pressure of being the second overall pick behind Sidney Crosby in the 2005 entry draft, he's exceeded expectations.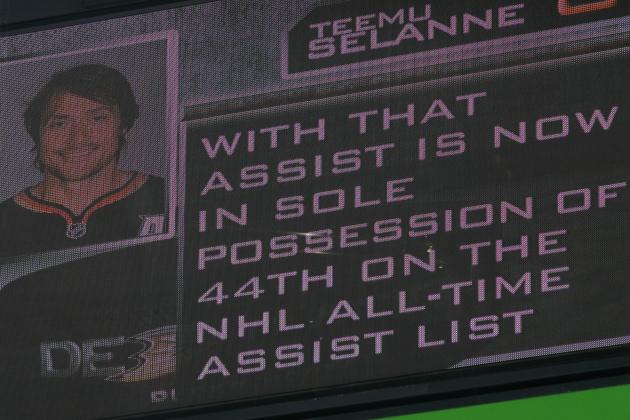 Victor Decolongon/Getty Images

The Anaheim Ducks second line is actually quite remarkable. Teemu Selanne, Jason Blake and Saku Koivu are 41, 38 and 37 years old respectively, and are still accounting for a significant amount of the team's offense. Anaheim's management needs to consider, despite their excellent performance as of late, that none of these three players figure into future plans for the team.
This is where Bobby Ryan could be a huge help. He has played all three forward positions and has proven to be capable of carrying a center line spot, something he's done during Getzlaf's absences.
If Anaheim loses even one of their three second line players, it'll need a proven scorer like Ryan to keep the team's secondary scoring alive.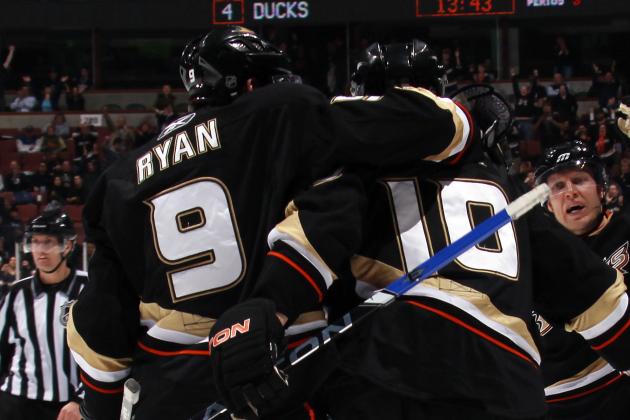 Bruce Bennett/Getty Images

Despite what will likely be a disappointing season, the future for the Anaheim Ducks is extremely bright. They've done the hard work of developing a young corps to build around, and dismantling that corps now to try and salvage one season doesn't make sense.
With one of the most promising farm system's in the league the Ducks need to make sure that they have a solid corps established for when players like Emerson Etem, Kyle Palmieri and even Cam Fowler hit their stride.
Again, if there is a vacancy on the second line, having Bobby Ryan to pair with one of these emerging scorers could keep Anaheim from becoming a one-dimensional team, and possibly even give them a 1 and 1A scoring line scenario.
Regardless of how it plays out, Ryan belongs in an Anaheim Ducks uniform. As a player on the cusp of his fourth straight 30-goal season, there is no reason on earth that the team he plays for shouldn't be doing everything to ensure that he stays right where he is.