2012 MLB Free Agency: 10 Contracts That Teams Should Already Regret Giving out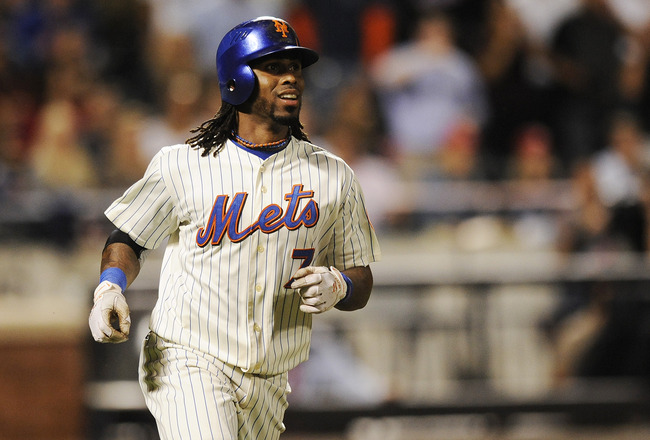 Patrick McDermott/Getty Images
The one thing that bothers me about MLB free agency is how ridiculous contracts have gotten. Players will be signed to 10-year deals or paid $20 million a year after having some very good years, and as a result this handcuffs the team and limits their options.
Often, these teams come to regret their decisions. Alfonso Soriano, Mike Hampton, Vernon Wells, the list goes on of these types of deals, and they seemed doomed the moment they were signed.
Here are 10 deals that teams are already regretting, even though the ink is still wet on some of them.
10. Albert Pujols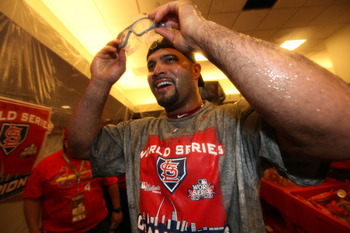 Jamie Squire/Getty Images
I'm starting off this list with the two elephants in the room. Albert Pujols is as close to a sure thing as you're ever going to get in free agency, so the Los Angeles Angels made a great move in signing him, as least for the first five years of his deal.
His deal goes for 10 years, and they have to be thinking they went overboard, since I somehow doubt he will be an MVP candidate when he's 41. Having said that, will the Angels regret this now? Not really, since it puts them in World Series contention, so this is low on the list.
9. Prince Fielder
Scott Boehm/Getty Images
At least for right now, the Tigers made a great move picking Prince Fielder up, since he can replace Victor Martinez, who is out for the year—and even when he comes back, Miguel Cabrera can move to third base.
Aside from the ridiculous amount on the contract, it is for nine years. He'll be a free agent in his mid-30s, but based on his weight and (lack of) defense and baserunning, they will essentially be paying over $20 million for a DH those final few years.
Yes, it may help Detroit win a title in the next couple seasons, so the deal isn't cause for regret immediately, but Fielder will only be in his 20s for so long.
8. Ramon Santiago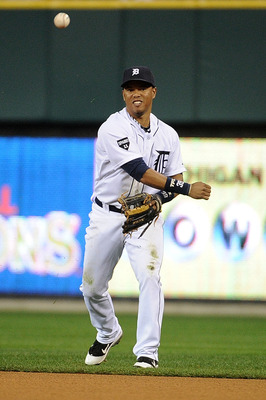 Harry How/Getty Images
It doesn't feel like there have been all that many multi-year deals this season, but it does say something when someone can get one having played a full season once in his career.
Ramon Santiago had a two-year deal with Detroit, and while he's serviceable and will probably play to the numbers, one would think they could have improved at second base.
7. Josh Willingham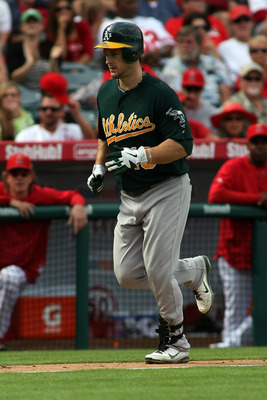 Jeff Golden/Getty Images
The Minnesota Twins needed to replace Michael Cuddyer and Jason Kubel in their lineup, and on the surface they made a nice move in signing Josh Willingham, who put up good numbers in Oakland last year.
Looking more closely, however, we see a career-low in OBP, a career-high in strikeouts and defense that's gradually getting worse. Spending $21 million over three years on a guy who will likely end up with Carlos Pena-type numbers doesn't sound ideal, especially if he remains in the outfield.
6. Joe Nathan
Hannah Foslien/Getty Images
A rule I would live by if I were a general manager is never to give multi-year deals to relievers, with perhaps the exception of high-level proven closers. There have been few this offseason, so I'm glad to see that sentiment is catching on.
One that strikes me as odd, however, is Joe Nathan. The Texas Rangers gave a two-year deal to a guy who not only had recent Tommy John surgery, but had a poor 2011 season and is 37 years old, so his best years are certainly behind him.
The contract may only be two years and $14 million, but the Rangers will be lucky to see that back.
5. Heath Bell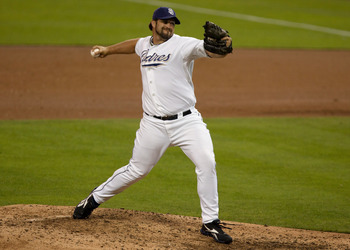 Kent Horner/Getty Images
Speaking of closers with multi-year deals, Heath Bell got a nice contract from the Miami Marlins. On the surface, it makes sense why, as he's been one of baseball's elite closers this past season.
The Marlins have seen Padres pitchers turn into merely serviceable players before, namely Clay Hensley, so this is a deal that, if it turns ugly, will do so very quickly.
4. Mat Latos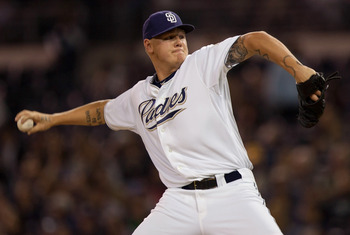 Kent Horner/Getty Images
Mat Latos does not become a free agent until 2016, so I'm counting the Reds as having him under contract until then. This deal was a regrettable one, and not just because the Reds sent away all their prospects for him.
Latos has played well in San Diego, but when has a pitcher from San Diego done great elsewhere? Take Jake Peavy, Chris Young and Clay Hensley as examples. All performed great in San Diego, but where have they been since?
The Reds have to win now since Joey Votto is a free agent soon, but you can't bet everything on one number and expect to do that.
3. Fausto Carmona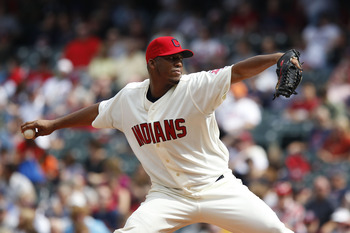 David Maxwell/Getty Images
After a mediocre-at-best 2011 season, the Cleveland Indians decided to extend Fausto Carmona's option for 2012, netting him $7 million. Since the contract is only a year, I can't put it any higher.
Given his false name and all the issues happening with that now, there is no question that the Indians have regret letting his contract stand, and they may be better off using that money elsewhere now.
2. Yu Darvish
Ronald Martinez/Getty Images
Unlike most of the deals on this list, this is not on here due to the money in the deal. At six years and $60 million, the contract is actually very reasonable if Yu Darvish pitches like he did in Japan.
The only pitcher who has come close to showing off his talent in MLB like he did in Japan was Hideo Nomo, and since then we have mainly seen flame-outs. The Darvish pickup was very high-risk, and the Texas Rangers could be regretting throwing so much money his way already.
1. Jose Reyes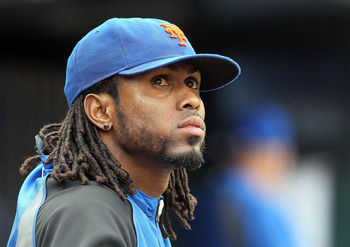 Jim McIsaac/Getty Images
The Miami Marlins felt obligated to make a huge splash in free agency with a sudden increase in payroll. They did that by signing Jose Reyes, Mark Buehrle and Heath Bell. The latter two have short enough contracts that they should not be too big an issue.
Reyes, however, is under contract through 2017, and he will be paid $22 million during the final couple years. He hasn't played 150 games since 2008, and his speed will likely dissipate before the contract is over. They wanted to make a splash, but the Marlins jumped a bit too far in the deep end with this one.
Keep Reading