SEC Football 2012 Season Records: Best and Worse Case Scenario for Each Team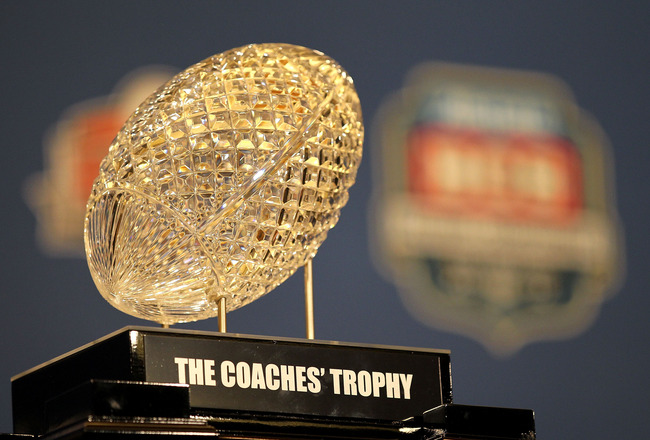 This is what a few SEC teams are vying for.
Andy Lyons/Getty Images
Every team has their dreams of making the conference championship game and then going for the crystal ball. Only two can make it though. Unfortunately for the SEC it just got a little tougher with two extra teams in the league.
The following slides are what I believe may be the best and worst case scenarios for each team. It is just a simple overview and doesn't go into detail, so don't go bananas over a swing of four to five games.
And, if you are planning on going bananas let me remind you that any team could win every game. That is why they play them.
Ole Miss Rebel Black Bears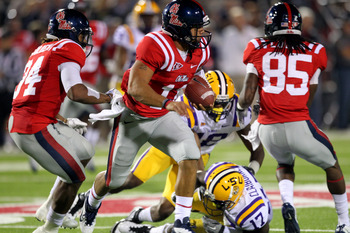 Where is he going with that ball?
Joe Murphy/Getty Images
Ole Miss has a whole new staff that is looking at a team who needs their spirits lifted. After a 2-10 performance this past season, the Black Bears have no where to go but up, right?
Best Case: 6-6
Worst Case: 3-9
Mississippi State Bulldogs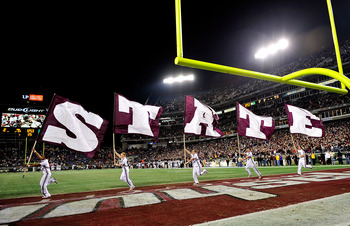 They wave it proud!
Grant Halverson/Getty Images
Mississippi State lost Vick Ballard but keeps Tyler Russell for what that is worth. What was supposed to be a promising season in 2011 turned south after the Auburn game moving forward to post a 7-6 record.
Best Case: 8-4
Worst Case: 6-6
University of Tennessee Volunteers
The way the program has been falling.
Mike Zarrilli/Getty Images
Tennessee is still searching for their identity. It seems as though the Vol fans have been wandering in the desert for ages but it has really only been four years. With their second straight losing season with a 5-7 record, which hasn't happened since 1910, the Vols look to rebound.
Best Case: 9-3
Worst Case: 5-7
University of Missouri Tigers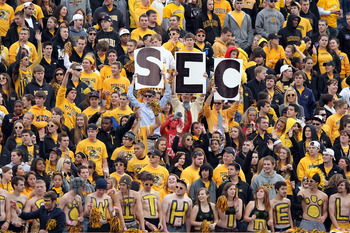 Looks like these guys are ready!
Jamie Squire/Getty Images
Missouri is one of the new kids on the block. They are coming into the SEC after an 8-5 record while losing a few good players. But hey, they are in the SEC so they gotta' have SEC caliber players?
Best Case: 8-4
Worst Case: 5-7
University of South Carolina Gamecocks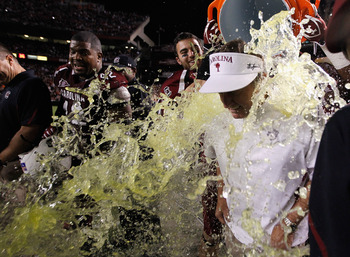 They want more of this.
Streeter Lecka/Getty Images
South Carolina is coming off the greatest season in school history. But they are still wondering how they could have blown it last year. Following up an 11-2 season may be difficult but not impossible.
Best Case: 11-1
Worst Case: 7-5
University of Arkansas Razorbacks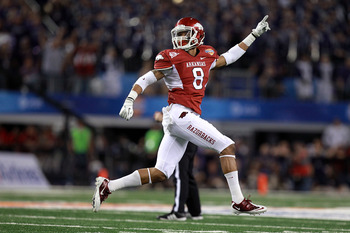 They will need some replacements.
Ronald Martinez/Getty Images
Arkansas has become one of the perennial teams of late looking at the very top level in the SEC but not quite making it there. Last year's 11-2 season leaves a little more to be desired in 2012 with Knile Davis' return.
Best Case: 11-1
Worst Case: 8-4
University of Kentucky Wildcats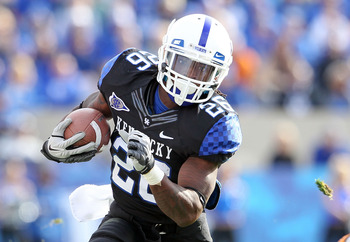 Gotta' get to the basketball game!
Andy Lyons/Getty Images
Kentucky has just been amazing in basketball over the last few years. Oh wait, we are talking about football. After going 5-7 in 2011 the Wildcats would like to capitalize on that Tennessee win, which was greater than any bowl win they have had in the last 26 years, and run with it to 2012.
Best Case: 7-5
Worst Case: 3-8
Vanderbilt Commodores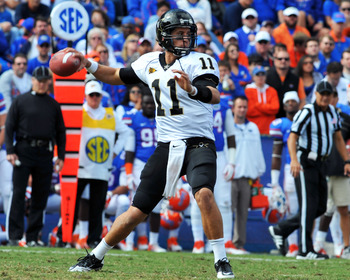 This guy can really help out.
Al Messerschmidt/Getty Images
Vanderbilt looked to have one of its best years this past season with James Franklin at the helm. After going 6-7 on the season it is easy to look back and say they whiffed on four of those loses. Seriously, UT, UF, UGA and Arkansas were by six points or less. Cincinnati was a loss by seven.
Best Case: 8-4
Worst Case: 5-7
Auburn University Tigers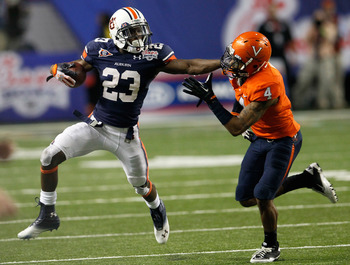 McCalleb is going to have to shine.
Kevin C. Cox/Getty Images
Auburn had some hiccups in the 2011 season that were expected to happen. But those hiccups where only in the form of an 8-5 season that some thought could have been worse. The Tigers look for a quarterback and much improved 2012.
Best Case: 10-2
Worst Case: 7-5
Texas A&M Aggies
Its a cowboy hat people.
Bob Levey/Getty Images
Texas A&M has been champing at the Texas bit to get into the SEC for the past two years. After a disappointing 7-6 season and with new head coach Kevin Sumlin the Aggies are ready to take a bite out of the SEC.
Best Case: 9-3
Worst Case: 6-6
University of Florida Gators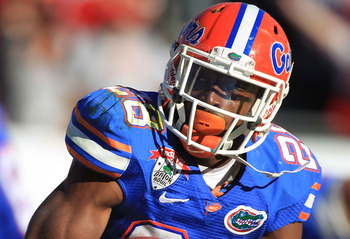 Who will this guy be next year?
Scott Halleran/Getty Images
Florida is trying to get what used to be one of the best offenses in the nation back in contention to compete in the SEC. Will Muschamp's first season was as expected going 7-6. Looking to build on that defense the Gators are hoping for a better showing.
Best Case: 10-2
Worst Case: 8-4
University of Alabama Crimson Tide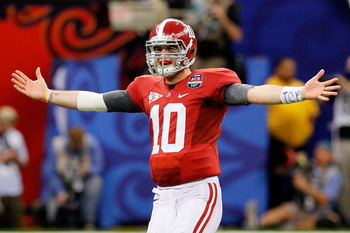 This quarterback is better than people think.
Kevin C. Cox/Getty Images
Alabama is coming off their second national championship in as many calendar years. The Tide lost some great defensive talent but keep some key components on offense from that 12-1 2011 team.
Best Case: 11-1
Worst Case: 9-3
Louisiana State University Bengal Tigers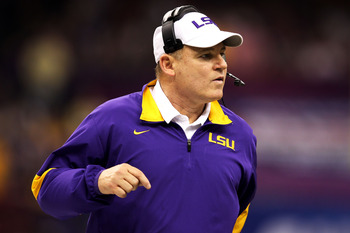 I promise I'll put another quarterback in!
Andy Lyons/Getty Images
LSU had their season crushed in the BCS national championship game last season leaving what could have been the greatest team in LSU history. Instead they went 13-1. Are you kidding me, these guys have a lot of that talent coming back?! Look out 2012.
Best Case: 12-0
Worst Case: 11-1
University of Georgia Bulldogs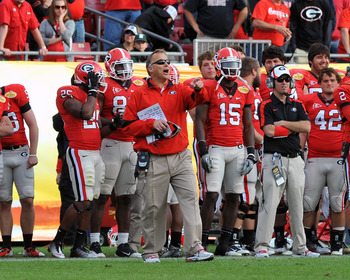 Not that play....NO!!!!
Al Messerschmidt/Getty Images
Georgia benefited from the best schedule in the SEC last season to make it to the SEC championship game. Richt's hot seat was cooled off with a 10-2 regular season but heated up with an 0-2 finish for a 10-4 season. This season's schedule is as favorable, if not more, than last season's.
Best Case: 12-0
Worst Case: 9-3
Keep Reading