Boston Red Sox Still Looking To Add Infield Depth
January 25, 2012

Drew Hallowell/Getty Images
After trading away Marco Scutaro to the Colorado Rockies, fans were left to assume that the Boston Red Sox would look to Mike Aviles and Nick Punto to fill the role of shortstop in 2012.
In a tweet by Sports Illustrated's Jon Heyman, he mentions the Red Sox are looking at infielders.
This confirms an earlier report by WEEI's Alex Speier stating that the Sox are comfortable moving forward with the duo at short, but will investigate options to upgrade at the position.
So goes the carousel of shortstops once again.
While the team still has their expected future shortstop in Jose Iglesias, he has shown that he is not quite ready to tackle the role on a full-time basis.  In 2011, Iglesias saw 10 games of major league action.  During that time he went two for six, scored three runs and struck out twice.
In the field, Iglesias played in eight games with no errors committed.
In Triple-A Pawtucket, he appeared to have lost some of his swagger.  In 101 games he batted .235 with just a .285 OBP and .269 SLG.  Defensively, he committed 12 errors.
That says the kid needs some more time to develop, and that's okay.  
The tandem of Aviles and Punto could be just fine, but if the rumblings are true and the Red Sox are looking at adding another infielder, there are two options that can still be had.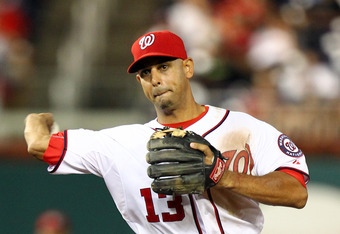 Ned Dishman/Getty Images
First, Ryan Theriot is the sexy choice.
He is a career .282/.344/.353/.697 batter with decent fielding capabilities (career .814 RZR and 8.2 TZL at short) that should not  hinder the success of the ball club.
The problem with Theriot is his asking price.  In 2011 for the Cardinals he earned $3.3 million and in 2010 with the Cubs he took home $2.6 million.  That means he received a 27 percent raise for being essentially the same player in 2011 as he was in 2010.  Which means he would likely command in the area of $3.9 million to play this season.
That does not translate into a wise business move considering the abundance of shortstops/infielders on this team already.
The second option would be to bring back Alex Cora.
While not a sexy name and not an everyday shortstop, Cora is both well-liked and well-respected in all of baseball, not just in Boston.
Bringing Cora back would also help to stabilize an otherwise volatile clubhouse that lacked solid veteran voices in 2011.
While in Boston, Cora was a .252/.321/.350/.671 batter.  These figures are all higher than his career average, so one could say that Cora flourished in Fenway Park.
Nothing against Aviles or Punto, but the addition of Cora would also give Jose Iglesias a solid, respected shortstop to learn the ropes from.  Best of all, Cora make $900,000 in 2011 after having earned $1.85 million in 2010.  Even if the Red Sox signed him for the same $900,000, it would still be a wiser economical decision than signing Theriot.
Realistically, it would be a wiser baseball move as well.