10 Ways Manchester United and Liverpool Fans Hate Each Other That Need to Stop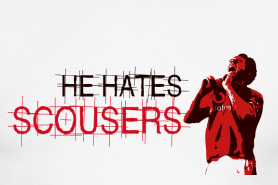 Not all Manchester United and Liverpool fans hate each other...but many do.
Hate is a strong word, but it doesn't in any way overstate the feelings of bitterness and rivalry between the Kop and the Stretford End.
In a world where Gary Speed has recently committed suicide because of depression and where decent human beings died in Munich and at Hillsborough, it's time the hatred stopped.
And yet this coming Saturday, there is yet another factor designed to inflame a rivalry that is as old as professional football and nearly as old as two of the greatest cities in the UK.
Fate could not have come up with a more perverse script than the Fourth Round FA Cup Draw. With Luis Suarez found guilty of racially abusing Patrice Evra and John Terry about to face charges of racially abusing Anton Ferdinand, the worst scenario for the FA was Liverpool vs United and QPR vs Chelsea.
Sir Alex Ferguson has once again appealed to United fans with tickets to behave appropriately, sadly not also appealing to end the disrespectful songs.
However, while he was widely quoted as suggesting there was no need for peace talks with Liverpool over the Suarez affair, he did appeal before the October match for an end to the Munich and Hillsborough chants.
From the Liverpool side, there have been disappointing responses to the racial abuse case that have inflamed the rivalry. What was astonishing was the disconnect between the club's trenchant claims of anti-racism and the utter refusal to apologise for Patrice Evra's personal abuse.
This lack of grace cuts right against some of the great work that the club's most loyal supporters have done in the past. The Spirit of Shankly embodies those values:
And Rafa Benitez seems now to have been more humanistic than Dalglish, as evidenced in his and his players' silent respect for the Hillsborough victims in 2005:
While Ferguson was made to seem uncaring when asked whether United would engage in peace talks over the Suarez/Evra incident, it was not the right question for the football manager, and he simply referred to his regret that the question was coming through the media rather than direct to United.
The Manchester club were unlikely to respond readily to a request anyhow, while Liverpool steadfastly publicly proclaimed Suarez's innocence and attacked the FA.
However, like Ferguson, Dalglish has been quoted in the past as recognising that Liverpool fans had toned down their abusive chants and songs:
In identifying past abusive and hate-fueled behaviour by both sets of fans, we are not in any way applauding or condoning.
The world is filled with hatred and misery. Millions of people's lives have been lost in historic sectarian wars and incidents. None of those made the world a better place. What did count, however, was the way decent human beings responded.
45,000 Liverpool and 75,000 United fans support their club with a passion at home matches. A declining number let that spill over into vile and bitter abuse.
Football is the greatest game in the world and has often brought millions of good and decent people into a common appreciation of the "beautiful game" and a shared set of values. Who, for example, could ever forget the exemplary behaviour of 80,000 Celtic fans in Seville?
United and Liverpool are the two greatest clubs ever in English football and among the greatest in the world. They have carved over 50 major trophies each from the footballing landscape, and between them, dominated English football over the last 50 years.
There is surely enough decency and fair and honest respect to build on and move forward from the despicable and sometimes execrable behaviours of the past. The recent Twitter wars over the Suarez case descended far too often into animalistic responses that proper supporters should reject.
There is a time to recognise great achievements of your own club, and that is all the time. But there is also a place for acknowledgement of others' success. I was proud to be British when I watched Liverpool recover to beat AC Milan in the Champions League because United weren't involved.
There is also a time for the supporters of both clubs who can rightly sit at the top of the tree of past success to come together with an entreaty to end the barbarism and come together.
There is plenty else to unite on: a joint front against City and the worst excesses of Mammon would be a good place to start.
Sir Alex has called on supporters to be positive, witty and loud. The ghost of Suarez will be hanging over Anfield on Saturday. Let's hope the Liverpool fans have the decency not to verbally lynch Evra at the same time.
Both United and Liverpool could do with a great game of football played in a decent spirit of fairness and sportsmanship.
To cement a new good-natured discord, would an apology from Liverpool and a handshake between Evra and Suarez be too much to ask for before rivalries are renewed on 11 February?
Begin Slideshow

»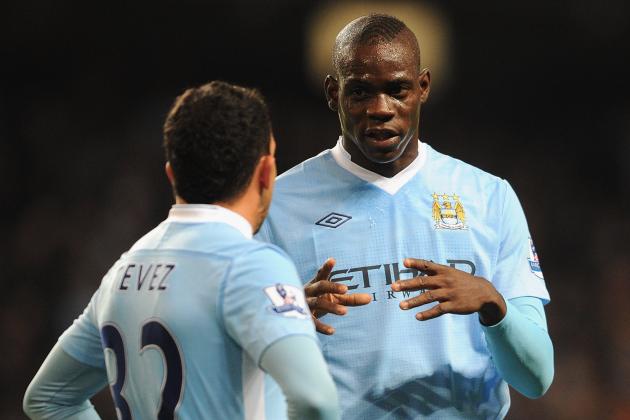 Michael Regan/Getty Images

While there are idiots like this in the Premier League, Liverpool and United only have each other to worry about.
Some misguided people have claimed that the Manchester derby is the biggest match of the season. How little do they know?
Manchester City's performance record over the period that Liverpool and United have dominated English football has been pretty abysmal. Why should the misguided waste of £500 million by an oil rich owner worry either set of fans?
Even when City were doing well about 40 years ago, it was a flash in the pan, and the United-Liverpool match was still the biggest. After all, City have won more Second Division titles than both clubs put together. Says it all really!
Industrial and International Rivalry
There will always be someone to trot out the old saws about two great cities competing in the Industrial Revolution. Yes, there was competition and even enmity between the two, and some of that will have spilled over into the fans of what was then a working man's sport.
But now that it is a middle-class pastime, those mean far less than the history of domination by each and the attendant rivalry and bitterness.
On an international scale, both clubs dwarf City in their supporter appeal. Whether you measure it by "worldwide fans" or Facebook numbers, the "other" Manchester club doesn't cause a ripple.
The Only "Derby" That Matters
In English football, this and only this will always be the "big one." Sky Sports can try to make it otherwise, but the match on Saturday will divide millions of homes as well as the terraces at Anfield.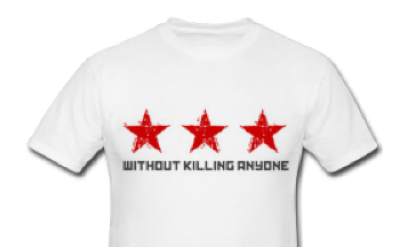 This has to stop.
Not so long ago, the Republik of Mancunia shop was selling this t-shirt. The disgraceful message is a direct and hideous reference to the Heysel disaster.
I am a lifelong Manchester United supporter and such behaviour is indefensible. The following reference should outrage both Liverpool and United supporters.
Equally, the chants about Munich and Hillsborough have no place in the greatest sport on the planet, in a modern and egalitarian world, watched by billions of people.
If the singing and chanting happens on Saturday, it will smear the reputations of all English football fans, not just the two Red empires.
Songs and chants are one of the great traditions of football. Most of them are clever; some are funny. As Fergie has said, it is the "positive, witty and loud" ones we want, not the gutter filth.
How good can you feel braying at the deaths of innocent people?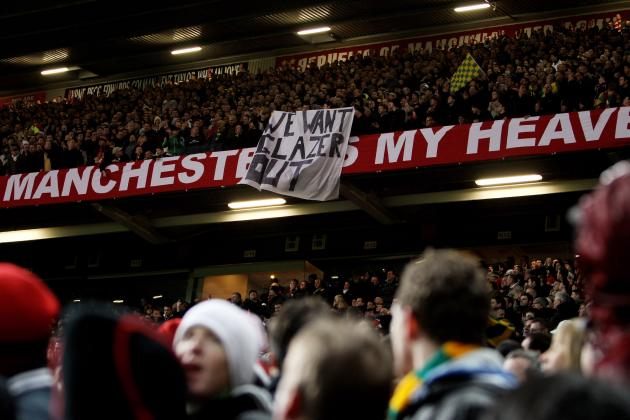 Julian Finney/Getty Images

Fergie appreciates the Stretford End and Kenny the Kop. How could they not? When the chips are down and support really counts, the respective teams can be carried to unlikely victory on a wave of noise.
There are territorial and bragging rights at stake here. Arguably, the Kop is the best group of supporters in the world for passion and noise, closely followed by the Stretford End.
Scores of anthems and chants have poured out of those respective havens, grown and soared into the winter afternoon sky. Even with only 6,000 supporters in a partisan crowd, the noise of the away fans can be overwhelming at times.
We have already mentioned what should be unacceptable by way of chants and songs.
You can still sing "You'll Never Walk Alone" and "We're Man United, We Do What We Want" and stir up passion without resorting to competing anthems of shame.
Partisanship and rivalry are a natural and welcome part of football at its best. Hatred is a step too far. When it spills into violence, as it does in Italy, or even vile abuse, both clubs and football as a whole are the losers.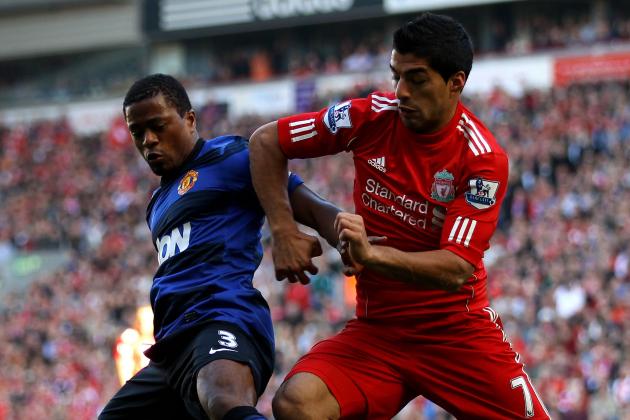 Clive Brunskill/Getty Images

This is the way it should be. Honest, committed endeavour.
At the moment, anyone who expects that Patrice Evra will shake hands with Luis Suarez, either this Saturday or especially when Suarez returns from suspension for the match on 11 February is being unrealistic.
There has been too much water under the bridge. If Liverpool hadn't publicly damned Evra and made so much fuss about the incident in a way that damaged the club's reputation, or if Suarez and/or Liverpool had apologised for any (unintended) sleight when the FA Commission made its decision, it is possible that a reconciliation might have been achieved.
Let's be clear here. Neither manager is going to rest either player in order to reduce tension, and the FA have no basis to interfere to that end.
That situation is difficult enough, and sadly, will be remembered for a very long time.
But if it becomes ugly and results in vile chants, racial attacks on Evra by stupid fans and worst of all, a flare-up on the pitch, both teams lose, and that will be remembered for a long time also.
There is a responsibility on the clubs, the managers, the players and the individuals who lead and influence the supporters to make sure such things don't happen.
Hooliganism has largely abated in English football. Our national game and pride can do without a resurrection out of misguided sectarian interest.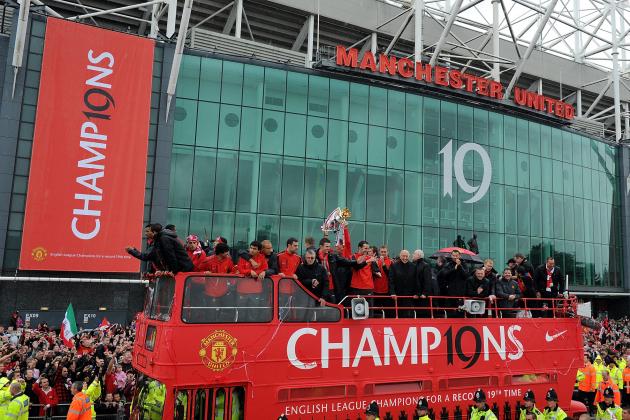 Chris Brunskill/Getty Images

Manchester United dominated English football in the 1960s, Liverpool in the 1970s and 1980s and United again since 1990. Between them, they have a record that will never be matched.
Both supporters have a right to puff out their chests with pride, sing and chant about the years of success.
"Sing while you're winning" goes the saying. All that Liverpool have left is the memories of a time when they dominated world football and one Champions League since. That doesn't deny them the right to sing about the past, but it has a distant past.
And United also have a right, based on the astonishing success of the last 20 years.
But success is transitory. Each set of supporters has an arrogant self-belief. For the time being, United can still crow about being Champions, but new challengers have appeared.
Sir Alex came to town with a promise to "knock Liverpool of their perch." He succeeded in toppling them as the best team in the land, but he cannot knock the supporters off their perch, especially while United have only three Champions League wins.
One day, someone will knock them both off their perch. In the meantime, we can only hope that the rivalry and the chants become good-natured and good-humoured rather than abusive and distasteful.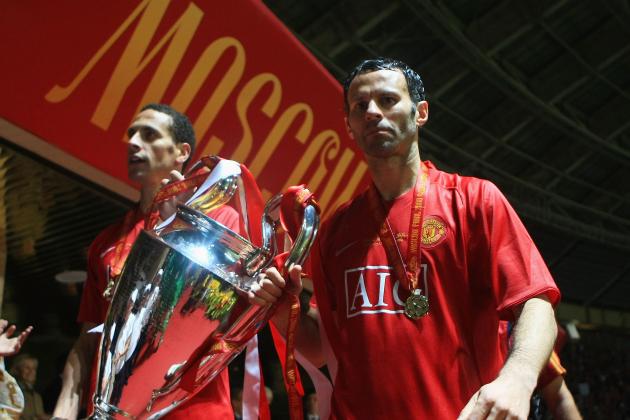 Jamie McDonald/Getty Images

While the status quo remains, both clubs have trophies and titles to crow about. United may have 19 Premierships, but Liverpool have five European Cups.
Sadly, for the latter, "all our yesterdays" are all they have to cling onto. When Kenny Dalglish of all people publicly admonishes his players, you know there's something wrong (and you know there is a United match coming up).
But neither of these achievements need breed hate. Although one could imagine United fans hating Liverpool if they were to win more titles, or vice versa if United won three more Champions Leagues.
Neither of these is likely to happen, so good-natured rivalry can prevail while other pretenders rise and fall by the wayside.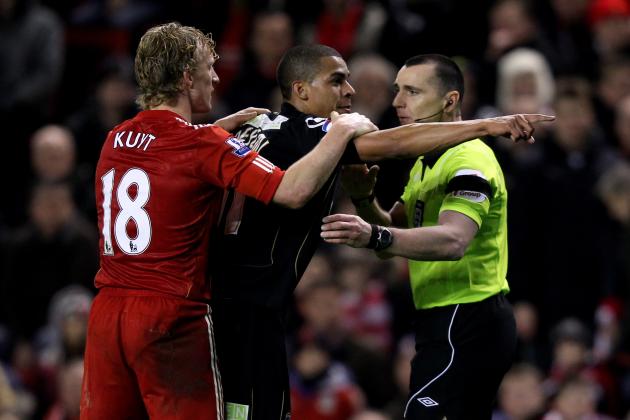 Alex Livesey/Getty Images

This situation is inexcusable and should never happen. Liverpool were rightly horrified and publicly condemned the racial abuse of an opposition player by "supporters" at Anfield.
Sadly, it was not entirely surprising after Liverpool summarily failed to condemn the proven racial abuse of Evra by Suarez. That case alone stirred up the mud from the bottom, where racial hatred still simmers.
Racial abuse is no less damaging than physical abuse. Fortunately, that part of football "the English disease," has largely disappeared.
There is a history between the club, however. For example, so-called Liverpool "supporters" pouring out of a pub to attack the ambulance carrying a badly-injured Alan Smith.
That isn't football hooliganism, but football can be a tinder box to underlying tensions and enmity. Quite sensibly, no Liverpool fan would walk alone in Stretford, nor United fan in Anfield.
The time of Liverpool's dominance of the English game coincided with a rise in hooliganism in the English game that culminated in Heysel and Hillsborough.
Even as recent as 2011, after a Third Round FA Cup match at Old Trafford, there was a clash between the Liverpool and United "Firms" that resulted in several injuries and many arrests.
We can do without a return to those dark days when we were ashamed to be English. It is sincerely hoped that the Evra/Suarez incident is let go and does not inflame passions already heightened by traditional rivalry.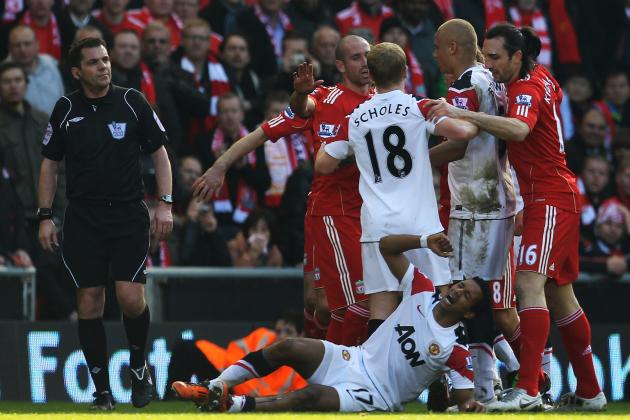 Alex Livesey/Getty Images

If you're going to be a fan of either of the Red greats, you probably want someone to hate.
One way or another, these names and a host of other suspects provide plenty of ammunition for opposition supporters.
Whether it's Carragher reshaping Nani's leg, Gerrard or Keane sliding into a tackle or Neville or Rooney kissing the badge; nothing is more guaranteed to get you baying at the opposition more than player resentment.
And sometimes, the players don't help (although nothing quite rivalled the melees associated with Arsenal-United matches).
On the other hand, if shouting at players releases the fan-to-fan hatred and if the songs and chants are "witty and loud," what's the harm in it?
Laurence Griffiths/Getty Images

This picture gives just one insight into why United fans are delighted to see the decline and fall of Fernando Torres. To them, he will always be a Liverpool player.
And he will always remind the Stretford End of the humiliation on 14 March 2009.
It was hard to stomach at the time. It doesn't get easier with time, either. It's not just enough to avenge this once. Every win and even every grafted draw at Anfield is another notch towards retribution.
To see Liverpool falling apart at the seams is the stuff of dreams. To stuff them at Anfield on Saturday would be the icing on the cake, as with the 2-1 defeat of Arsenal last week.
As both sets of fans have long memories, there will always be matches to resent and avenge:
FA Cup Final: 1977
League Cup Final: 1983
3-3 Draws in 1988 and 1994
Cantona's FA Cup Final in 1996
And the list goes on.....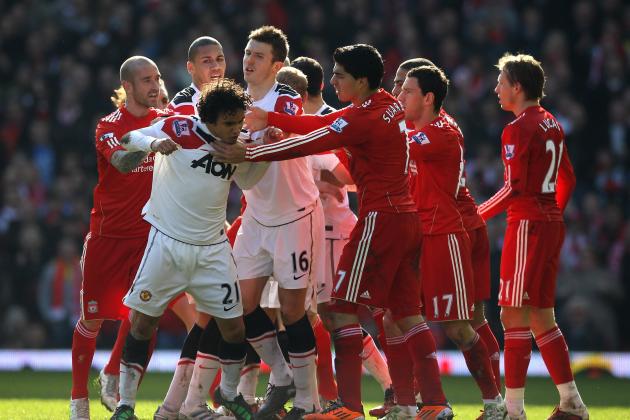 Alex Livesey/Getty Images

This is not we want to see. But Manchester United versus Liverpool is and will always be the biggest match of the season.
It's not really a derby, because they are 30 miles apart down the East Lancs Road. But it feels like one.
One thing is for certain. The managers won't have to get the players up for this one, nor the supporters. Sir Alex will be delighted at the bigger allocation of away tickets for United fans. Not just because they will create more noise, but because it is a testament to better behaviour.
Last October, Sir Alex wrote to the away fans and asked for better behaviour. The response he got was such that the FA and Liverpool were happy to sanction a return to a higher allocation.
In one sense, this is just. United have a capacity of over 76,000, whereas Anfield is just over 45,000.
The great Scot has once again written to the fans and asked for good behaviour. He wants "positive, loud and witty" support. Let's hope the response last October and the behaviour on Saturday are a portent of things to come.
The fear of all those who love football is that the Suarez incident overshadows what should be a great game, and the game of football in general.
If the underlying racist or bigoted tensions of a few mindless idiots incite a groundswell of mutual hatred, the spectacle will be ugly, and English football will be tarnished once more.
There have been wider appeals in the past.
And, following the death of Gary Speed last December, a concert in Manchester showed the possible way forward.
Nobody in their right mind would expect mutual love or a group hug of the two teams on Saturday.
But with noisy upstarts emerging and all the global attention that will be directed for the wrong reasons, both clubs, both sets of players and both sets of supporters have so much success to stand on and so much global adoration to rely on that surely they can both be big enough to bury the past, lose the hatred and decorate this, the biggest game on the planet?