UFC on FOX 3: Nate Diaz vs. Jim Miller Early Head to Toe Breakdown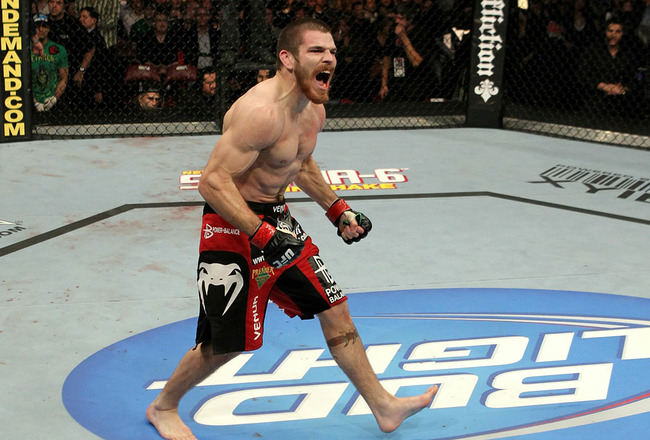 UFC.com

With the second UFC on FOX card just days away, the UFC is wasting no time in preparing for their third trip onto prime-time television.
After quickly dispatching Melvin Guillard at last weekend's UFC on FX event, Jim Miller has once again entered title contention, and a win over his next opponent would put him at the front of the line for a UFC title shot.
That win is going to have to be earned the hard way, however, as Miller is now set to fight Stockton native Nate Diaz.
Diaz is quietly becoming a smaller version of his brother Nick, using precise boxing and underrated jiu jitsu skills to destroy any opponent put in his path.
After a two-fight skid at welterweight in early 2011, Diaz decided to make the cut down to his optimum fighting weight of 155 lbs and the results have been spectacular with quality wins over Takanori Gomi and Donald Cerrone.
Now with both fighters well on their way to a shot at UFC gold, the only thing standing in their way is each other.
The fight is an interesting one, as both fighters are extremely well-rounded and possess the skills to finish fights on a regular basis, but their styles are vastly different.
Whichever one of these two men is able to implement their game plan and take the fight to where they are superior will win, and this article will break down whether Miller or Diaz has the advantage come May 5th.
Striking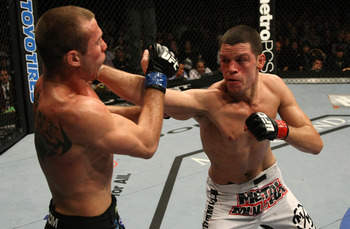 UFC.com
When the fight is on the feet, it's in Diaz's world.
Miller has displayed decent striking in the past, most notably in his fight against Kamal Shalorus at UFC 128, but the younger Diaz's striking is better than most of the 155-lb division.
Both men can take solid shot, so I don't see a finish on the feet happening very easily, but Diaz's punches in bunches can wear down any fighter.
After watching Diaz decimate a talented stand-up fighter in Donald Cerrone in his last fight, it seems evident that he has really found his niche when it comes to boxing, and Miller needs to avoid those potentially lethal combinations if he wants to walk out of the cage with a win.
Wrestling
UFC.com
If Nate Diaz has a weakness, it's his inability to stop getting put on his back.
Unfortunately for Diaz, this is the area where Miller shines, as his wrestling is some of the best in the lightweight division and he has been able to take down nearly everyone he has put his hands on.
This is the most lopsided of any area of the fight and if Miller is to win, this is likely his safest and easiest route to gaining a victory.
Jiu Jitsu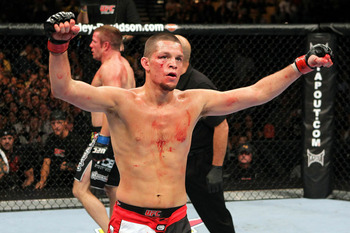 UFC.com
While Miller has been submitting some solid opponents as of late, this is another area where I feel that Diaz has a slight advantage.
Training with Cesar Gracie since he started his mixed martial arts career, Diaz is an expert fighting off of his back, and he has earned six of his Octagon victories by way of submission.
Once Miller gets the fight to the mat like most expect him to, he will have to be extremely careful of Diaz's tricky guard—in particular, his triangle choke, which has claimed many victims throughout his career.
Cardio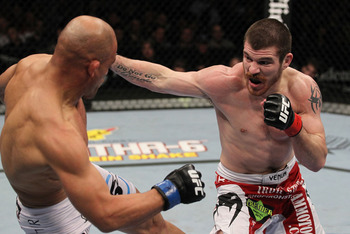 UFC.com
Simply put, neither of these men is going to gas out unless something is terribly wrong with them.
Both Diaz and Miller always come into the cage with stamina that lasts for days, and it is part of the reason that fans are already so excited for this matchup.
These two will go full speed for three solid rounds and neither is going to break very easily, making this a potential Fight of the Year candidate.
Conclusion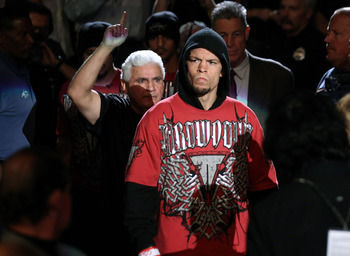 UFC.com
This fight is going to either end up with Miller dominating from the top position for the duration of the bout and squeaking out a unanimous decision win, or Diaz somehow keeping the fight upright long enough to score points on the feet and earn a decision of his own.
The X-factor is Diaz's ability to score points off of his back, and while it is unlikely that he will be able to catch Miller in a submission, he should be able to force the judges to take notice of his offense when he is being controlled.
This past Saturday night, I swore to myself that I would never pick against Miller again after I gave the nod to Guillard prior to their fight, but I'm already breaking my own rule, as I think Diaz will do enough to take home a close split decision win.
Keep Reading