Prince Fielder: Tigers Trade Short-Term Success for Long-Term Nightmare
January 25, 2012

Jeff Gross/Getty Images
The Detroit Tigers made a splash on Tuesday, coming out of left field to sign slugging first baseman Prince Fielder to a nine-year contract worth $214 million. Jon Heyman of CBSSports.com and Tim Brown of Yahoo! Sports were the first to report the deal.
The signing caught everyone by surprise, as the Tigers were not among the core of teams rumored to be interested in Fielder. General manager Dave Dombrowski must have kept his interesting in Fielder on the down-low, and that strategy paid off in a big way.
True, it also helps that Dombrowski offered Fielder one of the biggest deals in baseball history.
Here's hoping Dombrowski thought it through before he did it, because the Tigers and Fielder are going to be BFFs for the next nine years. 
Spoiler alert: Fielder's career with the Tigers will see its ups and downs. And alas, it will likely see more downs than ups.
Let's discuss the good before we discuss anything else.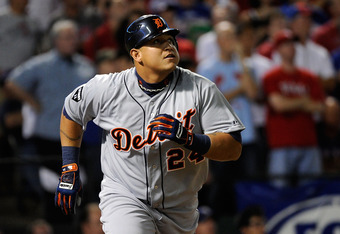 Kevork Djansezian/Getty Images
If there is one thing you have to like about this deal, it's that the Tigers have effectively secured perhaps the best hitting duo in the majors. Jim Leyland is free to bat Fielder and Cabrera back-to-back, a thought that should send shivers down the spines of American League hurlers. Fielder is a lock for 35-40 home runs and 100 RBI every year, and Cabrera is a guy who has won a home run title, an RBI title and a batting title.
So yeah, the Tigers have themselves a good duo. In fact, I'll wager that Fielder-Cabrera is even better than Fielder-Ryan Braun. 
At the very least, having Fielder in the lineup will more than make up for Victor Martinez's absence in 2012. Martinez tore his ACL earlier this offseason, but his bat won't be missed as long as Fielder is blasting balls over the fence.
But the Tigers didn't make this deal so they could satisfy any kind of "at the very least" scenarios. They made this deal so they could further cement their place in the AL Central. They won the division in 2011, and they should be favorites to win in again in 2012, 2013, and so on.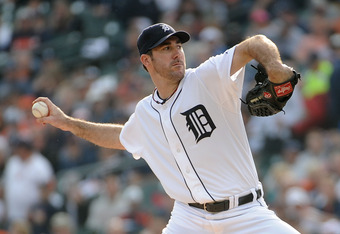 Harry How/Getty Images
The Tigers should also be considered among the favorites to win the AL pennant in the next couple seasons. The New York Yankees, Los Angeles Angels, Texas Rangers, Boston Red Sox and Tampa Bay Rays are also in the mix, but none of them are head and shoulders better than the Tigers.
But mere AL Central domination won't be enough, and winning the pennant won't be good enough either. This signing has to result in a World Series, which the Tigers haven't won since 1984. The Tigers went in 2006 and they came close to going in 2011, but they weren't good enough in either year to get the job done.
Now that they have Fielder, they're good enough. Believe it.
All of the above is the good. 
Now let's discuss the bad.
For the next couple years, the Tigers are going to be centered around three players: Fielder, Cabrera and Justin Verlander. It just so happens that the bulk of their payroll is going to go to those same three players.
Per Rotoworld, both Verlander and Cabrera are on the books for $20 million in each of the next couple seasons. We don't know the full breakdown of Fielder's deal yet, but the simple math tells us that he'll be making an average of about $24 million a year.
With three players making that much money, the Tigers are now as top-heavy as the Yankees, and that's not necessarily a good thing.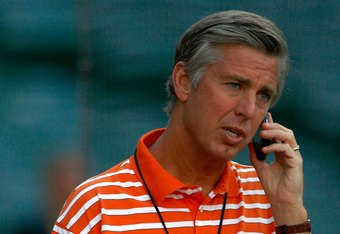 Jeff Gross/Getty Images
Make no mistake, Dombrowski is going to have some decisions to make down the road. Fielder is signed through 2020, but Verlander's contract expires after the 2014 season and Cabrera's expires after the 2015 season.
I am simply unable to fathom just how in the heck the Tigers are going to be able to re-sign both Verlander and Cabrera. They're going to have to pick one of them.
If so, the Tigers will go from being a World Series-caliber team to being a mere playoff-caliber team. The team will have to make the necessary upgrades, and it's going to take cash to do the job. The Tigers have joined the likes of the Yankees and Red Sox in the Big Spenders Club, and they're going to find out that it's hard to stop spending once you've started.
Sadly, we know that big payrolls don't automatically translate to World Series triumphs. 
The other thing we have to consider is whether or not Fielder can remain productive throughout the life of his contract. As you've no doubt heard, that's something that various pundits and team execs are concerned about.
Go back and read the Brown report, and you'll come across this passage:
Talk among scouts and general managers suggested Fielder's market would be influenced by fears Fielder would—during the course of his next contract—add too much weight, that his legs would give out and his production would plummet.
Various rumors had teams mulling shorter deals for Fielder, and this is why. Bruce Levine of ESPNChicago.com wrote that the Chicago Cubs would only enter the Fielder bidding if they could get him on a shorter contract, FoxSports.com's Ken Rosenthal reported that the Texas Rangers didn't want to go "heavy" on years, and so on.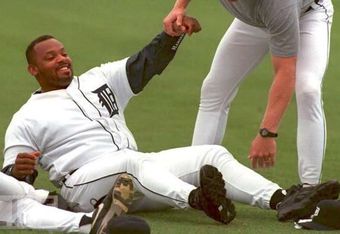 The wariness of teams around the league to give Fielder a lengthy contract is understandable. Fielder is a big dude, and he seems to get bigger every year. It's also worth noting that his father, Cecil, was a big dude who did get bigger every year.
Since Fielder is still a young man, he'll probably be just fine for the next couple seasons. But as he progresses into his 30s...well, let's just say it's not a notion the Tigers or their fans want to entertain right now.
All Tigers fans should care about right now is that the next couple of seasons are going to be a lot of fun. Fielder, Cabrera and Verlander are all in the prime of their careers and the Tigers are going to reap the benefits.
But down the road, things look considerably more bleak. Good things can't last forever, and Fielder's contract will be no exception.
Enjoy the fun while it lasts.