NHL All-Star Player Fantasy Draft: 7 Players Daniel Alfredsson Should Pick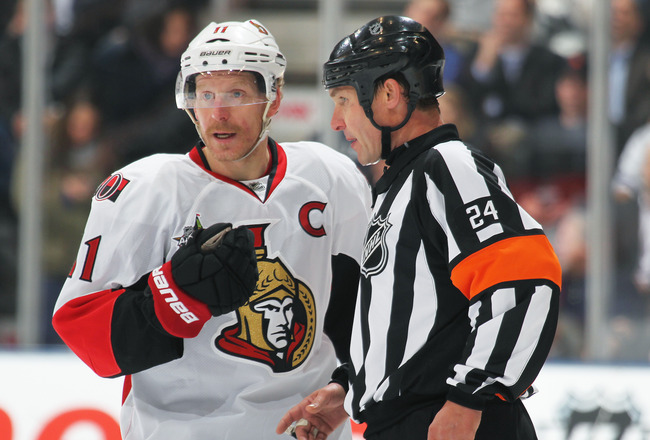 Claus Andersen/Getty Images
The NHL All-Star Game is almost upon us, and for the second year in a row, we will witness the All-Star Fantasy Draft.
The captains will be the captain of the last Stanley Cup Champion in Zdeno Chara and the captain of the host of the event, Daniel Alfredsson.
Alfredsson has already been named a starter for the game, but that won't be until Sunday afternoon. In the meantime, he has a lot of work to do, including making the selections of who will actually be on his team come this weekend.
He won't be alone, however, as New York Rangers goaltender and fellow countryman Henrik Lundqvist was named his assistant captain.
There are plenty of possibilities, but here are seven players that Alfy should select to be on his squad and lead them to victory.
Jason Spezza (Ottawa Senators)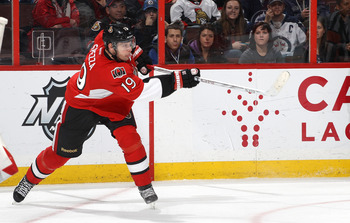 Jana Chytilova/Freestyle Photo/Getty Images
Please, don't be shocked by this pick. Alfredsson will want some additional crowd support, and Spezza is the first step to giving him that advantage.
Spezza is Alfredsson's teammate in Ottawa, and they have had some great chemistry all season. This pick seems more of a certainty than anything. It may not happen until the middle of the fantasy draft but rest assured, Spezza and Alfredsson will be teammates this weekend.
Phil Kessel (Toronto Maple Leafs)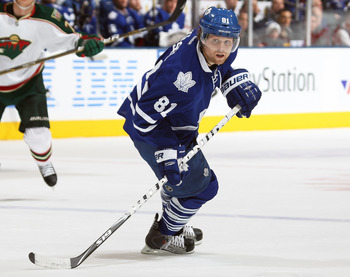 Claus Andersen/Getty Images
Phil Kessel has been having an excellent year, there is no denying him that. He led the NHL in scoring for the vast majority of the year, and although he has dropped off pace a bit, he could bring some value to Alfredsson's squad.
First of all, Joffrey Lupul has been Kessel's partner in crime in Toronto. Being that Lupul is the assistant captain on Zdeno Chara's team, keeping Kessel away from that side is paramount.
Kessel isn't winning any car this time around, and if Alfredsson gets the first pick, Kessel has to be at the top of that list; Chara and Lupul will not hesitate if they choose first.
Evgeni Malkin (Pittsburgh Penguins)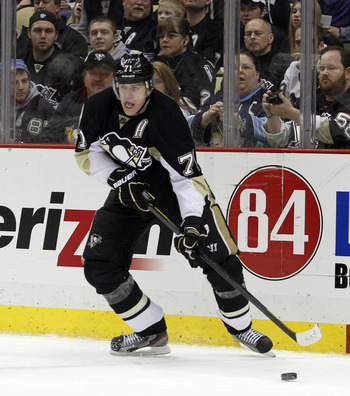 Justin K. Aller/Getty Images
Evgeni Malkin has been on fire as of late. He has 11 goals and four assists in the month of January, and he currently leads the NHL in points with 58.
When Sidney Crosby isn't around, it seems Malkin steps up and becomes the elite threat we all know he can be and without Crosby in the All-Star festivities, Malkin will probably do what he always does without him around: succeed.
Shea Weber (Nashville Predators)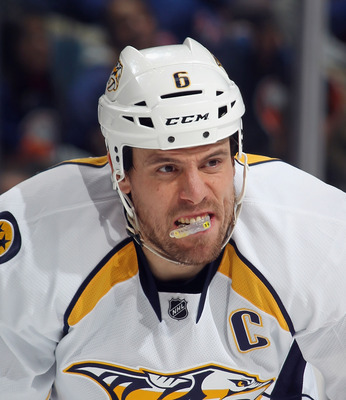 Bruce Bennett/Getty Images
Zdeno Chara has himself as a power defender, so Alfredsson needs to counteract that with a power defender of his own.
Shea Weber is his man. He has the skill and finesse on the back end and he will surely come in handy when the "hardest shot" competition comes along. We can all make the assumption that Chara will run away with that accolade again, but Weber can give him a run for his money.
If he does, Alfredsson will look like a genius, plus the rest of the NHL can take notice of Weber's power, if they haven't noticed it already.
Henrik/Daniel Sedin (Vancouver Canucks)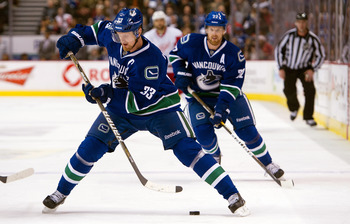 Rich Lam/Getty Images
The NHL's leading assist man could fill in on a line with Alfredsson. Henrik Sedin is a special player and, not to advocate violence during a "fun" game, but the rivalry between Boston and Vancouver hasn't simmered for a second, so getting their leader on the opposite side of Boston's leader in Chara could ignite something.
If not, Henrik can still find you with great vision of the ice. Let's face it: the Sedin twins will never be on the same team at the All-Star game again, thanks to this format, so you may as well grab one.
This pick could be either brother as you can't discount the skill that Daniel has. He's scored 21 goals thus far and he is the defending Art Ross Trophy winner.
I put both twins in one pick because, as stated above, Alfredsson's going to get one sooner or later; the fact that they're fellow Swedes could tell you he will make the first move on one of them.
Erik Karlsson (Ottawa Senators)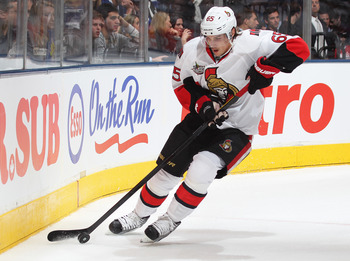 Claus Andersen/Getty Images
It's called "home ice advantage" for a reason, so Alfredsson should take advantage of it, much like the proposed selection of Spezza earlier.
Plus, you pair him up with Weber and you have two guys you could start building your team around. Karlsson has had a great year in Ottawa, and he is already a starter. He has 40 assists in 51 games played, so you know he has great vision from the blue line.
Imagine a power play and having Karlsson setting up pucks for Weber. Can you just picture the magic?
Also, can Alfredsson imagine the horror of Karlsson setting those pucks up for Chara?
Steven Stamkos (Tampa Bay Lightning)
Doug Pensinger/Getty Images
Why take Steven Stamkos? Why not? He is already a 30+ goal scorer this season and he doesn't get enough credit for it, considering how poorly the Lightning have done this year.
Put him on a line with Phil Kessel and the two would be unstoppable. Add in Daniel Sedin on the other wing and, no disrespect to the other team. but if you have play makers on the blue line and this much speed up front, the scoring will come in droves.
Stamkos is leading the NHL in goals and dare I say MVP candidate?
He will be playing this game in Ottawa, close to his hometown of Markham, Ontario, so you can bet some family and friends will make the trip and give him some added motivation and relax him a bit.
A relaxed, confident Stamkos is a deadly Stamkos.
What do you think?
Who else should Alfredsson pick?
Mark Pare is a Featured Columnist. You can follow him on Twitter and don't forget to check out his sportswriter page.

PLEASE SHOW RESPECT IN YOUR COMMENTS, WE ARE ALL MERELY SPORTS FANS AFTER ALL.
Keep Reading