San Francisco 49er Kyle Williams Owns Up to Costly Mistakes
January 25, 2012

Ezra Shaw/Getty Images
San Francisco 49er Kyle Williams, City by the Bay Enemy No. 1 and newly-inducted Goat Hall of Fame member, takes responsibility for costing his team a slot in Super Bowl XLVI.
This past Sunday night, wide receiver and punt returner Williams rose from obscurity to the national spotlight when he committed two huge turnovers that cost his 49ers a sixth trip to the Super Bowl in a devastating loss to the New York Giants.
Williams, San Francisco's slot receiver and backup returner, was thrust into the starting role when starter Ted Ginn, Jr. was scratched from the lineup due to an injury suffered in the previous week's divisional playoff game against the New Orleans Saints.
"It's one of those feelings you don't ever want to feel on the football field—to give it up on the situation like that," Williams said Monday morning.
It was very refreshing to read that Mr. Williams did not shy away from his fumbles. In today's society, many sports celebrities are quick to lay blame elsewhere, or worse, they take a nonchalant attitude.
Williams is different. Given a chance to blame his mishaps on a shoulder injury, Williams stepped up and shouldered the responsibility.
"I take full responsibility for the mistake that I did make. You have to play with what you got. I was dinged up. Everybody was dinged up. That's just football. Nobody is going to be 100 percent. I was going fine. It's just something that happened," he said.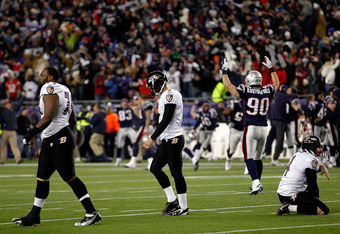 Rob Carr/Getty Images
Kyle Williams joins other recent significant goats Billy Cundiff of the Baltimore Ravens, Nelson Cruz of the Texas Rangers (why did I just mention that?   need a beer), Chicago Cubs fan Steve Bartman, and iconic goats Scott Norwood of the Buffalo Bills and Bill Buckner of the Boston Red Sox.
Williams' fumble-itis probably won't match icons Norwood or Buckner because this was a conference game, not a title game. 
This fact will not soothe incensed 49ers fans, some of whom have offered death threats on Twitter, but Williams' mistakes feel sharper for two reasons. One, field goal kickers miss all the time. You never want a game to come down to a field goal (unless the ball was just recovered on a fumble of a punt return).
Secondly, the pain feels a little sharper because he had TWO mistakes, and both mistakes directly lead to the Giants scoring and the 49ers losing.
Williams, who was a Second-Team All-Pac-10 punt returner with Arizona State University, probably began Sunday morning dreaming of big opportunities to shine only to end Sunday with a real life nightmare.
The first muff came at 11:17 of the fourth quarter. The 49ers defense had just ended the Giants third consecutive drive forcing them to punt yet again. It looked like Williams was just going to steer clear of the ball and let the Giants down it, but the football bounced unexpectedly and barely nicked Williams' knee. The Giants recovered deep inside 49ers territory and capped off the turnover with a go-ahead touchdown.
Williams' second fumble in overtime was to be the turnover that changed and ended the game.  The 49ers D shut down the Giants for the second straight time in overtime. On the ensuing punt, Williams tried to be a game-changer and make something happen. He was right about the game-changing, but wrong about the outcome.
"It was one of those things where I was just trying to make something happen and the other guy on the other team, he made something happen. It's an unfortunate circumstance, but he made the play and I didn't," Williams said.
Williams was stripped of the football while fighting for extra yards, the Giants recovered and soon kicked the winning field goal that would end San Francisco's sensational season.
My first thought after the game was of Williams' mindset. I know he had to be crushed, and I genuinely worried about his psyche and even wondered if he was suicidal.
After reading the transcript from media day, I realize that Williams is a strong-minded individual with a good head on his shoulders. Do you think he's ready for next season?
"Yeah, I can't wait to get back to work, get back to work with these guys in this locker room and move forward and learn from it," Williams said.