Pittsburgh Steelers Must Seek Fountain of Youth in Offseason
January 25, 2012

Justin K. Aller/Getty Images
The Pittsburgh Steelers came in to the season trying to rebound from a tough Super Bowl loss to the Green Bay Packers.
The Steelers were able to maintain the majority of their roster, which put them in great position to be a contender in 2011. Pittsburgh didn't have any issues, as they went 12-4, just missing out on the AFC North title to their rival, the Baltimore Ravens.
However, with an early upset exit to Tim Tebow and the Denver Broncos, it is clear that change is needed in Pittsburgh.
They still have a great core.
Ben Roethlisberger is one of the league's best quarterbacks, and we are well aware that he can win a Super Bowl. They have several young weapons on offense, including wideouts Mike Wallace and Antonio Brown. Then of course, that defense continues to be one of the league's most dominant. 
The Steelers change needs to come by an injection of young talent on to their roster, especially on the defensive side of the ball.
Pittsburgh has four players on their defense with over 10 years of experience and another three with eight or more. This list does include some of their top defensive talent like Brett Keisel and Troy Polamalu, but that does not mean that the Steelers cannot start planning for the future.
The need for young talent starts in the same place that the Steelers build their defense around.
The front seven has several veteran players that could use young talent to push them. Players like Casey Hampton and James Farrior are still talented, but are coming to the end of their careers. 
We have seen the impact of youthful talent on to the Steelers front seven in recent years with players like Lawrence Timmons and LaMarr Woodley. Both linebackers kept that dangerous Steelers pass rush alive with their arrival and have become feature players on the defensive side of the ball.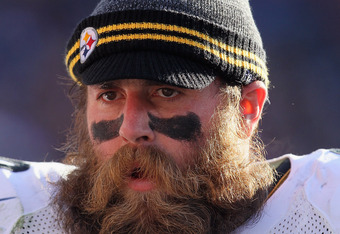 Jeff Gross/Getty Images
The Steelers need to continue that trend of finding linebackers that fit their scheme. James Harrison and James Farrior will need to be replaced sooner rather than later. Why not draft rookie linebackers that can contribute and extend those veterans' playing lives a little bit longer?
The Steelers have always been known for having a great pass rush built around that vicious front seven. However, the idea of adding young talent to that defense should not just stop there.
Pittsburgh only has two defensive backs in their rookie or second year, and both of those players are at the bottom of the depth chart. The Steelers were the best passing defense in the league this year, but if they want to continue that dominance, they will need to plan for the future.
Ike Taylor and William Gay will not be top-notch players forever. Ryan Clark and Troy Polamalu have patrolled the Steelers secondary for years, but even they are getting up there in age. 
I am not suggesting that the Steelers need to replace anyone. I don't believe that they have a desperate need to dump players and replace them with unproven rookies.
However, I feel that the time is now to add as much young talent as possible. 
Do not wait until your hand is forced. Not many teams have the luxury of being a contender year in and year out. Pittsburgh has the chance to set themselves up to dominant for years to come. 
The only way they can do that is by bringing in the next generation of Steelers.