Where Does the Atlanta Braves Starting Rotation Rank Within the NL East?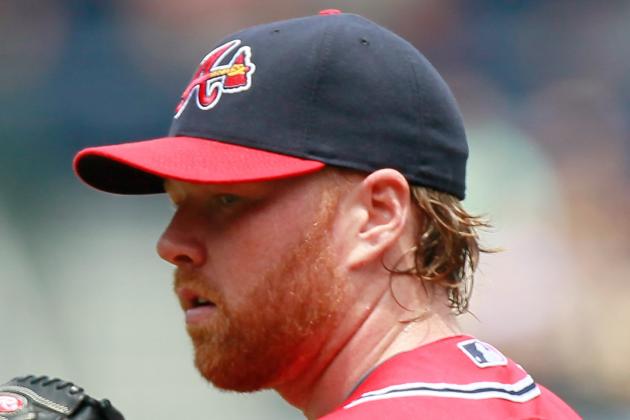 Kevin C. Cox/Getty Images
Tommy Hanson will anchor the Braves rotation if he can stay healthy.
With pitchers and catchers reporting to spring training in less than a month and the last big free agent (Prince Fielder) now off the market, it's a good time to start previewing the 2012 season.
It has been a wild offseason which leaves the landscape of Major League Baseball and the NL East looking very different from what we saw at the end of the 2010 season.
Since the Braves rotation looks to be a strength this year, depending on the health of their top three starters, I thought the starting rotations of the NL East was a good place to begin looking.
This article will rank the projected rotations of each of the five teams in the division.
Begin Slideshow

»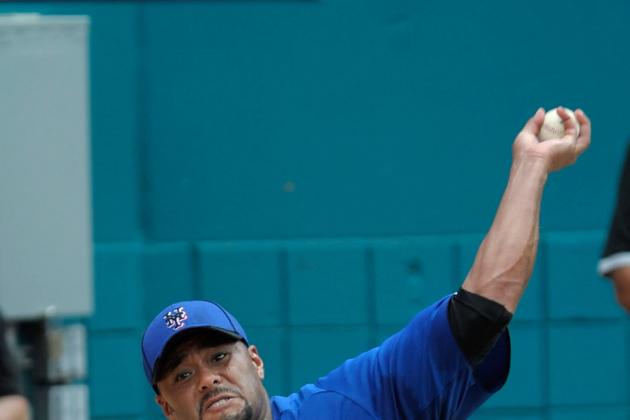 Sarah Glenn/Getty Images
The Mets need a healthy Johan Santana in 2012.
Johan Santana (LHP), Mike Pelfrey (RHP), Jon Niese (LHP), R.A. Dickey (RHP), Dillon Gee (RHP)
The key to the Mets rotation is obviously the health of ace Johan Santana, who missed all of the 2011 season due to a shoulder injury. Santana's health for the 2012 season is still a bit of a question, but prior to the injury, he was among the best pitchers in the game.
Pelfrey followed up a strong 2010 season where he went 15-9 with a 3.66 ERA by going just 7-13 with a 4.74 ERA. The former first-round draft choice will be turning 28 this year and is in the prime of his career. He could easily return to his 2010 form this year, as it was nearly identical to his 2008 season.
While Niese may not be a true third starter, he has put up a pair of similar seasons in his first two full seasons in the big leagues. He went 9-10 with a 4.20 ERA in 2010 and 11-11 with a 4.40 ERA last season. He isn't going to be great, but isn't awful either.
Dickey, a 37-year-old knuckleballer, has put up the two best seasons of his career the past two years. Over those two years he has gone 19-22 with a 3.08 ERA while averaging just over 190 innings pitched. Considering he is a knuckleballer, his age shouldn't rob him of too much this season and he should continue to be a solid, back-end of the rotation starter who will eat innings.
As a rookie last season, Gee went 13-6 with a 4.43 ERA. The bad news is a huge home and road split—he had a 3.17 ERA at home and 5.74 ERA on the road. It's important to note that the fences at Citi Field will be moved in to help boost offensive output.
If Santana isn't ready for Opening Day, the most likely pitcher to fill his spot is right-hander Chris Schwinden. Schwinden, who made his major league debut last year, went 0-2 with a 4.71 ERA in four starts. He doesn't project to be much more than a fifth starter.
The Mets easily have the weakest rotation in the NL East, with or without Santana. There is a great distance between them and the Marlins, who rank above them in fourth.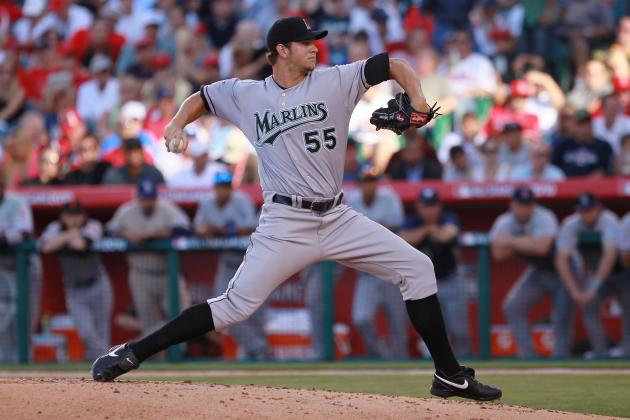 Jeff Gross/Getty Images
The Marlins need Josh Johnson to return healthy this year.
Josh Johnson (RHP), Mark Buehrle (LHP), Ricky Nolasco (RHP), Anibal Sanchez (RHP), Carlos Zambrano (RHP)
The new-look Marlins will need ace Josh Johnson to come back healthy if they are going to compete this season. The good news is that he recently started to throw off the mound and expects to be back in time for the season. When healthy, Johnson is among the best pitchers in the game, so this would be great for the Marlins.
Buehrle came over from the White Sox this winter, and he adds a wealth of experience to the Marlins. Buehrle has won a World Series and started numerous Opening Day games while in Chicago, so his addition is certainly huge.
Nolasco has a ton of potential but just hasn't put it all together at this point in his career. Just like the past few seasons, fans are hoping that this is the year that he finally figures it out. Even if he doesn't really emerge, he is a solid starter that averages 12 wins per season. That's about average for a third starter.
Sanchez has been a strong starter in each of the past two seasons, though he hasn't received enough run support to put up big win totals. I think Sanchez is actually a better choice as the third starter, but the current MLB.com depth chart has him behind Nolasco.
Zambrano looks like he will take the final spot in the rotation. The former Cub has the potential to be an All-Star, but he's also a complete headcase that has experienced multiple meltdowns in his career. If new manager Ozzie Guillen can get him on track, the Marlins will have received a real bargain.
If Johnson has any injury-related setbacks or Zambrano melts down again, the Marlins have ex-Padre Wade LeBlanc in addition to youngsters Brad Hand and Alejandro Sanabia.
The Marlins have really upgraded their rotation this winter but there are still some questions remaining with Johnson and Zambrano and even Nolasco as well to an extent. Still, they look like they should at least be solid. The only reason they rank below Washington is the fact that they have more questions to be answered.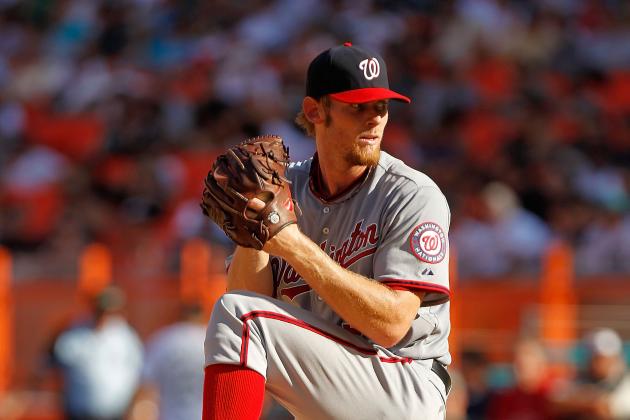 Mike Ehrmann/Getty Images
Stephen Strasburg will finally get to be turned loose in the majors.
Stephen Strasburg (RHP), Gio Gonzalez (LHP), Jordan Zimmerman (RHP), John Lannan (LHP), Chien-Ming Wang (RHP)
This is the year that we finally get to see Stephen Strasburg make nearly a full-season worth of starts. The only thing that could slow him now is the reduced workload that the Nationals plan to give him as he returns from Tommy John Surgery. Through his first 17 career starts, he has gone 6-4 with a 2.54 ERA and 116 strikeouts over 92 innings.
Gonzalez cost the Nationals four of their top prospects, but he is worth the price. The 26-year-old All-Star has won 31 games over the past two seasons with an ERA of 3.23 or lower in each season. It's also worth noting that he has thrown more than 200 innings in each season, so he's very durable. The move to the National League should only help him improve those numbers.
Zimmerman was in the same situation Strasburg currently is just last year. Despite being limited to 26 starts in his own return from Tommy John Surgery, he went 8-11 with a 3.18 ERA at age 25. Being fully healthy and another year closer to his prime, he should continue to improve and be among the better No. 3 starters in the game.
The 27-year-old Lannan isn't a star, but he is a workhorse who belongs in the middle of the rotation. Over the last four seasons, he has thrown more than 180 innings three times and had an ERA under 4.00 three times. Lannan is extremely solid in this role.
The fifth starter is Wang, the former Yankee that won 38 games between 2006 and 2007. He has battled injury ever since then, but returned last year with Washington and went 4-3 with a 4.04 ERA in 11 starts. Penciling in Wang as a fifth starter is a solid bet, as he could return to his top form now that he is healthy. Even if he doesn't return to form, he'd still be very solid in this role if he posted last year's numbers over the course of a full season.
If anyone gets injured, or when Strasburg reaches his innings cap, the Nationals will likely slot Ross Detwiler into the rotation. Detwiler, who turns 26 this year, made 15 appearances including 10 starts last year and went 4-5 with a 3.00 ERA. In his 10 starts, he had a 3.21 ERA. He is a pretty solid sixth starter.
The Nationals rotation is very strong, and four out of the five starters are age 27 or younger. If Strasburg proves to be worth the hype, Gonzalez improves in the National League and Zimmerman improves as he gets closer to his prime, this rotation could be pretty scary.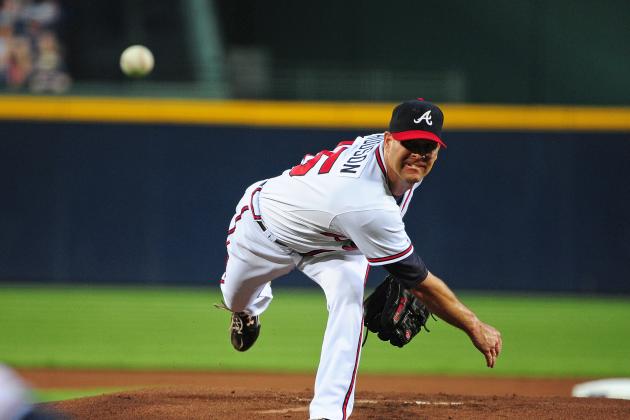 Scott Cunningham/Getty Images
Will Tim Hudson be back for Opening Day?
Tim Hudson (RHP), Jair Jurrjens (RHP), Tommy Hanson (RHP), Brandon Beachy (RHP), Mike Minor (LHP)
Veteran Tim Hudson is projected to be the top starter for the Braves, however, he is coming off offseason back surgery and may not be ready to start the season.
With the Braves pitching depth, it wouldn't hurt if they brought him back slowly but the team needs him for the bulk of the season. Hudson has won 181 games in his career, including 33 over the past two seasons, and has the experience needed when starting big games. He's not a true ace, but he's a strong pitcher and a leader in the clubhouse.
Jurrjens was among the best pitchers in all of baseball in the first half last season, but then battled through injuries in the second half before being shut down. Jurrjens expects to be healthy to start the year, but don't expect him to pitch as well as he did last year, though, he will still likely have a strong year.
Hanson was looking like an All-Star in the first half last year, but that's when he also suffered an injury that slowed him down in the second half before getting shut down early. He didn't undergo surgery on his shoulder, but there are some questions about his health going into 2012 anyway. His health is very important as he is among the top young pitchers in all of baseball when he is healthy.
Beachy had a strong rookie season last year, going 7-3 with a 3.68 ERA over 25 starts. He will enter his second season at 25 years old and is expected to continue improving. He also missed some time last year due to injury, but doesn't have any health questions like the other guys in the rotation. He's among the best No. 4 starters in the game.
Minor went 5-3 with a 4.14 ERA in 15 starts last year, but it was his performance down the stretch that opened some eyes. The former first-round pick went 1-1 with a 3.67 ERA in five September starts as the Braves pushed him into a rotation spot when Hanson and Jurrjens went down, He is the front-runner for the final rotation spot, and will be worth watching over the course of a full season.
If health issues pop up with Hudson, Jurrjens or Hanson, the Braves have some of the top prospects in the game.
Julio Teheran went 15-3 with a 2.55 ERA at age 20 in Triple-A last year, and has shown why he is among the Top 10 prospects in the game.
Randall Delgado went 1-1 with a 2.83 ERA in seven starts down the stretch for the Braves last season, and would have a rotation spot locked up in almost any other organization.
Then Arodys Vizcaino, who showed an electric arm in the bullpen late last year, could return to Triple-A as a starter this year and be close to starting in the big leagues.
The Braves have one of the best rotations in the game, although there are some real questions. I ranked them above the Nationals rotation because they have the experience that Washington lacks at this point.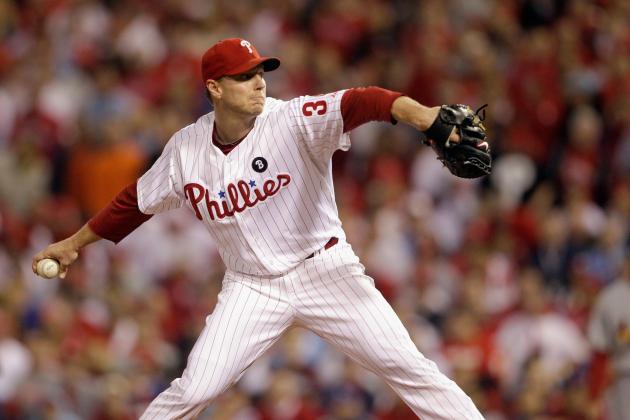 Rob Carr/Getty Images
Roy Halladay is the top pitcher in the NL East.
Roy Halladay (RHP), Cliff Lee (LHP), Cole Hamels (LHP), Joe Blanton (RHP), Vance Worley (RHP)
Roy Halladay may be turning 35 this year, but he is still among the best pitchers in all of baseball. In his two seasons with the Phillies, he has won one Cy Young Award and was the runner-up for the award in his second season.
Lee is also among the top 10 starters in the game, giving the Phillies a great one-two punch at the top of their rotation. Lee should have yet another great season in 2012.
Hamels, who went 14-9 with a 2.79 ERA is easily the best No. 3 starter in baseball. He would be the ace for most other teams, but with the Phillies he is only the number three. That speaks to exactly what the Phillies have to work with.
Blanton has fallen a bit after winning 16 games for Oakland in 2006, his second full season in the big leagues. In his four years in Philadelphia, he has gone 26-16 with a 4.43 ERA. He has been very hittable the past two seasons, posting hits per nine inning rates above 10.6 in each season. He is a weak fourth starter, but will likely keep the spot if healthy due to commanding a large salary.
The fifth starter is Vance Worley, a pitcher who debuted last year by going 11-3 with a 3.01 ERA. He is the real No. 4, but the team lists Blanton there on their official depth chart. Worley wasn't a top prospect and can be expected to regress a little from last season's amazing debut.
The team also has 27-year-old Kyle Kendrick ready to step in if there are any injuries. Overall he was 8-6 with a 3.22 ERA last year, including 5-4 with a 3.14 ERA in 15 starts. He's actually a better option to start than Blanton, but has more ability to pitch out of the bullpen.
The Phillies have the best rotation in the NL East, in large part due to no one else being able to match their trio of aces. The Braves aren't too far behind and the Nationals are quickly catching up, but right now neither can match the group of starters in Philadelphia.