Should Ben Roethlisberger's Opinion Matter in Steelers' OC Search?
January 25, 2012

Gregory Shamus/Getty Images
If it wasn't clear before it certainly is now. Bruce Arians' "retirement" was not because he was ready to stop coaching but rather because the Pittsburgh Steelers did not want him back.
In an interview with Frank Bondani of the York Daily Record, Arians indicated that his decision was not a difficult one.
"When I wasn't offered a contract, it was an easy decision for me," he said.
While team president Art Rooney said the decision was head coach Mike Tomlin's, it was speculated by the Pittsburgh Post-Gazette's Gerry Dulac that it was ultimately Rooney's doing.
There is no doubt that Tomlin was consulted and likely agreed on Arians' departure, whether it was a mutual agreement or an ultimatum.
One person who was not (and should not have been consulted) in all of this was franchise quarterback Ben Roethlisberger.
If Rooney spoke with Roethlisberger beforehand, it may have went something like a typical WWE promo from the Rock.
Rooney: "So Ben, we are considering moving the offense in a new direction and not bringing back Bruce. How do you feel about that?"
Roethlisberger: "Well, Bruce..."
Rooney: "It doesn't matter how you feel!"
The $100 million man of the Steelers should have a say within the organization, especially when it comes to the offensive coaches he will play under. But after another year of the same with an offense ranked 21st in the league in scoring, it was time for a change—whether Roethlisberger liked it or not.
Arians made it clear Roethlisberger was not happy with the move.
"He's not happy, but that's part of the business," Arians said. "He is happy for me. He lives aorund the corner and we'll still see each other a lot. The phone is always there when he needs me."
Nothing against the terrific relationship between Arians and Roethlisberger, but hopefully Roethlisberger will not be making many calls to Bruce for input on the offensive game plan.
The two have brought the Steelers offense to new heights in the passing game and that cannot be understated. At the same time, Roethlisberger has not developed to his full potential, and has grown too dependent on freelancing rather than the game plan.
Heading into the final third of his career, Roethlisberger doesn't need a buddy on the sidelines—he needs a coach. He needs a coach who can maximize his talents and the talents of the players around him.
Whether that means bringing in a disciplinarian with a strict offensive system or going with the comfort factor and promoting from within, Tomlin's next coordinator needs to be what is best for the team, not what is going to make Roethlisberger happy.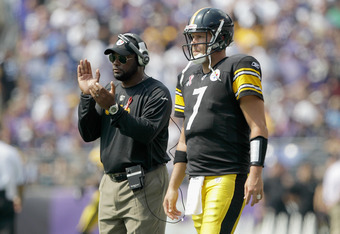 Rob Carr/Getty Images
That does not mean Roethlisberger shouldn't have input when it comes to Tomlin's hire, however. He should. He is going to run the offense and has to be comfortable with it.
Still, winning is the top priority for the Steelers and that will be the deciding factor for Tomlin.
Remember, the defense is going to lose some long-time starters this offseason and they may not be able to carry the load as they once did. It is the offense's turn to step up and the new system will be key.
Keeping the franchise quarterback happy is important. Winning championships is more important.
Roethlisberger will get over Arians pretty quickly if they get back to championship football next year. It is the one thing he likes to do more than anything else. That is the one opinion of his that does matter.
Follow me on Twitter @ChrisG_FC