Arsenal FC: Strange Days and the Curious Case of Andrey Arshavin
January 26, 2012
Clive Mason/Getty Images
These are strange days for Arsenal fans, strange days indeed.
In fact, it's been a kaleidoscope kind of season all around for the North London club. They were utterly thrashed at Old Trafford, out-Arsenaled by Swansea and have dropped points to both Fulham and Wolves, respectively.
However, they sit in fifth place in the Premiership, one place off an automatic Champions League spot for next season, have a fourth-round home FA Cup tie against Aston Villa on Sunday and are through to the last 16 in the Champions League, where they will face AC Milan over two legs.
Only a creaky old Chelsea, who sit one place above them in fourth, can claim to be doing better across all three tournaments.
However, it doesn't take London's most famous detective from 221B Baker Street to espy that something isn't quite right at the Emirates (I've always imagined Sherlock Holmes to be a Millwall fan and Dr. Watson supported the Spurs, but you get the point). So let's put on our deerstalkers and see if we can find exactly what is wrong.
To help solve the riddle of the general malaise that is the Gooners this season, we have to go back to before the season even started.
The transfer of Cesc Fabregas to Barcelona was expected, but Samir Nasri's move to moneybags Manchester City was a bitter blow. The lack of a big-name signing to replace these key figures got fans riled up, but splashing the cash has never really been Wenger's style.
You also don't need a giant magnifying glass and pipe to know that the injury to Jack Wilshere while on national duty has also been a massive loss for the club once managed by Herbert Chapman. Wilshere has been out all season with a stress fracture to his right ankle, and while he continues to recuperate, Arsenal fans eagerly await his anticipated return.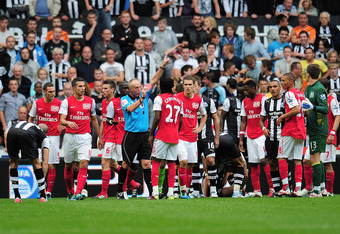 Shaun Botterill/Getty Images
When the season started, it didn't get off to the most auspicious of starts for the Gunners, a scrappy 0-0 away at Newcastle. The hangover from the 4-4 draw the previous season soon forgotten, as Arsenal struggled, and Gervinho on his Arsenal debut got sent off, with no small thanks to that lovable rogue Joey Barton.
But then, Barton's not like us. Things quickly got worse with a 0-2 home defeat to Liverpool, and then came the 8-2 mauling against Man Utd. Questions were asked of Wenger, and fans were starting to debate if maybe, just maybe, it was time for him to move on. Those same fans are still asking that question even now.
Wenger is having none of it, though, and while Arsenal have recovered comfortably enough to be a top-six contender, which would definitely be more than good enough for just about all the clubs  beneath them, it's not up to the high standards we've come to expect from a Wenger-managed side.
While Arsenal this season have never really looked like troubling the likes of United or City, even when they had a good run, they haven't been Wigan terrible. But for a team that hasn't won a trophy since winning the FA Cup on penalties back in 2005, it falls well short of what we all expect.
Maybe the mantle is set too high for a team that hasn't lifted the Premiership since 2004, when they went undefeated for the whole season. It's possible when examining Arsenal in their current state, they may not win another title for at least another seven or eight years, so far they have fallen behind Man City.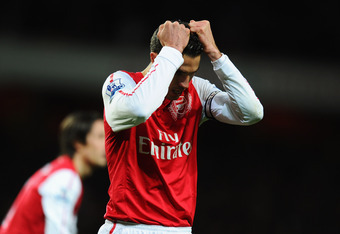 Mike Hewitt/Getty Images
Team selection has now become a major issue for Wenger as well. This was highlighted during the 1-2 defeat at home to Man Utd last Sunday, when Andrey Arshavin came on as a substitute for an 18-year-old playing in his first Premier game. The change brought jeers of "You don't know what you're doing" from parts of the home crowd and a "You cannot be serious" look for van Persie.
It seems that the lippy boys are ready to give Wenger the Spanish Archer.
In the last few seasons, even though Arsenal weren't winning the league, they were playing great football. The fans were always behind the team, but now Wenger has to defend his tactics and selections.
The argument that Arshavin is the captain of the Russian team and an experienced professional are both true and valid, but this season Arshavin has been bad. Professor Moriarty bad.
I can't believe Wenger doesn't see it. Arshavin may still chime for Wenger, but for the Arsenal faithful he stopped ringing a long time ago.
Why has Arshavin fallen off so badly? His runs go nowhere, when once they were one of the most exciting things about watching Arsenal in action. His shooting is strictly row Z. His passes go astray, his tackling is poor—well, it's always been poor, but it was obvious that he was never going to stop the run from Valencia that resulted in Welbeck scoring the winning goal for Utd.
It's a curious case. We could ask Andrey, but I'm not so sure he himself knows what has gone wrong. I'm not sure even Sherlock Holmes would get out of his den to try and solve it.
And it seems to be happening all over the Premiership, with once-good players turning bad. Arshavin certainly won't be the last. I can't really picture him ever returning to the stellar form of his earlier days, and I don't think at this point he'll even win the fans back.
Elementary enough, it could all be solved if he scores the winning goal for the Gunners win in the Champions League final, but a transfer out of the club seems the mostly likely end to this mysterious case.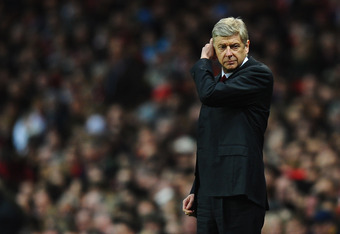 Mike Hewitt/Getty Images
One of the strangest things to come out of this season for Arsenal might not be them ending up in the Europa League but that Wenger might walk. If he decides to call it quits or manage somewhere else, how do you replace him?
The only person close enough to him in stature would be Mourinho, but do Arsenal really want to put up with his massive ego and negative soccer? Any replacement would require time to achieve results, and following Wenger would seem like an almost impossible task.
The Premiership would also sorely miss him. There also doesn't seem to be a natural successor or anyone at Arsenal who could step into his shoes—I don't see Pat Rice doing it, but maybe George Graham wants to come back?
Whatever the outcome and like all good thrillers, the answer to the riddle that has been Arsenal this season won't be revealed until the very end.