Detroit Tigers: How the Tigers' 2012 Lineup Will Look with Prince Fielder
January 24, 2012

Dilip Vishwanat/Getty Images
The Tigers have reportedly come to an agreement with free-agent first baseman Prince Fielder on a nine year, $214 million contract. Tigers manager Jim Leyland likes to tinker with lineups during the offseason. Here are a couple potential lineups for the 2012 and 2013 seasons.
2012 Lineup version 1.0 (2011 numbers in parenthesis)
1. Austin Jackson, CF (.249 BA, .317 OBP, 10 HR, 45 RBI, 90 R, 22 SB) The Tigers think the real Jackson is somewhere between his rookie and sophomore numbers. Unless the Tigers sign someone else (unlikely, but Yoenis Cespedes is still a possibility), Jackson will bat leadoff again.
2. Brennen Boesch, RF (.283 BA, .341 OBP, 16 HR, 54 RBI, 75 R, 115 games) Boesch was in the middle of a very productive sophomore season before a tear in his thumb knocked him out. As long as he stays healthy, he'll get pitches to hit and has decent speed on the base paths.
3. Delmon Young, LF (.274 BA, .298 OBP, 8 HR, 32 RBI, 28 R, in 46 games with Detroit) Young came back to life after the deal to come to Detroit toward the end of the season. Young is on a one-year contract, and his defense is the biggest concern for him.
4. Miguel Cabrera 1B/DH (.344 BA, .448 OBP, 30 HR, 105 RBI, 111 R, 1.033 OPS) Cabrera is one of the five best hitters in the American League. The Tigers have to decide where he'll play on defense (if he'll play defense), but the bat is one of the best in the game.
5. Prince Fielder 1B/DH (.299 BA, .415 OBP, 38 HR, 120 RBI, 95 R, .981 OPS) Fielder has serious power and has hit as many as 50 home runs (2007). I wouldn't expect too many 40-home run seasons, but I expect he'll average between 32 and 37. In the five spot he provides protection for Cabrera and should see lots of RBI opportunities.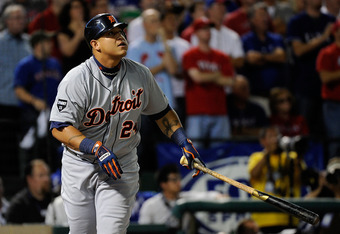 Kevork Djansezian/Getty Images
6. Jhonny Peralta SS (.299 BA, .345 OBP, 21 HR, 86 RBI, 68 R) Peralta played better defensively at short than anticipated. He brings a solid bat with good pop to the bottom half of the lineup.
7. Alex Avila, C (.295 BA, .385 OBP, 19 HR, 82 RBI, 63 R) Avila became an all-star in 2011, and I would expect more of the same in 2012. He'll play fewer games, probably closer to 130 than the 141 he logged in 2011, but I would expect the production to be about the same. Avila is also a very good defensive catcher, which is a big plus.
8. Ramon Santiago, 2B (.260 BA, .311 OBP, 5 HR, 30 RBI, 29 R) The Tigers don't view Santiago as a full-time player. If he were faster he probably would be, but he's an excellent fielder, and with Fielder playing some first base it will help to have some range at second. Ryan Raburn will also get some time at second and he has the potential to hit a lot more, but defend a lot less.
9. Brandon Inge, 3B (.197 BA, .265 OBP, 3 HR, 23 RBI, 29 R) Inge was horrible at the plate in 2011. In his defense, he was sick (mono), which he didn't treat soon enough, and than it took a long time for him to recover. Inge reportedly has added 15 pounds of muscle this offseason and is feeling as strong as he has in years. While his bat is a huge question mark, his defense is not. He is still a good/excellent defender at the hot corner. This will most likely be his last year in Detroit, especially if the bat doesn't rebound.
Bench. Don Kelly (.245 BA, .291 OBP, 7 HR, 28 RBI), Ryan Raburn (.256 BA, .297 OBP, 14 HR, 49 RBI, 53 R), Andy Dirks (.251 BA, .296 OBP, 7 HR, 28 RBI, 34 R), Gerald Laird (.232 BA, .302 OBP, 1 HR, 12 RBI).
*It's possible Leyland will decide to flop Avila and Peralta.

2012 lineup version 2.0
1. Austin Jackson.
2. Brennen Boesch
3. Miguel Cabrera
4. Prince Fielder
5. Jhonny Peralta
6. Delmon Young
7. Alex Avila
8. Ryan Raburn/Ramon Santiago
9. Brandon Inge
I like Peralta in the six spot because he's a better contact hitter and is good at driving in runs. If Young is playing like he did in the LDS, then he'll bat fifth.
2013 lineup with Cabrera moving to third base and Victor Martinez at DH. Assuming Young is allowed to leave as a free agent.
1. Austin Jackson
2. Brennen Boesch
3. Miguel Cabrera
4. Prince Fielder
5. Victor Martinez
6. Alex Avila
7. Jhonny Peralta
8. Santiago/Raburn/Worth
9. Andy Dirks