MLB Free Agency: Why the Rays Forced the Tigers' Hand on Prince Fielder
January 27, 2012

Ronald Martinez/Getty Images
Barring a massive lottery win by Stuart Sternberg, Andrew Friedman or Joe Maddon, Prince Fielder was never going to suit up for the Rays.
However, I do not believe it is at all out of the question that the Rays' signing of Carlos Pena directly lead to an impulse decision by Tigers (and Red Wings) owner Mike Ilitch to sign off on Prince Fielder's mega-contract.
When the news broke that incumbent Tigers DH Victor Martinez would miss most, if not all, of the 2012 season, speculation started running wild. While most of the major bats were off the market, there were options. Johnny Damon and Carlos Pena could have made returns to Detroit, and these seemed the most logical moves.
The Tigers, who were supposedly in on Matt Garza and Aramis Ramirez earlier in the offseason, were clearly in a position to make a move in the A.L. Central. While they were already the favorites to win their division, a big move to put them on par with the best of the American League seemed inevitable for the Tigers.
But nobody could have seen the Fielder signing coming.
While many thought Theo Epstein, the President of Baseball Operations for the Chicago Cubs, would make a run at Fielder to make a big splash, Epstein said they were committed to career minor leaguer Bryan LaHair at first, and traded for Anthony Rizzo.
Washington appeared to be a potential suitor, but they have two MLB-worthy players at first in Adam LaRoche and 2011 breakout Michael Morse.
Seattle seemed like a logical fit, but they don't have the money.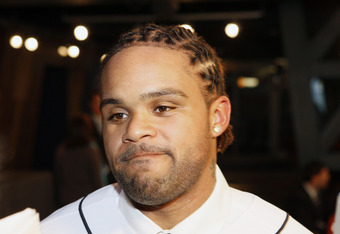 Jorge Lemus/Getty Images
The Marlins were another logical possibility, as Fielder wanted to play near his home in Florida. But the Fish didn't show too much interest in Fielder.
If anything, the Fielder sweepstakes seemed a bit odd. There was no true suitor for him. All the largest payroll teams were set at first once Albert Pujols left for the Angels. It seemed a foregone conclusion that the Nationals would likely wind up with Fielder, as the Nats are somewhat of a haven for Scott Boras clients.
Surely the Tigers weren't in it for the big fish. Pena or Damon seemed the likely targets, though neither fit perfectly. Pena likely would have forced Cabrera to DH or third, and Damon isn't a prototypical DH type. With the news of V-Mart's injury coming so late, the Tigers were seemingly forced into fitting a square peg into a round hole.
However, with Pena being the likely candidate, and Rays' GM Andrew Friedman realizing this, he swooped in and offered Pena a larger paycheck to come back to Tampa Bay, where he's had the most success in his career. He accepted the one-year pact, which left the Tigers in a tough spot.
Tigers' owner Mike Ilitch, not one to be outdone, realized that he had to make a big move, if an impulsive one.
Having seen the successes of the Red Wings and the oh-so-close calls of the Tigers, he opened the checkbook and went big. He grabbed the slugging Fielder and brought him into the fold, significantly altering the look of his team.
As opposed to finding a stop-gap option—such as Pena—while Martinez healed, Ilitch went for the home run, adding massive firepower to the Tigers' lineup for years to come. There were options like Johnny Damon, Manny Ramirez, Hideki Matsui and even a return of Magglio Ordonez, but Ilitch went for it all.
But whether he would have made that same move had Andrew Friedman not signed Pena will remain a mystery forever.