Prince Fielder Signs with Tigers: Fielder-Cabrera and 10 Best 1-2 Punches Ever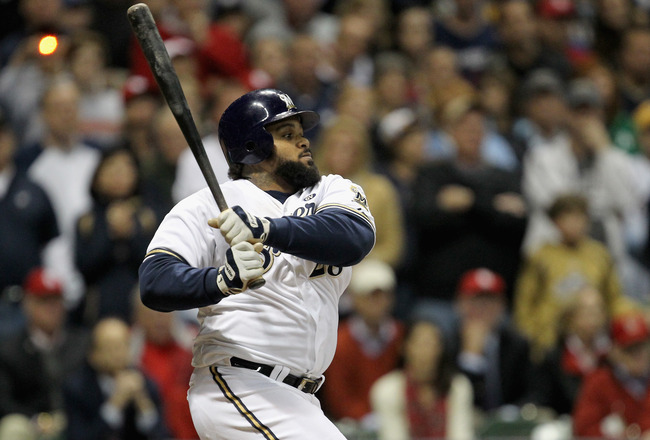 Jonathan Daniel/Getty Images
Prince Fielder has agreed to a nine-year, $214 million contract with the Detroit Tigers, according to Jon Heyman of CBS Sports. He will become the Tigers' first baseman, with Miguel Cabrera moving into the DH role in the absence of injured Victor Martinez.
This is an earth-shaking move, for a number of reasons.
Competitively, it puts the Tigers in position to battle the AL elite, which had been the Texas Rangers, New York Yankees, Tampa Bay Rays, Boston Red Sox and Los Angeles Angels of Anaheim. Logistically, it changes the landscape of the Tigers roster, especially when Martinez returns in 2013.
Historically, though, the deal is interesting as the Tigers now have one of the best slugging tandems in MLB history in the middle of their lineup.
One is left-handed; one is right-handed. One will turn 28 in May; one will turn 29 in April. The sheer excellence of this pairing makes them as fascinating as they are dangerous. Here are the 10 best tandems in big league history when it comes to bludgeoning the ball in their prime.
10. Duke Snider & Gil Hodges, Brooklyn Dodgers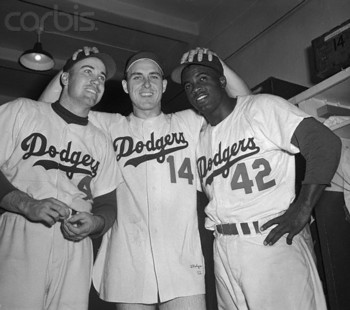 Choosing just one combination out of the amalgam of Duke Snider, Gil Hodges, Roy Campanella and Jackie Robinson from the early 50s is a tough proposition.
Certainly, Campanella and Robinson rose to higher heights than Hodges, and were much more well-rounded players.
The duo most akin to Fielder and Cabrera's power profile and raw offensive production, though, was Snider and Hodges in 1954.
That year, Snider went berserk, slugging 40 home runs, 39 doubles and 10 triples en route to an OPS (on-base plus slugging percentage) 71 percent better than the league average. Hodges hit 42 homers that season himself.
9. Ryan Braun & Prince Fielder, Milwaukee Brewers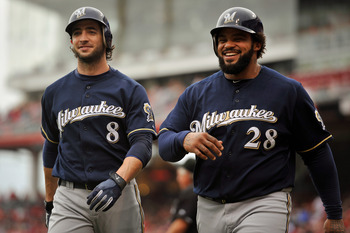 Jamie Sabau/Getty Images
One of the arresting things about Fielder teaming up with Cabrera is that it's not the first historic pairing in which he has been part.
Until now, he has played for the Milwaukee Brewers, and that meant sharing the heart of the order with Ryan Braun.
Braun, of course, now faces the possibility of a PED-related suspension, but in five seasons, he has racked up 161 home runs.
In 2011, he posted a .994 OPS, and won the NL MVP award. Fielder, meanwhile, has 200 home runs over the last five seasons, and walked 107 times against 106 strikeouts in 2011.
8. Willie Mays & Willie McCovey, San Francisco Giants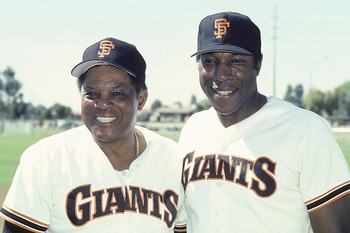 It wasn't only McCovey and Mays in the early 60s.
The Giants also had Felipe Alou and Orlando Cepeda in place, but those two did not pose the same sort of threat to Mays and McCovey as Robinson and Campanella to did Snider and Hodges.
Mays and McCovey share the mantle of the Giants' most lasting icons. AT&T Park, after all, sits on Willie Mays Plaza and borders McCovey Cove.
In 1963, the outfield duo combined for 82 home runs.
7. David Ortiz & Manny Ramirez, Boston Red Sox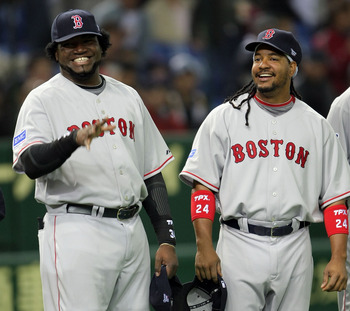 Koichi Kamoshida/Getty Images
The power and plate discipline these two sluggers demonstrated for years in Boston was surpassed only by their gregariousness and their egos.
They had fun first, and beat the snot out of the baseball second. There was no third.
Ramirez and Ortiz led the Sox to two World Series titles in five-and-a-half seasons. Their best tandem act probably came in 2006, when they combined for 89 home runs, 219 walks and a .424 on-base percentage.
6. Prince Fielder & Miguel Cabrera, Detroit Tigers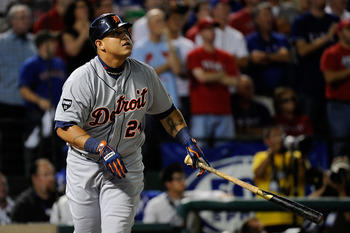 Kevork Djansezian/Getty Images
At the outset of this winter, this deal looked completely infeasible. Cabrera and Martinez were locked into the only two positions Fielder could play, and neither was going anywhere.
The Tigers also needed to address their pitching staff, or at least their outfield, before considering such a deal.
Then Martinez got hurt, and everything changed. By whatever small amount, the Kansas City Royals improved this winter, and the Yankees, Rangers and Angels all took huge steps forward.
The Tigers could ill afford to go into 2012 with the roster as it stood sans Martinez, and still expect to compete for anything in the vicious AL.
This move might mean Cabrera will play a bit of his old position, third base, but more than likely, it simply means this: Instead of the best hitter in baseball and a good supporting cast, the Tigers now have the best hitter in baseball, the fifth-best hitter in baseball, and a good supporting cast.
This lineup could score 900 runs or more, and Fielder might reach base 45 percent of the time in Detroit.
5. Joe Morgan & Johnny Bench, Cincinnati Reds
Johnny Bench had already breezed by his true prime by the time Joe Morgan established himself with the Big Red Machine in 1975, but one could have forgiven the National League for feeling less than comforted.
That season, Morgan batted third most of the year. He batted .327/.466/.508 and stole 67 bases. He was a terror because it was all but impossible to keep him off the bases, then all but impossible to keep him from scoring once he reached.
Bench spent most of the season batting fourth—hardly a relief for opposing pitchers. Bench clubbed 28 home runs, batted .283/.359/.519, and even swiped 11 bases without being caught in a single attempt.
Morgan and Bench shared the lineup with Pete Rose, Tony Perez and George Foster, so they're rarely considered in isolation. But in isolation, they were a very fine pair.
4. Ken Griffey, Jr. & Alex Rodriguez, Seattle Mariners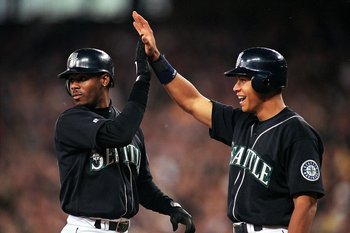 Otto Greule Jr/Getty Images
In no single season were Ken Griffey, Jr. and Alex Rodriguez a better pair than one of the two plus Edgar Martinez. Still, given their full body of work in five seasons co-terrorizing the American League, the two were more devastating than Martinez.
Griffey was all about power. He drew enough walks to make pitchers get the ball into the strike zone occasionaly, but a huge part of his offensive value (especially by the time Rodriguez joined him in the big leagues) was concentrated in his sweet, lofting swing, and the 50-homer power it generated.
Rodriguez, meanwhile, swatted 42 home runs in 1998, but for the most part, his value came from his ability to hit for very high averages, draw walks and steal bases.
He was only 20 in 1996, when he won his first batting title with a .358 average and .414 OBP. His 40-homer, 40-steal season came in 1998.
3. Mickey Mantle & Roger Maris, New York Yankees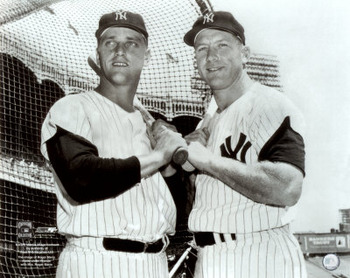 Though short-lived, the partnership between Roger Maris and Mickey Mantle was one of the best ever.
In both 1960 and '61, the two men finished in the top two spots when it came to American League MVP voting. (Maris won both times.)
In those two seasons, they combined for 194 home runs, 480 runs and 475 RBI.
Those numbers are just part of their value and story, of course, but they so illustrate the historic greatness of the M&M Boys. The home run race is only part of their legacy.
2. Hank Aaron & Eddie Mathews, Milwaukee/Atlanta Braves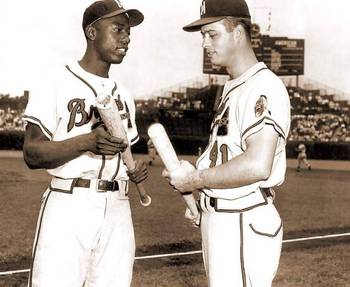 Not many relationships survive a move, especially one of over a thousand miles. The one between Hank Aaron and Eddie Mathews did, at least for a year.
They played 13 seasons together in total, all but one of them for the Milwaukee Braves. A year after the team moved to Atlanta, Mathews was traded. Still, they had a good run.
In 13 years as Mathews' teammate, Aaron hit .317/.375/.564 with 442 home runs. He won an MVP award in 1957, and had every right to two others. Mathews hit .273/.381/.513 with 421 home runs, and won four walks titles along the way.
The Braves had a winning record in all 13 seasons, won a World Series, lost a World Series, and lost 85 games its first season without Mathews.
1. Babe Ruth & Lou Gehrig, New York Yankees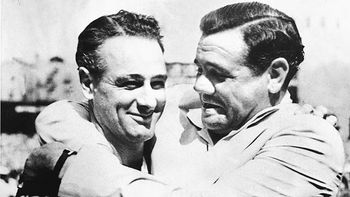 It's not close.
Lou Gehrig and Babe Ruth shared the New York Yankees lineup from 1925-1934, and during those 10 years, the Yankees won three World Series titles.
Gehrig hit 347 home runs, drove in an average of 144 runs per season, hit .343/.444/.643, and won an MVP award. Ruth hit 424 homers, averaged over 130 RBI per year, and batted .338/.469/.677.
They completely ruled baseball.
If Fielder and Cabrera can replicate anything remotely close, the Tigers will be the new MLB dynasty.
Keep Reading

Detroit Tigers: Like this team?