Oklahoma Football Recruiting: 5 Positions the Sooners Don't Have to Fill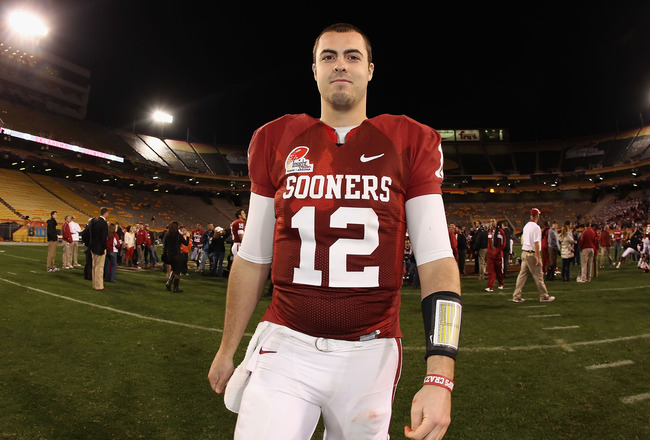 Christian Petersen/Getty Images
After finishing 10-3 with an Insight Bowl victory over the Iowa Hawkeyes, the Oklahoma Sooners are now preparing to learn from last season's mistakes and improve as a whole.
However, before the Sooners strap the helmets back on for spring practices, there is another day of utmost importance: National Signing Day.
Come Feb. 1, the Sooners will know exactly who will be signing on to play next season. With an already impressive Top 10 recruiting class, the Sooners are still looking to add some key players to their squad, such as top-ranked wide receiver Dorial Green-Beckham.
Oklahoma is filled to the brim with talent, but what positions could the Sooners get away with next season without filling during recruiting?
I'll give you a hint: No secondary positions are going to be in this list.
Wide Receiver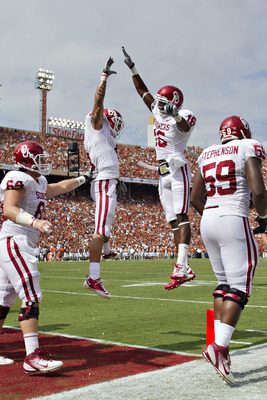 Wesley Hitt/Getty Images
There's no doubt that the loss of All-American wide receiver Ryan Broyles is going to hurt. That impact was felt during the last three games of the Sooners regular season.
However, even with Broyles gone, the Sooners still have a more than impressive group of wide receivers to put on the field.
Soon-to-be junior wide receiver Kenny Stills is the easiest choice to replace Broyles' production, but fellow soon-to-be junior wide receiver Jaz Reynolds is coming off a breakout season that really displayed his talent.
Also returning are all-purpose back Trey Franks and soon-to-be sophomore wide receiver Kameel Jackson. Jackson showed a lot of promise down the stretch of the season, as he was asked to step up and take a larger role in the offense while Broyles was out with his injury.
With the Sooners already four-deep at wide receiver, the additions of 5-star wide receiver Trey Metoyer and 4-star wide receivers Sterling Shepard and Durron Neal are going to make this receiving corps hard to deal with.
Quarterback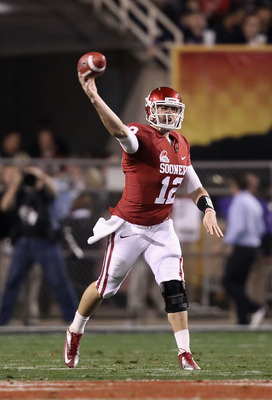 Christian Petersen/Getty Images
Quarterback was a position that many believed would be in question next season at Oklahoma. That was laid to rest as soon as Landry Jones decided it would be a good idea to return for his senior season.
With Jones back in the mix, the Sooners are once again sitting pretty at quarterback. Jones will be the starter with Drew Allen and Blake "The Belldozer" Bell backing him up.
Allen was the second-string quarterback this past season, but it was Bell who got the most playing time of the two. Bell's starring role in the Wildcat package made the Sooners a tough team to defend in the red zone, and that will likely continue next season.
The Sooners didn't really need an addition at quarterback, but getting 4-star quarterback prospect Trevor Knight to verbally commit isn't exactly going to be frowned upon.
Defensive Tackle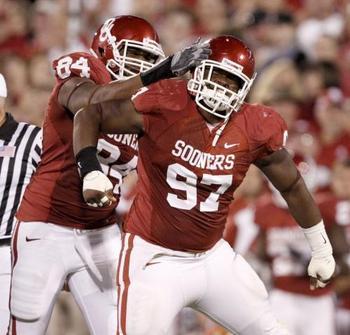 Losing defensive end Frank Alexander to the NFL draft is certainly going to impact the defensive line, but the defensive tackle position is still stacked.
Jamarkus McFarland, Casey Walker and Stacy McGee (all of whom saw the majority of the snaps this season) are all juniors returning for their senior year.
Also in the mix next season will be three recruits from the 2011 class who were all rated with 4-stars Marquis Anderson, Jordan Phillips and Jordan Wade.
At 6'6" and 329 pounds, Phillips may be the most impressive to watch and look at, but Sooner fans might be most excited about Wade's emergence in Norman.
Even though Wade was a commitment from the 2011 recruiting class, he wasn't able to enroll at OU until this month due to academic ineligibility. Wade was graded the highest of the three recruits (81), according to ESPN.
Offensive Line
Ronald Martinez/Getty Images
The line loses left tackle Donald Stephenson to the NFL draft, but four starters remain intact, including All-American hopefuls Gabe Ikard and Ben Habern.
Oklahoma had one of the most impressive offensive lines in all of college football last season. The Sooners only gave up 10 sacks on the year, which is even more impressive considering quarterback Landry Jones threw the ball 562 times.
Red-shirt freshman Tyrus Thompson is the likely candidate to take over for Stephenson, but fellow red-shirt freshman Daryl Williams could slide over to the left side of the line and give Thompson a run for his money.
The Sooners still have guard Adam Shead and tackle Bronson Irwin to play as backups, as well, and those are just the "big names" still around. The Sooners still have recruits from last 2011 itching to play, such as Derek Farniok, a monstrous 6'9" 315-pound tackle from North Dakota.
No matter how you look at it, this group of offensive linemen is really deep, and on top of that, the Sooners have the nation's top guard and center currently committed to their 2012 recruiting class.
This group may be good for awhile.
Linebacker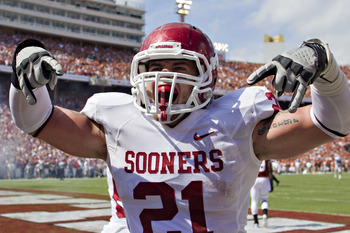 Wesley Hitt/Getty Images
Honestly, it was hard to select a fifth position that is deep enough to not need any recruiting help.
On the offensive side of the ball, the Sooners are in need for help at all the remaining positions (running back, fullback, tight end), and everyone is already aware of the need for talent and depth in the secondary.
That only leaves two positions: defensive end and linebacker. I'm giving the nod to the linebackers here, despite the fact that Travis Lewis's production will be missing.
Oklahoma's best two defensive players, Tony Jefferson and Tom Wort, will be playing the linebacker position next season. Wort will be anchoring the defense at middle linebacker while Jefferson, who plays a hybrid linebacker/safety position, will be all over the field making plays.
Corey Nelson will be filling in where Travis Lewis left off. Playing in a backup role, Nelson was able to make 60 tackles and 5.5 sacks last season.
Also returning are Jaydan Bird, Aaron Franklin, Joseph Ibiloye and Kellen Jones, all of whom saw multiple snaps throughout the year.
Keep Reading

Oklahoma Sooners Football: Like this team?