Vikings Punter Chris Kluwe Calls Skip Bayless E-Thug for Trashing Kickers
January 24, 2012

Hannah Foslien/Getty Images
Today's sports lesson of the day involves kickers: Don't question their existence, or prepare to get yelled at on Twitter.
Ravens kicker Billy Cundiff is still coping with the fact his missed kick is why Baltimore is sitting at home. He's dealt with plenty of scrutiny from a bevy of media commentators, but ESPN's Skip Bayless took it a step further with this tweet: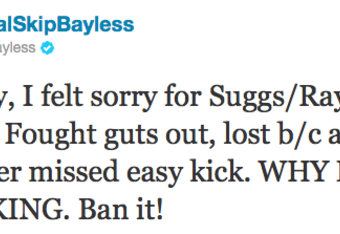 This is coming from a guy that just a few years earlier said Adam Vinatieri should be in the Hall of Fame, but we digress.
It looks like the kicking community is a tight-knit group as Minnesota Vikings punter Chris Kluwe spat back with some venom of his own, directed toward Bayless (Warning NSFW):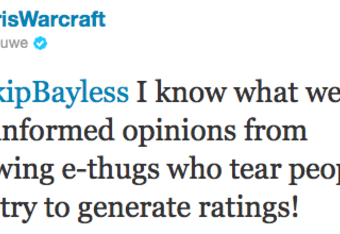 How great is the term "e-thug"? I hope we can use this term enough to get it into Webster's because that's gold. Kluwe also had a tweet full of explicit language that suggested Bayless should "French kiss a flamethrower."
Kluwe is protecting a member of the kicking community like he was his own teammate because he understands the pain that comes from doing your job right 50 times in a row only to mess up once and have everybody remember the one mistake.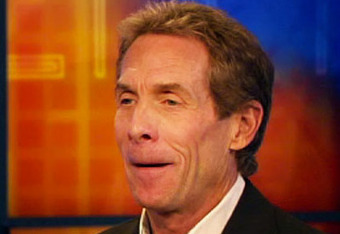 On Monday, Kluwe spoke with TwinCities.com to clarify his comments and he did not back down what-so-ever:
For him to call someone a nonplayer, it's insulting to us who work at what we do. I've responded to a couple of his other posts. I know it's part of what he does to get ratings for his show. It's flat-out ignorance.
Well, he has a point. Bayless has seemingly pissed off every athlete (aside from Tim Tebow) at some point over the years and players are less than thrilled about it. The fact he has zero athletic background certainly doesn't help either.
Kudos for Kluwe for sticking by his tweets and not playing the "my account got hacked" card that so many athletes pull these days. Let's hope he's onto something with the whole "e-thug" line.