Toronto Maple Leafs: Trade Speculation and Team Needs
January 25, 2012

Jim McIsaac/Getty Images
Coming off an important 4-3 overtime win over the New York Islanders, the Toronto Maple are currently in need of more consistent hockey after NHL All-Star break.
The Leafs are sitting on ninth spot in the Eastern Conference with a 25-19-5 record. The team is tied with the eighth place New Jersey Devils and Florida Panthers in points, however the Devils and Panthers both have one game in hand, earning them the last two playoff spots in the Eastern Conference as of now.
With 34 games remaining to their season, the Leafs will be looking to gain as many points as they can, which makes each and every game of the utmost importance. If the Leafs want to make the playoffs this season, the team must make a few changes to the roster.
General Manager Brian Burke will be looking to add a big, top-line center prior to the deadline.
Burke, an avid player within the weeks prior to the deadline, will be looking to make a deal sooner rather than later. Most moves that the Leafs made during last season occurred weeks before the deadline—they acquired defenseman and current captain Dion Phaneuf from the Calgary Flames on January 31 last year. 
After failing to sign free agent center Brad Richards during the offseason, Burke's next plan would be to sign Tim Connolly. So far, the center has recorded seven goals along with 17 helpers for a total of 24 points in 36 games this season.
The Leafs will be looking for a bit more production to help top out their first line.
It is widely speculated that Brian Burke will be an aggressive player in acquiring Anaheim Ducks center Ryan Getzlaf. The Ducks will most likely be sellers at the deadline due to a drop off from last season. They are currently in 13th in the Western Conference posting up a record of 18-22-7.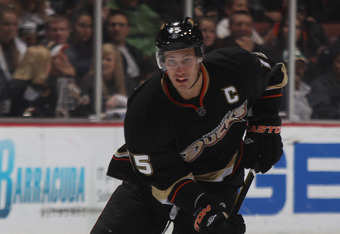 Bruce Bennett/Getty Images
The chances of the Leafs acquiring the 6-foot-4 center are fairly high due to the great relationship GM Burke has with the Ducks front office. The Leafs and Ducks have made key deals with each other, including the one that saw the Leafs adding goal scorer Joffery Lupul and young defenseman Jake Gardiner. 
However, the price to acquire Getzlaf may be high, due to their likely rebuilding mode.
If the Leafs were not to acquire Ryan Getzlaf, other centers that may be available include Buffalo Sabres' Derek Roy and Columbus Blue Jackets' Jeff Carter. However, missing out on the center-man they have been looking for would be described by GM Brian Burke as a failure.
If the Leafs are unsuccessful in obtaining the center-man that they have always wanted, it would not hurt to acquire some secondary scoring from the wings.
Earlier in the month, trade speculation began to arise about the possibilities of acquiring young power forward James van Riemsdyk from the Philadelphia Flyers.
In return, Luke Schenn was a possible asset to the trade rumor. This trade would make sense for both teams due to Philadelphia's need to acquiring depth on the back end, especially with veteran Chris Pronger out with a concussion.
However, James van Riemsdyk is currently out with a concussion as well, which may lead the Leafs to go in a different direction.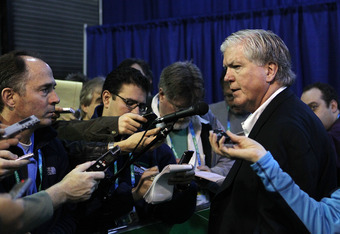 Bruce Bennett/Getty Images
Other possible wingers on the trade market include Edmonton Oilers' Ales Hemsky and Washington Capitals' Alexander Semin.
To follow along with more trade speculation around the NHL, visit TSN's trade insider.
It is safe to say that most players on the Toronto Maple Leafs roster are not untouchable unless Brian Burke is proposed with a massive deal.
However, it is unlikely that defenseman John Michael Liles will be traded due to his signing a four year contract extension that will be announced later on during today. Also consider captain Dion Phaneuf, and wingers Phil Kessel and Joffery Lupul to be untouchables.
Players that Burke would possibly be shopping include:
27-year-old center Mikhail Grabovski
30-year-old center Tim Connolly
25-year-old center Tyler Bozak
25-year-old winger Nikolai Kulemin
26-year-old winger Clarke Macarthur
21-year-old forward Nazem Kadri
22-year-old defenseman Luke Schenn
22-year-old defenseman Keith Aulie
Early-round draft picks
Prospects
The names that stand out on the above list that would be appealing to most NHL teams include Grabovski, Kadri and Schenn.
Grabovski could fit in as a solid second-line center for any team that would be contending for a Stanley Cup. The 27-year-old center-man would also fit in well with a rebuilding team, as he still has a lot of hockey left in his career.
Claus Andersen/Getty Images
Defenceman Luke Schenn would be a bonus to any team's blue line in the NHL, whether the team is looking to contend or to rebuild with young players.
At age 23, Luke Shenn is already logging big minutes on the blue line and is able to shut down some of the leagues top stars.
Nazem Kadri is still young and still has to figure out how to play consistent hockey at the NHL level. With the need of acquiring a big first line center-man as well as the surplus of center-man on the NHL roster, Nazem Kadri would benefit more in his career on a rebuilding team.
Nikolai Kulemin may also come to interest for some NHL teams.
Still young at age 25, the Russian winger has a long career ahead of him. However, Kulemin has had a significant drop off from last season's 30-goal year. So far this season, he has suited up for 49 games recording only five goals along with 15 helpers for a total of 20 points.
Despite the significant drop off, Kulemin still has a lot of potential for the future, as he has proven in the past. Kulemin is also a great defensive forward, recording regular minutes on the penalty kill.
As was said previously, most Leafs on the roster are not untouchable. Therefore any of the above names could be traded.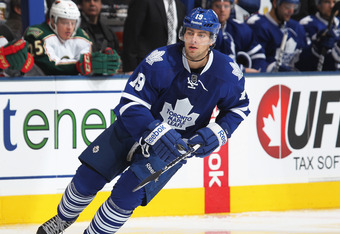 Claus Andersen/Getty Images
General Manager Brian Burke is not about to give away players, though. The deal must be right for the Toronto Maple Leafs to add to a team trying to make a successful playoff push as well as for a good future.
The Maple Leafs success so far this season can be directed towards the elevated play of All-Star wingers Phil Kessel and Joffery Lupul who have recorded 51 and 52 points, respectively, in 49 games so far this season.
In order for the Leafs to stay in the playoff picture, these wingers need to continue their consistent efforts.
To make the Leafs playoff push even more of a success, one of their bigger needs is secondary scoring. If Kessel and Lupul are having an off night, the Maple Leafs depth players need to pick up their game.
These players include Tyler Bozak (7 goals, 19 assists, 26 points in 40 games) Tim Connolly (7 goals, 17 assists, 24 points in 37 games) and Clarke Macarthur (14 goals, 10 assists, 24 points in 42 games).
These three forwards are on pace to finish this season with approximately 45 points each. If they can elevate their game to finish the 2011-12 NHL season with 50-60 points, the Leafs' chances at making the playoffs are that much greater.
The Toronto Maple Leafs will also need goaltender Jonas Gustavsson to continue his recent success. It seems like the Monster has taken over the number one job from James Reimer.
Reimer was supposed to lead the Leafs to greatness this season after coming off a hot ending to last year's campaign. However a concussion suffered earlier in the season hasn't been sitting well with the net-minder who hasn't found the same edge he did during the first few games of the season.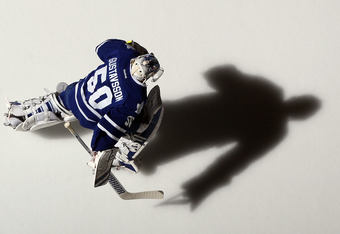 Jim McIsaac/Getty Images
In the mean time, Gustavsson will be holding the reins together in the Maple Leaf's crease posting three shutouts in the month of January.
His hot play in the net will have to continue for the Leafs playoff push. If Gustavsson were to break down during the second half, the Leafs will be calling on Reimer to pursue last year's heroics.
Ranked last in the NHL so far this season, the Maple Leaf's penalty kill will be looking for improvement after the NHL All-Star break.
On a positive note, the Leaf's PK has improved in the new year, as they have not allowing a single power play goal in eleven straight games. The last allowed power play goal was scored on December 29 by Carolina Hurricanes' center Eric Staal.
The Leafs must keep improving their penalty kill be a reasonable contender for the playoffs.
When wingers Phil Kessel and Joffery Lupul come back from the All-Star festivities in Ottawa this weekend, the team must get back to work and continue the push for the playoffs.
If GM Brian Burke can make a trade or two that helps improve the Maple Leafs while continuing on with their hard-nosed effort, the team should have no trouble making the playoffs for the first time since the NHL lockout in 2004-05.
All in all, the Toronto Maple Leafs have a bright future ahead, if all goes well.
Brian Burke will make sure that it does.