Yoenis Cespedes: The Latest and Why the Chicago Cubs Are Perfect Fit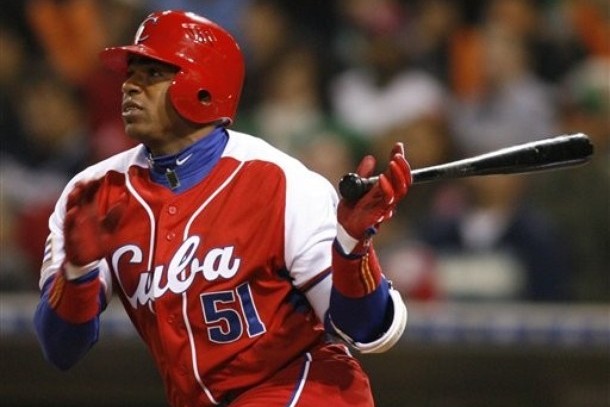 Yoenis Cespedes is the most coveted international prospect this year.
Teams are stockpiling information on the 26-year old Cuban and are beginning the early stages of negotiations.
It was reported Tuesday by MLB.com that Cespedes has established residency in the Dominican Republic, clearing a major hurdle in the free-agency process.
The Cubs are going through an overhaul and they would be foolish not to make a play for him. He is the type of player that could make an immediate impact for the Cubs.
If they do sign him, it could mean the beginning of the end for Alfonso Soriano, who they shopped this winter.
The Cubs and Cespedes could be a perfect match, but there are factors on both sides that should be considered.
Let's get caught up with the latest on Cespedes and why he is a match for the Cubs.
Begin Slideshow

»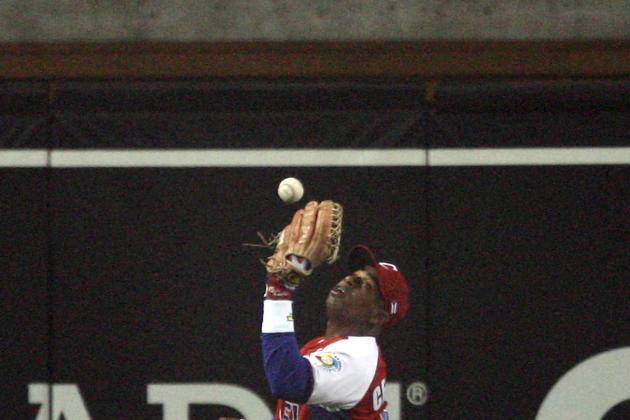 Donald Miralle/Getty Images

MLB.com's Jesse Sanchez is reporting that Cespedes has been granted free agency by Major League Baseball.
It was unclear how long it was going to take Cespedes to establish residency in the Dominican Republic, considering the same process delayed the arrival of Kendrys Morales and others like him before.
When it did not happen by the anticipated date of January 15th, teams started to worry that the process would carry on longer than expected.
Fortunately, that news came Tuesday night.
The news could not come at a better time for MLB, as Prince Fielder is now officially off the market and Cespedes becomes one of the best offensive free agents available.
Talk about maximizing your value. The Cespedes camp could not have asked for better timing with all of this.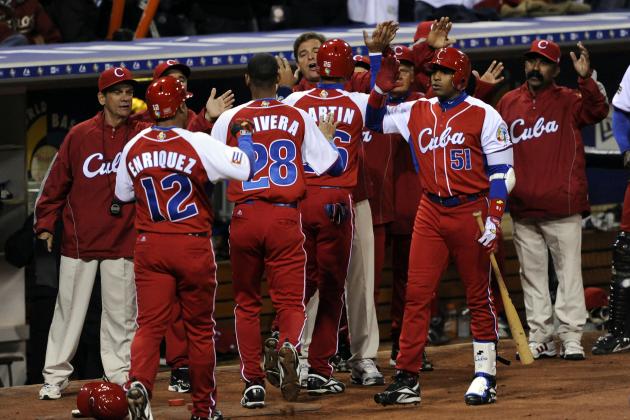 Kevork Djansezian/Getty Images

The Cubs are reportedly his most aggressive suitor.
Yet, the Marlins are reportedly going to go very hard for him, and the White Sox, Orioles, Indians and Nationals may all enter the mix from Prince Fielder fallout.
The Tigers were also scouting him, but are likely out of the race with Fielder in the fold.
However, their owner has shown a willingness to spend now, so you cannot rule them out entirely.
He is definitely seeking a contract north of the $30.25 million the Reds gave Aroldis Chapman.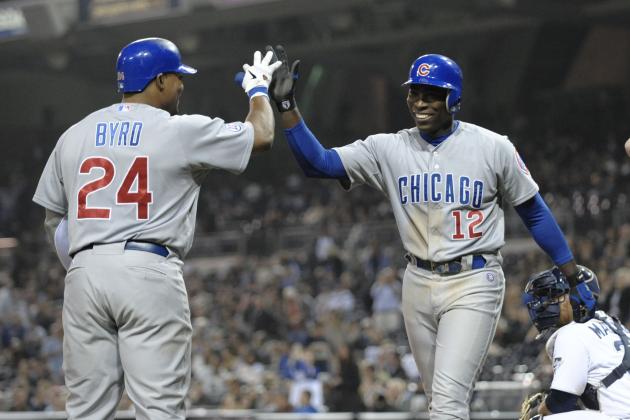 Denis Poroy/Getty Images

The Cubs outfield has more than a few questions marks.
Alfonso Soriano, Marlon Byrd and David DeJesus is not the best combination by any means, but there are options in the minors and all three players have shown bursts of All-Star-caliber baseball in the past.
The Cubs currently have Brett Jackson in the minors. He will likely start at Triple-A, where he finished the year hitting .297 with 10 home runs and a .388 OBP in 48 games.
Adding Cespedes would give the Cubs two young options in the outfield, both capable of playing all three positions. Cespedes will likely struggle getting used to the ground conditions at Wrigley.
Playing the outfield in Wrigley Field is actually quite difficult. The combination of the sun and the wind give outfielders some trouble. And it doesn't help that the majority of games on the North Side are day games.
If Cespedes can be successful, he can take time away from Soriano and give the Cubs a reason to trade him.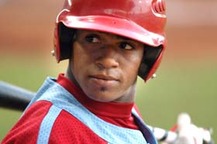 Cespedes has been nothing short of an on-base machine playing in Cuba.
He has averaged a .321 batting average over seven seasons between 2004-2011. He also averaged 84 runs since 2005.
He performed very well on the international stage, hitting .458 with four extra-base hits and two home runs in the 2009 World Baseball Classic.
He could be a major asset to any team and he is coming at a reduced price compared to if he had put those kind of numbers up in the major leagues.
It is a risk, but it is a step toward the future that could pay huge dividends in 2012 and beyond.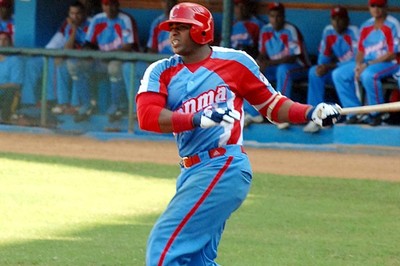 The Cubs have made several signings in the international market, signing a handful of Cuban prospects already. The difference between Cespedes and any of the guys the Cubs signed is that he will be ready to play in 2012 and could make an impact as early as 2012.
The players the Cubs signed (and players they are scouting, like Jorge Soler) are cheaper, but will spend the next several seasons in the Cubs minor league system, if not wash out before ever smelling the major leagues.
Cespedes is going to be pricey, but not nearly as expensive as the big names on the market this offseason. It is a risk that could prove to yield nothing, but for the Cubs, adding more depth with the potential of being an everyday player will help their overriding agenda.
Jason Miller/Getty Images

There are three Cuban defectors worth noting that fall into the same realm as Yoenis Cespedes. The two closest comparisons are Angels DH Kendrys Morales and White Sox outfielder Dayan Viciedo, with White Sox shortstop Alexei Ramirez as third comparison.
All have experience playing in the Cuban league and have had success in professional baseball.
Viciedo's numbers are murky, but he has two seasons between 2004-2005 in which he showed major improvement. He hit .337 with 14 home runs in his second season, leading to reaching the WBC roster in 2006, although he did not make the final cut.
Some projected him as a 30-plus home run guy, but so far he has not played a full season in the majors. He did hit 20 home runs in Triple-A for the second season in a row, and the White Sox hope that can translate in the pros.
Kendrys Morales was considered one of the best Cuban players in a generation, due in part to his clutch performances on the international stage.
Morales hit .324 with 21 home runs and a .390 OBP in 2002, followed by a shortened 2003 season when he hit .391 with nine home runs in 56 games.
Morales did not break out until 2009 after a few seasons of adjusting, and if it weren't for an injury in 2010, he would likely be the Angels starting first baseman.
Ramirez spent seven seasons in the Cuban league and has a career average of .335. The reason I include him in this list is because he has similar experience to Cespedes in the league, and has performed fairly well in the majors.
However, all three of the Cuban players discussed came at a significantly cheaper price than Cespedes will, and all have varying degrees of success thus far.
Tread carefully.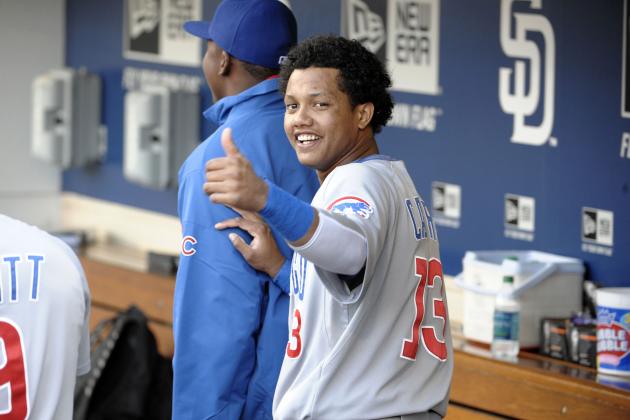 Denis Poroy/Getty Images

The NL Central is certainly up for grabs.
The Brewers and Cardinals have taken considerable blows this offseason, adding oft-injured players to replace star power.
The Reds will be looking to regain some territory in the NL Central, but pitching has always been a question mark and Dusty Baker has never been an expert at managing starting pitching.
The Cubs have a lot of young potential, and adding someone like Cespedes who could come in and take pressure off guys like Ian Stewart and Bryan LaHair/Anthony Rizzo, as well as helping the Cubs keep selling tickets and win some ball games.
The team was in disarray last season, attempting to get a sense of where its minor league talent stood. Now we know, or we have moved the pieces that did not perform.
It is time to seize the moment and remind teams that the Cubs are not conceding anything in 2012.