UFC Fighters Who Need to Put Up or Shut Up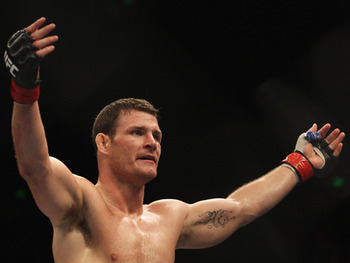 menshealth.co.uk
Mixed martial arts is arguably the most competitive sport on the planet.
If a fighter loses two consecutive fights, or maybe even one, he'll be dropped down the divisional ranks and forced to start from scratch.
Some fighters are able to battle the test of time and solidify their careers alongside greatness, such as the Anderson Silva, Georges St. Pierre and Jon Jones.
With that said, the rest of the hard-nosed knuckleheads are supplanted as either perennial contenders or undeserving pretenders.
Beyond the fact that many of these personalities would rather beat down an opponent in the media than inside the cage, here are the top 15 fighters who need to put up or shut up.
This is solely based on recent Octagon performances, title potential and the inability to reach that potential.
15. Roy Nelson
mmamania.com
It seems as if Roy Nelson is getting fatter by the fight.
Maybe that's the reason why he can't seem to capture a victory over a legitimate top-five heavyweight. Maybe not.
Either way his time inside the Octagon is running out.
With the emergence of Alistair Overeem, Fabricio Werdum and Antonio Silva, Nelson needs to start stringing together some wins before he gets swallowed whole.
14. Cub Swanson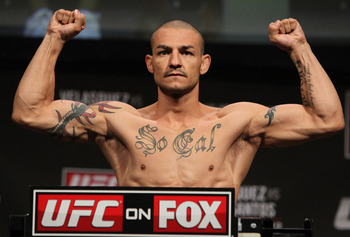 bleacherreport.com
I thought Cub Swanson was suppose to be a force to be reckoned with in the UFC. Maybe I was wrong.
Whatever seems to be the problem, Swanson has yet to correct it.
The 28-year-old looked average at best in his UFC debut in November in a defeat to Ricardo Lamas via submission.
At this point Swanson should no longer be considered a budding star. His success over the past three years has been hampered by his inability to finish fights against top contenders.
Something that doesn't bode well for a guy that used to be considered one of the best featherweights around.
13. Dan Hardy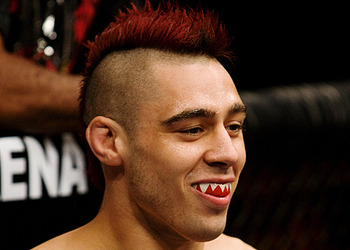 fighter-magazine.com
It's officially time to consider Dan Hardy on the UFC chopping block.
Since his title bout with Georges St. Pierre at UFC 111, which now seems like a complete and utter mistake, Hardy hasn't won a fight.
That's four losses in almost two years. Zero wins. Not the kind of production you'd expect from one of the best KO specialists in the welterweight division.
Granted he has faced some of the best fighters at 170 lbs, but the fact of the matter is the guy hasn't even scratched the surface of the potential that he once possessed.
12. Anthony Pettis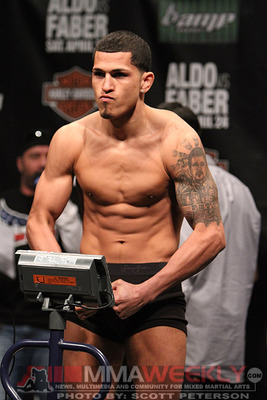 mmaweekly.com
Isn't Anthony Pettis the dude who landed a spinning kick off the cage on Benson Henderson at WEC 53?
Yeah he is. And chill, I knew who he was.
But seriously, wasn't Pettis suppose to be a human highlight reel in the UFC? Isn't that why his nickname is "Showtime"? Isn't that why he made his UFC debut against Clay Guida?
Maybe we've all been fooled. Maybe we're all just overreacting.
I mean the guy is still only 24. But he really needs to start finishing fight inside the cage to make any moves in the lightweight division.
11. Thiago Alves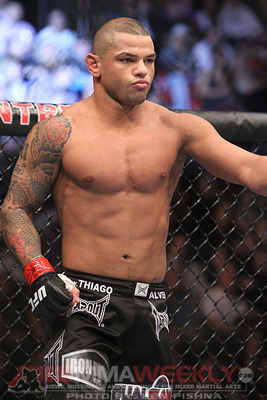 mmaweekly.com
Thiago Alves is no doubt one of the most talented fighters in the UFC.
His size and power within a sometimes shallow division makes him a borderline favorite every time around.
However, his skills have been bypassed by the inability to correctly cut weight, which often leads to Alves underperforming on the back of subpar cardio.
Similar to Dan Hardy, Alves hasn't done much in the welterweight division since dropping a title fight to Georges St. Pierre back in 2009. At this point Alves simply needs to regroup and showcase why he's consistently a top-five fighter in the UFC at 170 lbs.
A recent victory over newcomer Papy Abedi has set the veteran off on the right foot.
10. Urijah Faber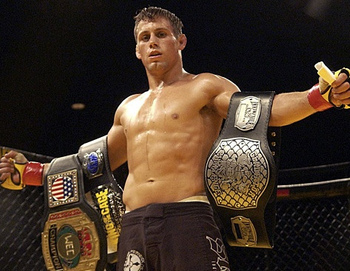 mmaroot.com
What happened to this guy, the champion?
I honestly thought Urijah Faber was going to run the UFC when it merged with the WEC's lighter weight classes.
While he hasn't become champion, "The California Kid" has done well throughout his first three UFC fights, despite losing a title fight to Dominick Cruz at UFC 132.
With that said, Faber is way too talented and way too recognizable to not be champion. Anything less should be considered an underperformance, especially in the eyes of the UFC, which has tried so hard to promote his likability to potential new fans.
He'll get one more shot against Cruz after their rival coaching debuts on FX's new installment of The Ultimate Fighter. If Faber fails to get it done his second time around, the UFC may decide to give somebody else a chance.
Do I dare mention Michael McDonald?
9. Rampage Jackson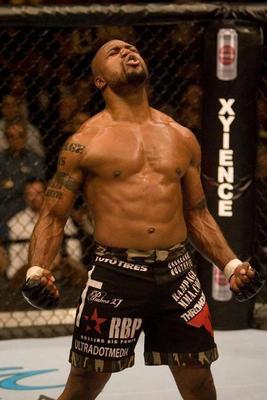 laxbrah.com
With Rampage Jackson's career seemingly coming to an end, his final few bouts in 2012 could in fact determine his UFC legacy.
Jackson exactly hasn't been the dominant force that fans predicted he'd be since coming over from PRIDE in 2007. While he was champion for just over a year, key losses to Forrest Griffin, Rashad Evans and Jon Jones have hampered his ability to top the light heavyweight division.
More importantly, Jackson has been unable to secure a KO, TKO or submission in any of his last three victories. That's something that UFC fans, as well as fans who remember Jackson's infamous KO power, can't stand to tolerate.
At this point, Jackson needs a win at the hands of his own. Knocking out his next opponent could very well grant him his last ride to a title shot.
But we all know how that would end, so the point is moot.
8. Pat Barry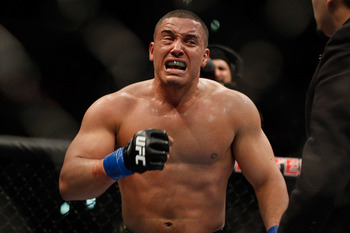 cagepotato.com
Pat Barry is one of the most unpredictable fighters in the UFC.
He definitely has the talent, but sometimes he's unable to land those devastating kickboxing techniques on taller, more well-rounded fighters.
Hence his losses to Stefan Struve due to size and his defeat at the hands of the great Mirko Cro Cop via submission.
The point here is that Barry has yet to put it all together. And while many people would argue that there's not really anything suitable left for him to patch those holes in his game, Barry has demonstrated some top-notch stand-up over his last couple of fights.
However, at the end of the day, size does matter. And Barry simply doesn't have it. I guess he'll have to show up or shut it down as a heavyweight in 2012.
I wonder if he could cut down to light heavyweight. That would be impressive.
7. Fabricio Werdum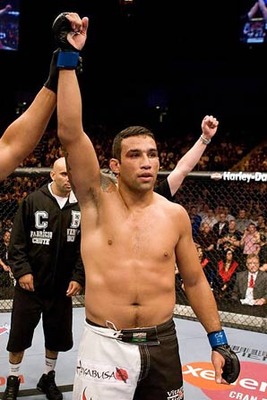 vigilantemma.com
Frankly, I don't understand why everyone is up in roar over Fabricio Werdum coming to the UFC.
I know the guy beat Fedor Emelianenko and Antonio Silva, but people tend to forget that Werdum already tested the waters as a heavyweight in this organization back in 2008.
Now while he didn't get dominated on a fight-to-fight basis, Werdum's success in the Octagon was simply 50-50. Hardly the kind of record that a future champion touts. Right?
I don't know. Maybe I'm being bias because he's coming over from Strikeforce.
But for Werdum and fans who think he's going to make a run at the title sometime this year, let's sit back and see what he does in his first fight.
Because as far as I'm concerned, Werdum needs to put up or his hype needs to shut up.
6. Forrest Griffin
themartialarts.ca
O where, o where has Forrest Griffin gone?
Seriously. Does anybody know?
Griffin has gone from UFC stardom to literally contemplating retirement. The guy who basically put the UFC on the American mainstream map, with his Ultimate Fighter Season 1 finale against Stephan Bonnar, has seemingly fallen off the face of the earth.
The last time Griffin was part of anything memorable was his collapse at the hands of Anderson Silva at UFC 101.
It's simply odd. It's not like he's too old (32) or has lost the will to fight. It just seems as if shear talent has passed him by.
Griffin was never the most balanced fighter in the UFC. And with more diverse strikers and better wrestlers coming into the light heavyweight division, such as Jon Jones, Shogun Rua and Phil Davis, Griffin has basically been fed to the wolves.
2012 is no doubt the last year that Griffin will have to prove his worth at 205. It's time to put up or retire.
Oops. I mean shut up.
5. Rashad Evans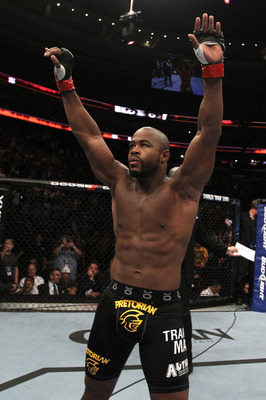 mmafrenzy.com
The time is now for Rashad Evans.
He has one more fight to prove that he deserves to be considered the UFC's No. 1 light heavyweight contender.
But despite popular belief, Evans will have his work cut out for him at UFC on FOX 2 against the undefeated Phil Davis.
It will be the first time in his career that he's facing a fighter with a more prestigious wrestling background.
It will be the third time that Evans has the chance to hand his opponent the first loss of his career (Michael Bisping at UFC 78 and Lyoto Machida at UFC 98).
Barring a victory, it will be the third time in his career that he'll be preparing for a UFC title fight.
Whichever milestone he decides to follow or break, it could be his last chance for greatness.
4. Josh Koscheck
vegasnews.com
There's not much to say about Josh Koscheck.
He's easily been a top-15 fighter in the UFC for the majority of his career, but has failed to do one thing.
Overtake Georges St. Pierre for the welterweight title.
And now with the emergence of Carlos Condit and Nick Diaz as major contenders, one of whom is on the verge of becoming the interim champ, Koscheck has fallen behind the pack.
With that said, the outspoken veteran is still hungry enough to once again contend for UFC gold. He still has a chance to prove that excellent wrestling and one-punch KO power can still prevail in a diverse division.
However, Koscheck is not getting any younger, so the time to make his move is now. That starts with Mike Pierce.
3. Nick Diaz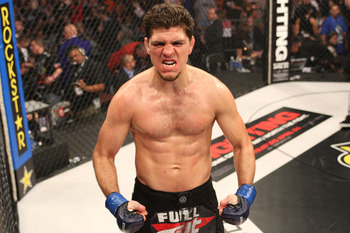 urdirt.com
Nick Diaz is one of the most outspoken fighters in the UFC today.
While that often makes him a very quotable guy for the media and fans alike, it also puts unnecessary targets on his back.
The latest one coming via Carlos Condit.
Diaz now has to prove that he can contend with the top fighters in the UFC welterweight division, not Strikeforce's.
Diaz also has to prove that his second stint in the organization is going to produce gold. Whether that's interim tin or an eventual destruction of Georges St. Pierre has yet to be decided.
At least he talks the talk. Now can he walk the walk.
2. Chael Sonnen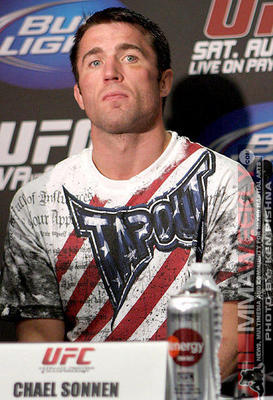 mmaweekly.com
Chael Sonnen has become arguably the most popular MMA fighter in the world, for good or bad.
His outlandish antics in the media, in the ring, and anywhere else there's a camera and fans have led to the power wrestler commanding respect and hatred from his peers.
The most important one being Anderson Silva.
We all the know the destructive path Sonnen has been on since he lost to Silva at UFC 117, so there's no need to dive head-first into that one.
However, Sonnen now has to beat one more guy to get that middleweight title rematch he so wholeheartedly believes he deserves.
Because if he loses, it'd be downright embarrassing. Good luck, Chael.
1. Michael Bisping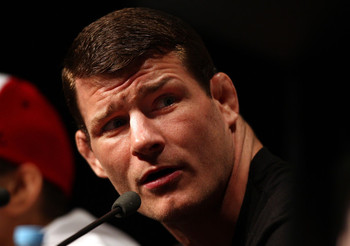 zimbio.com
That leaves us with this guy.
One of the most popular international fighters to date, Michael Bisping has portrayed a "bad boy" image that many don't take kindly to.
His time as a head coach on The Ultimate Fighter further encapsulated his brash personality and sometimes overbearing British-ness.
However, on the heels of a Mark Munoz injury, Bisping has been granted the opportunity to put his hands where his mouth is and try to beat Chael Sonnen for the rights to face Anderson Silva.
And as much as he'd like to believe he has a shot at beating either one of those guys, it's probably not going to happen. That's like Eli Manning beating Aaron Rodgers on the road then walking through Candlestick Park en route to Super Bowl XLVI. Wait...
Bisping's fight on Saturday against Sonnen at UFC on FOX 2 will be the first time in his career that he'll be taking on a true wrestler. The UFC has been criticized in the past for throwing striker after striker inside the cage with a superior Bisping. But times have changed, and the Brit is finally going to step inside the Octagon with a worthy adversary.
Honestly, this is the biggest put up or shut up instance I've ever seen. He's got to be nervous. Too bad it's not in the United Kingdom.
For more UFC/MMA news and insight, Follow @DHiergesell
Keep Reading